If you know me I am overly obsessed with both Tel Aviv and food. The food scene in Tel Aviv is outrageous and it's not slowing down anytime soon. I have visited Tel Aviv 10+ times and moved here permanently in 2019 and my list keeps growing, living here for four years now.
I decided to make this extensive guide (so many years, visits and pictures in the making) because the lists were getting too long in my FULL Tel Aviv Itinerary Guide and to help answer ANY question about where to eat in Tel Aviv. This includes: WHAT to eat in Israel, brunch in Tel Aviv, cafes in Tel Aviv, cheap eats and street food in Tel Aviv, casual dinner in Tel Aviv, fine dining in Tel Aviv, dessert in Tel Aviv, best spots for every specific craving, and my absolute favorite and recommended food tour in Tel Aviv. Anything you are in the mood for Tel Aviv has it and this guide will help you plan your itinerary around food and reservations like I do! Keep reading for the best restaurants and best food in Tel Aviv. *I will keep updating this list as I keep trying more restaurants during my time living in Tel Aviv*
Disclosure: This Israel Tel Aviv Food Guide may contain affiliate links. I may receive commissions for purchases made through links in this post. As always, all opinions are my own and I would never post about something I have not personally used/verified.
Must-Know Tel Aviv Food Guide Tips
WHAT FOOD TO EAT IN ISRAEL
Israeli food is the absolute best. Before getting into the restaurants of WHERE to eat in Tel Aviv, you have to make sure you eat all of the Israeli food staples while visiting.
Hummus: Needs no introduction and once you have it in Israel you will never like store-bought brands again. Where to try it: Abu Hassan and Shlomo v Doron.
Falafel: Falafel is one of Israeli's favorite street food and it is amazing here. And it's vegetarian so it's perfect for everyone. Usually comes in pita with a ton of other amazing vegetables. Where to try it: HaKosem, Yashka or anywhere in Shuk HaCarmel.
Shawarma: Shawarma is Israel's other famous street food and is thinly sliced and cooked meat (can be chicken, beef, lamb, etc. Where to try it: Yashka.
Sabich: Sabich is the lesser known of all the Israeli street foods but might be my favorite one. It's eggplant and egg served in a pita with different veggies. Where to try it: Sabich Frischman or Sabich Tchernichovsky.
Tahini: Tahini is also known internationally but it is exceptionally good in Israel. Also they call it 'tahina' here. Where to try it: Everywhere! ALWAYS ask for it on the side with everything.
Schnitzel: I love a good schnitzel. And Israel happens to have some of the best. Where to try it: Cafe Noir and Malka and for schnitzel sandwiches (in challah): HaShomer 1 & Java.
Knafeh: I was only JUST introduced to knafeh since I moved here and I'm honestly upset with myself it took this long to find out about it. Knafeh is an AMAZING traditional Middle Eastern sweet dessert of syrup-dipped pastry filled with cheese and often pistachios, ice cream and other treats on top. I've never eaten anything like it. Don't sleep on it!! It's a Midden Eastern treasure not enough people talk about. Where to try it: Yaffa Knafeh.
Jachnun: Traditional Yemenite pastry. Where to try it: Shuk Levinsky.
Shakshuka: An Israeli breakfast staple and one of my favorite dishes. Baked tomatoes with eggs inside. Have it with Challah on the side to dip. Where to try it: Shakshukia or Java.
Halva: An Israeli dessert that you can find ALL over the markets. Lots of sugar but melts in your mouth. I always bring it home for friends to the states. Where to try it: Shuk HaCarmel or Shuk Levinsky.
Malabi: This is an Israeli dessert that is super sweet and is really good (but you either love it or hate it). It's kind of like pudding with rose water. Where to try it: HaMalabiya or on the dessert menu of most restaurants!
Fresh Juices/Smoothies: Fruit and produce are beyond fresh in Israel. You can find juices and smoothie stands all over the city. Where to try it: Etrogman, Tamara Juice Bar or in Shuk HaCarmel.
Israeli salad: Served as a side with EVERY meal, all the chopped tomatoes and cucumbers and always fresh. Where to try it: Any restaurant!
Arak: Israeli alcohol! You have to have shots (called chasers in Israel) of these before you leave. Don't smell it before, trust me. Where to try it: All bars!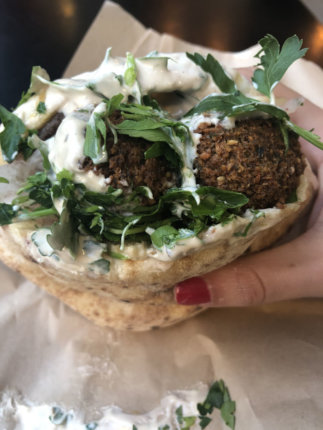 Related Post: Tel Aviv Travel Itinerary
FOOD IN TEL AVIV BY MEAL TYPE
Brunch and Breakfast in Tel Aviv
Café Xoho: My most favorite brunch spot, but if you only have a few days in Israel, this is not the spot to get traditional Israeli breakfast and brunch. It is definitely a Western brunch place. Still, my favorite. You must get the egg and cheese bagel. It's not JUST an egg and cheese, there is a special onion jam in there that makes it unbelievable. Other things to consider are their beer bread specials. They're SO good and always have the freshest ingredients and change weekly. Their vegan desserts are also amazing and they're known for their ice cream cookie sandwiches. Also their Matcha smoothie. They make their own ice cream and cookies from scratch.
Bucke Cafe: Bucke is my other favorite brunch spot in the city. They are known for their trays of food that comes with a ton of different options and changes with fresh in-season produce. The place is super cool and hipstery. This is a must on your brunch in Tel Aviv stops and packs all the fun Israeli breakfast foods into one tray.
Yom Tov Cafe: Another must for brunch in Tel Aviv, Yom Tov is crowded with their outside seating everyday of the week and is the best for people watching. Yom Tov is at Shuk HaCarmel and has the freshest and most eclectic brunch menu.
Landwer Cafe: Famous Israeli cafe chain with an amazing Israeli breakfast spread. For a great price you can get an entire tray of Israeli breakfast foods. There are a million locations in Tel Aviv but my favorites are on the Namal and in the middle of the park on King George (Gan Meir). Also, you HAVE to get their nutella rugelach desserts, they're famous for them.
Benedict Tel Aviv: Everyone loves Benedict. It's overrated when you live here, but amazing when you're visiting. It is very tourist and English friendly. It is also 24 hours so it is also always a good idea at 4AM. Get the eggs benedict (duh). Also their banana pancakes are the most famous.
L'chem V'Shut (Bread & Co.): Super local spot with amazing breakfasts and breads – when you walk in the smell of fresh bread is unreal.
Citizen Garden: Really cute healthy cafe with a great backyard spot to sit! Obsessed with their creative breakfast dishes and sitting outside for hours.
NOLA American Bakery: An American inspired brunch spot on Dizengoff based on New Orleans. The owner is from New Orleans and moved to Tel Aviv which makes me the happiest since I went to university in New Orleans.
Manta Ray: Fancier brunch when you are feeling boujee or want a more upscale brunch but it has an amazing brunch menu and their location is RIGHT on the sea with amazing views.
Mashya: Another fancier brunch in a hotel but one of the best brunch spreads I have seen and an amazing menu.
Java: This is my favorite local Tel Aviv spot and they have my favorite Shakshuka and Challah ever here. Also my favorite schnitzel sandwich.
Dallal: Another nicer sit down spot but one of my favorite spots to go for brunch in the trendy Neve Tzedek neighborhood. The space is huge and beautiful and the food is amazing.
Anastasia: This is for the vegans! Full vegan brunch spot with amazing smoothie bowls, vegan shakshuka and more.
Cafe Cucu: Newest spot on the list! Super cute brunch spot on Dizengoff Square with amazing twists on classics like Beet Hollandaise on Eggs Benedict.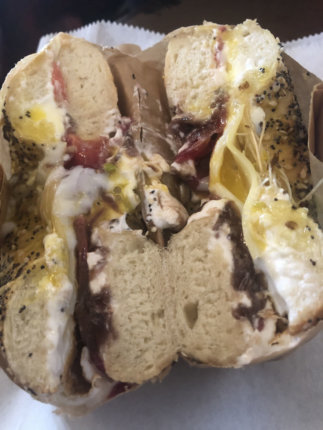 Cafes in Tel Aviv
Need a tea/coffee break or just want to sit and people watch? The cafe culture is thriving in Tel Aviv. Check out some of my favorite cafes with the best coffee in Tel Aviv to hang at.
Nabi Yuna
Chachos
Cafelix
Cafe Xoho
Papua
Saga Cafe
Nahat Cafe
HOC
Related Post: Israel Travel Guide
Lunch, Cheap Eats & Street Food in Tel Aviv 
Shlomo and Doron: Amazing local hummus spot off Shuk HaCarmel with different twists on hummus. Get the shakshuka hummus or the falafel hummus!! Also make sure you eat hummus with an onion as Israelis do.
Miznon: World class. Eyal Shani is THE most famous Israeli chef probably in the world and Miznon is his most fast-casual. It is a street food spot and you can get anything in a pita. I get the cauliflower or minute steak pita but the chicken, meat, veggies ANYTHING is amazing. They also put so much inside of the pita (hummus, veggies, tahini, etc). You also MUST order the side of a cauliflower head. I can't even explain why it is so unbelievably good but Shani totally changed the pita game. This isn't as fun anymore if you are a tourist from NYC, Miami, Vienna, and more as there are tons of Miznons all over the world, but I still believe it is the best here.
HaKosem: Best falafel and shwarma in Tel Aviv. Truly the best you will ever ever have. They put fried eggplant inside too. Get the original falafel pita with everything in it. Must go.
Frishman Sabich: Best Sabich in Tel Aviv. It is right on the corner of Frischman and Dizengoff and is a small take-out place.
Hummus Abu Hassan: Best hummus in Tel Aviv. It will not disappoint. It will actually blow your mind how you ever thought any other brand packaged container is good. Must go before 2PM as they close after the daily batch finishes (that's how fresh it is).
Jasmino: Super casual AMAZING pita place on Allenby. Always a line here. Best pitas with meat ever (similar to Miznon).
Aboulefia: Best takeaway burekas and other savory and sweet pastries (also amazing late night).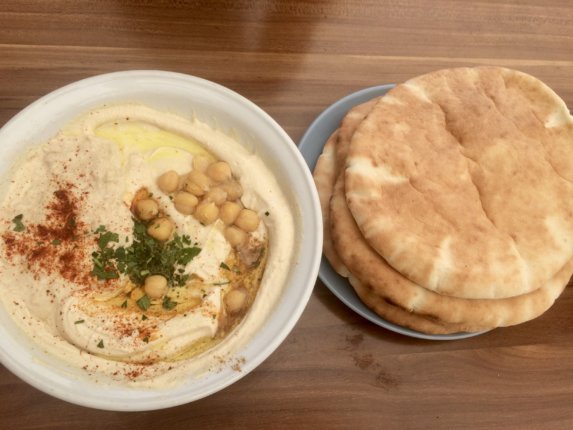 Casual Dinner in Tel Aviv
Port Sa'id: Same chef as Miznon and probably his most popular and by far my favorite place to eat in Tel Aviv. This is THE #1 spot I tell any visitor to go to when traveling to Tel Aviv. The food, drinks and vibe are always perfect and it is in a fun, trendy area by the Great Synagogue on Allenby. No reservations though so be prepared to wait.
Ha'Achim: This is one of the most standard Israeli restaurants and is consistently amazing. I would ALWAYS recommend Ha'Achim and love going here. You MUSTTTT get the artichoke dish.
Beit Kandinof: Amazing Israeli restaurant in the center of Jaffa. Perfect spot for big groups as well, the restaurant is massive. Also the architecture and building that this restaurant is in is pure Jaffa vibes. I always bring tourists here.
M25: Best meat restaurant in all of Tel Aviv. Part meat shop, part restaurant M25 sits right in Shuk HaCarmel and you quite literally pick what meat you want out of the freezer and how you want it cooked. It's amazing. You MUST get the arayes and salad as appetizers, and the crack pie as dessert. Thank me later.
Old Man And The Sea: One of the most popular tourist restaurants in Tel Aviv and honestly a must-go for the experience. This is a typical Israeli restaurant in Jaffa on the port that comes with the 1 million little dishes that keep refilling. A must.
La Shuk: Super casual, right in the middle of the city on Dizengoff Square. Such delicious Israeli food and great prices. I love the cauliflower and eggplant dishes. Highly, highly recommend…I always brought visitors here when I lived there.
Romano: Another one of Eyal Shani's masterpieces (same as Port Said, Miznon, etc). This is located on top of Teder and has the best vibes and the same amazing food. This one takes reservations if you can't get into Port Said and is the same food!
Ouzeria: Amazing amazing spot in Florentine neighborhood. Fresh ingredients and middle eastern dishes. One of my newest favorite spots.
Café Noir: Solid restaurant, known for their schnitzel in Tel Aviv.
Santa Katarina: Also right behind the Great Synagogue. Really good Israeli dishes and fun crowd. Highly recommend and try to make a reservation.
Saluf and Sons: Traditional Yemenite small spot in the center of the Levinsky Market. Amazing amazing Yemenite dishes and fun and casual vibe. Try to sit at the bar.
Merloza: New casual restaurant in Shuk HaCarmel with amazing fish dishes. Love the Shuk vibe so this is great if you are going out after or want to be in the local scene, not touristy at all.
Onza: Amazing Georgian restaurant in Yafo.
Fine Dining in Tel Aviv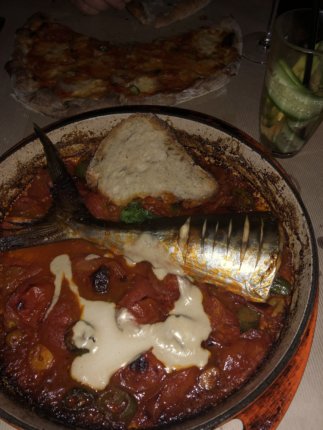 Dessert in Tel Aviv
Anita/Golda Gelato: Best gelato in Israel. Anita is in Neve Tzedek right on Shabazi Street with 3 locations on the same street. It's my favorite location but Golda is found in more locations around the city (literally every other corner) and big secret: it's the exact same flavors, they're owned by the same owner. Get the cookieman flavor, you won't be disappointed. Anita also just opened their first NYC location on the UES as well!
Showroom Bakehouse: Amazing, amazing cookies! They are the Levain Bakery of Tel Aviv.
Arte Cafe: Israeli gelato spot in the middle of Nachalat Binyamin with insane flavors you would never think about ordering in ice cream – but do it. Try the bread flavor (trust me) it's the best. This is hands down my favorite not-so-popular gelato spot.
Otello: New gelato spot with two locations in the city.
Yaffa Knafeh: If you are eating dinner in Jaffa or walking around, do not skip Yaffa Knafeh for dessert.
Social Club: NOT a desert place, it's a VERY good dinner spot BUT I had to add this here because I think I had the best dessert of life here – the massive pistachio ice cream with halva on top!
Tamara: Best frozen yogurt in the city. They have 2 locations and then a ton of other locations for smoothies and pops but go to their froyo spots – the one on the beach is new and amazing!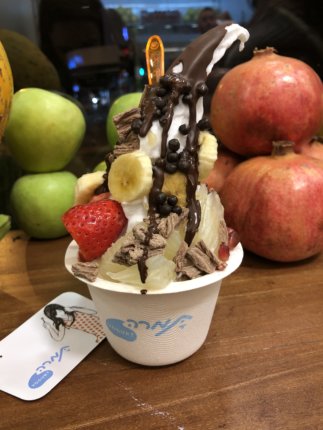 Related Post: North Day Trips From Tel Aviv
FOOD IN TEL AVIV BY CUISINE
We all have serious cravings some times and in Tel Aviv you can find ANY food you possibly want in all cuisines. Here's where you should go if you are looking for the….
Best Burger in Tel Aviv: Vitrina, Fat Cow and American Burgers
Best Thai in Tel Aviv: Thai at Har Sinai, Nam, Kab Kem
Best Italian in Tel Aviv: Rustico, Cicchetti, La Repubblica and Cafe Italia
Best Asian in Tel Aviv: Taizu and Topolopompo
Best Steak in Tel Aviv: M25, Triger, Whiskey Bar Museum
Best Bagel in Tel Aviv: Cafe Xoho and Tal's Bagels
Best Middle Eastern/Local Cuisine in Tel Aviv: Old Man & the Sea, Ouzeria, Ha'Achim and La Shuk
Best Concept Dining in Tel Aviv: OCD, Burek
Best Kosher Restaurants in Tel Aviv: Malka, Whiskey Bar Museum, Devora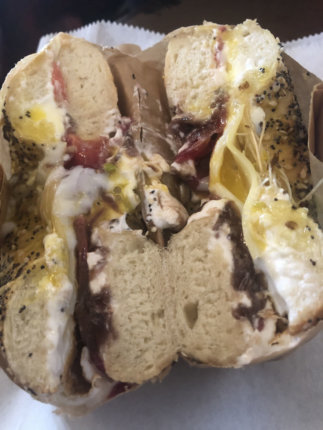 FOOD MARKETS IN TEL AVIV
Shuk HaCarmel: The central Tel Aviv market and the market people are usually referring to when they say they are going to "the shuk". It has everything you could ever want from food, souvenirs, produce and more. Come here for Israeli candy, falafel, hummus, smoothies, and everything else. Always always negotiate here – once they hear English they will rip you off.
Shuk Levinsky: This is a different type of market with more flavors from different cultures – think Yemenite, Turkish, Greek, etc.
Sarona Market: This is the newest, most modern market in Tel Aviv and is an indoor/outdoor market with a ton of different restaurants and food stands within the massive complex. Good for winter since most is indoors!
BEST FOOD TOUR IN TEL AVIV
I wrote about this beyond amazing tour on my general Tel Aviv itinerary but it's worth noting again because its that amazing and it's all about Tel Aviv's FOOD! Delicious Israel Food Tours has different tour options to learn and taste the different Israeli foods. I could not recommend this tour more. I did the Market Hop tour which went to both Shuk Carmel and Shuk Levinsky and I LOVED it. I had visited Tel Aviv 8+ times before and thought I knew Israeli food – but I still learned SO much on this tour and tried so many new foods between the two Shuks. I can honestly, whole-heartedly say this was the ABSOLUTE BEST food tour I have EVER taken. It is a MUST-DO when visiting Tel Aviv no matter what. I would take any tour that fits your schedule/budget as I know they all are AMAZING. You must book in advance – it does sell out. I had to book two months in advance!
BOOK A TOUR WITH DELICIOUS ISRAEL now!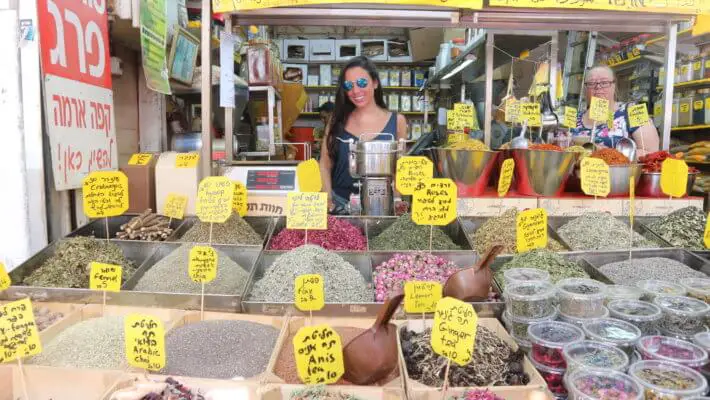 *Thanks to Inbal for inviting me on the Delicious Israel Market Hop food tour! While I did receive this tour as a gift, my review and experience is, as always, 100% personal and honest*
Related Post: Porto Portugal Food Tour Review
Loved this Tel Aviv food guide? Pin for later or share with friends!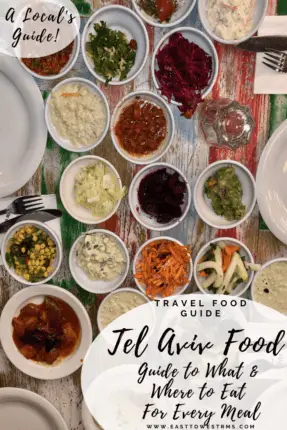 Did I miss one of your favorite restaurants in Tel Aviv or best food in Tel Aviv? Let me know in the comments for my next visit! See my general Tel Aviv Travel Guide and Israel travel guide to know what to expect when visiting Israel!
Some emails suck. Mine don't. Sign up to be the first to see my new travel itineraries and secret insider travel tips and hacks only my email subscribers get! I promise I will never spam you!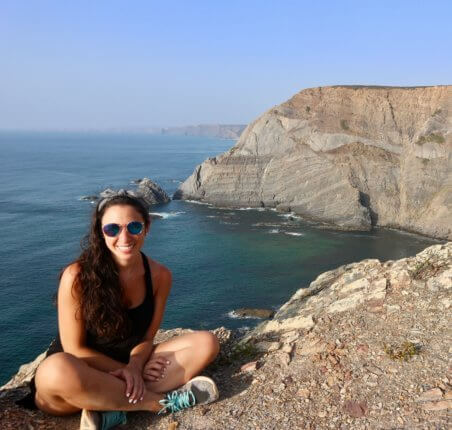 Rachel Shulman is the owner of From East To West and a seasoned traveler having been to 45+ countries and no intention of stopping soon. She is obsessed with planning and specializes in creating detailed, efficient travel itineraries and guides so you don't have to when planning your next destination.