*Netherlands Travel Guides: Scroll to the bottom to head straight to my Amsterdam travel guide (more coming soon) or keep reading to see what to know and expect when visiting the Netherlands and travel tips for the Netherlands*
Disclosure: This visiting the Netherlands travel guide may contain affiliate links. I may receive commissions for purchases made through links in this post. As always, all opinions are my own and I would never post about something I have not personally used/verified.
What To Expect When Visiting The Netherlands
I have visited the Netherlands on two separate occasions to Amsterdam and I loved them both. The country is beautiful (next up is going for flower blooming season in the spring) and there is something for everyone! Amsterdam is by far one of the most well-known and visited cities in Europe among tourists and there is a reason for that! Don't miss this bike-friendly happy city with amazing waffles.
Currency
The Euro! Makes it easy when traveling around and through Europe.
Language
Dutch! But everyone speaks amazing English.
Other Tips For Visiting The Netherlands
Travel Insurance: Unfortunately, things can and do go wrong when you travel. World Nomads offers coverage for more than 150 activities as well as emergency medical, lost luggage, trip cancellation and more. Buy at home or while traveling and claim online from anywhere in the world. We receive a fee when you get a quote from World Nomads using this link. We do not represent World Nomads. This is not a recommendation to buy travel insurance.
NETHERLANDS PACKING: For all of my travel/packing essentials I bring on any trip compiled together, head to my influencer page on Amazon here for a complete list or my descriptive carry-on packing guide here or my favorite travel gear here!
Quick Amsterdam Travel Tips
This city should NOT be known just for marijuana and the red light district. There is SO much more to it, so make sure you stay for a couple days to experience it all!
Amsterdam is BEAUTIFUL with its canals on every corner. Just spend time strolling along the streets and if you are there in the warmer weather, take a boat on the canals!
It is the easiest 20 minute direct train ride into smack in the middle of the city from the airport so its an amazing layover city (I went into the city with a six hour layover one time).
THINGS TO SEE IN AMSTERDAM: Anne Frank House (an absolute must if nothing else), Heineken Factory, Van Gogh Museum and I Amsterdam letters.
Definitely go to a show in the Red Light District and go to a coffee shop (what the marijuana shops are called) for the experience if you want to see what they are like.
EAT: Make sure you eat STROOP WAFFLES!! They are amazing- can buy them anywhere. Also eat at Pancake Bakery (really famous breakfast stop, have been on all my trips there!). Pasta e Basta is a really cool restaurant with sharing dishes and they perform songs the entire time.
Amsterdam Improv: We saw an improv show called BOOM CHICAGO when we were there and it was hilarious – highly recommend!
Lastly, read about the top things to know before visiting Amsterdam!
Search and book hotels and more accommodations in Amsterdam here!
Related Post: Switzerland Travel Guide
NETHERLANDS CITY GUIDES
Coming soon!
Some emails suck. Mine don't. Sign up to be the first to see my new travel itineraries and secret insider travel tips and hacks only my email subscribers get! I promise I will never spam you!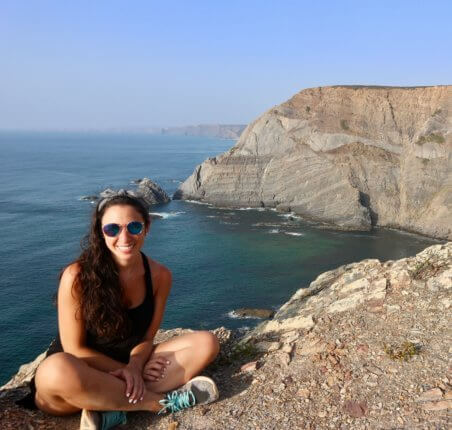 Rachel Shulman is the owner of From East To West and a seasoned traveler having been to 45+ countries and no intention of stopping soon. She is obsessed with planning and specializes in creating detailed, efficient travel itineraries and guides so you don't have to when planning your next destination.