*Israel Travel Guides: Scroll to the bottom to head straight to my Tel Aviv city guide, North Day Trips from Tel Aviv guide, South Israel/Mizpe Ramon/Eilat travel guide, or Tel Aviv Food Guide or keep reading to see what to know and expect when visiting Israel and travel tips for Israel*
I have visited Israel 10+ times on different types of trips, have lived in Israel in 2015 on an international program for six months, again in beginning of 2019 for 4 months and then moved to Tel Aviv Israel permanently in October 2019 (clearly I can't get enough of Israel!), and have now lived in Israel almost 4 years. This Israel travel blog will go into extensive detail on Israel travel tips from a (now) local.
Israel is my pure happy place. I feel super blessed and lucky to be able to live in this amazing country at this point in my life. I have extensive knowledge of the main cities, territories, trips and rural areas covering the entire country. So I can definitely help when figuring out the best places to visit in Israel and planning a trip to Israel. I could talk about Israel all day everyday. Israel is a very eclectic, special country and I urge you to read up on the facts in this Israel travel blog and its subsequent guides (below) before traveling to Israel as it is the most amazing place. In fact, Forbes named Tel Aviv the #2 place to visit for 2020!
Disclosure: This Israel travel blog may contain affiliate links. I may receive commissions for purchases made through links in this post. As always, all opinions are my own and I would never post about something I have not personally used/verified.
Israel Travel Blog: Israel Travel Tips & Planning A Trip To Israel
Getting Around Israel: Israel Road Trip Tips, Israel Car Rentals, Driving Tips and Apps
CAR RENTAL IN ISRAEL:

If you are traveling around the entire country on your own I definitely suggest renting a car in Israel! It is SO easy to drive around Israel and all the main highways have English signs. I highly suggest doing an Israel road trip for your trip when touring Israel on your own!
However, if you are only visiting Tel Aviv or Jerusalem, DO NOT RENT A CAR! Parking is beyond difficult in the cities and you do not need a car within the city! They are both walkable cities!! Additionally if you are JUST visiting these two cities you still don't need a car as public transportation between the two is easy (bus and train).
If you are renting a car in Israel, I HIGHLY suggest renting with Eldan Car Rental, they are the most respectable rental car company in Israel. I have personally rented with them and recommend. Hertz, Budget and all the other big companies also do car rentals in Israel BUT you MUST MUST MUST book it from their ISRAELI website (ending in .co.il) otherwise you will have to pay 3x more when you get here. Even though the price will come up as cheaper when you book online. Trust me.

TIPS FOR DRIVING IN ISRAEL:

They drive on the right side so very standard and normal for Western countries.
Israeli drivers are aggressive. So be aggressive, too.
There are no rights on red in Israel.
All rental cars come with a reflective vest: if you are stopping on the side of the road for some reason you must put this on (safety reasons).
You don't need an international driver's license to drive in Israel, you just need to have a standard valid driver's license from your home country. 

GETT APP IN ISRAEL:

Download the Gett app before getting to Israel! Gett was made in Israel and is the primary way to get around Tel Aviv and Israel in general. They do not use Uber or Lyft. Gett just uses regular taxis in Tel Aviv but it makes it easier because you can pay by credit card. Regular taxis do not let you pay by credit card, it is cash only. When you order Gett's they usually come SUPER quickly (like quicker than in NYC) so it is always my go-to, I can't remember the last time I hailed a cab in Israel!
Cost of A Trip To Israel: Israel Travel Budget
Cost of full Israel trip: Israel is not cheap. At all. And if you want to see all of Israel right – I highly suggest either a) renting a private guide if you are a family or big group or following detailed itineraries and renting a car in Israel and doing an Israel road trip. Planning a trip to Israel is intense! And you need at LEAST 10 days to even scratch the surface of the country. There is so much history to Israel and SO much to understand and see that you really need to pay for a guide, or tours in each area, to understand the full grasp of this country.

Tel Aviv is by far the most expensive city, but of course the most popular and built up. Hotels and Airbnbs are both expensive as are restaurants. (Basically New York levels)
You do NOT need a guide to see the city of Tel Aviv. Jerusalem is naturally the most expansive, cultural and diverse city here and also expensive, and I do suggest doing guided tours of many of the Jerusalem sites to understand the historical facts
Israel On A Budget
If you are not here to visit the history and understand Israel and just want to have a chill vacation either just laying on the beach in Tel Aviv or hopping between Tel Aviv and Jerusalem, there are DEFINITELY ways to lower your Israel trip cost and keeping your Israel travel budget down!!
Cheap Accommodations: The hostel and backpacker community is THRIVING in Israel!!! There are a ton of options to choose from. I highly suggest Abraham Hostels in both cities. Book Abraham Hostel Tel Aviv here and Abraham Hostel in Jerusalem here. They are both very cheap and GOOD, quality, safe hostels.
Cheap Eats: Street food is also INSANE in Israel and beyond recommended. The absolute best food in this country cost less than $10 and you can easily have it – and its different options – for every meal! From Shwarma to falafel to Sabich to hummus, you can have it all! You can see all my Israel street food recs on my Tel Aviv food guide.
Almost everything that is a "must see" in Tel Aviv is free – as it is just walking around the different areas. This keeps costs down and why you do not need a guide! In Jerusalem, there are also a ton of free tourist spots – the Kotel, Ben Yehuda street, Mahane Yehuda market – but I do recommend paying for tours of Yad Vashem, underground Kotel tunnels and more based on your interests. Tour are really important here to understand the vast history that lies in Jerusalem for all religions. The hostels can coordinate budget-friendly tours!
Israel Packing Tips
Israel is HOT in the summer (like humid gross) and pretty mild in the winter!
For a traveling to Israel packing list, Sunscreen is a MUST in Israel. Israel is a desert!!! My fave face sunscreen is Sunbum stick (buy here) which I bring everywhere. It's a solid so great for flying and is tiny and can fit in any small bag.
A water bottle is also a must– there is a lot of walking around and long hikes to do in both the North and the South of Israel! My go-to is S'well (I own three of them) and don't leave home without it. You can buy a S'well here.
Also, since you are likely coming to Israel for a longer trip – and staying in different places every, or every other, night. packing cubes are lifesavers to know where everything is quickly! This is my favorite bunch ever, buy here.
For all of my other fave travel/packing essentials I bring on any trip compiled together, head to my influencer page on Amazon here for a complete list or my descriptive carry-on packing guide here or my favorite travel gear here!
Travel Insurance In Israel
When visiting Israel, I highly recommend getting travel insurance. You never know what may happen to your flights, a death/personal emergency in your family, or an accident happening while traveling (think: getting mugged, falling while hiking and spraining your ankle, literally any accident than can happen ANYWHERE!). World Nomads makes it super easy and I never leave for a trip without getting their insurance. Most importantly it's extremely affordable: get your World Nomads travel insurance before your trip here!
Related Post: Cyprus Travel Blog Guide
Israel Expectations: What To Expect When Visiting Israel & Best Time To Go To Israel
SO MUCH HISTORY IN ISRAEL: Israel and its land has so much history behind it it is unbelievable. All Israel beautiful places have history. Each time I visit, even the same places repeatedly, I learn even more. Be prepared to visit historical spots and really try to listen to the stories. Even for non-cultural and non-history trip lovers, I really believe there is so much to learn about Israel, the people, and the land, and it has such an interesting and different past, present and future. There is so much to do in Israel you simply cannot cover it all in one trip.
A ZEST FOR LIFE: Despite the past and current political and religious tensions that Israel faces, Israelis have a zest for life unlike anyone else. I have never seen a group of people, in all of the countries I have visited, truly LOVE life and give meaning to "live life to the fullest". Israelis are adventurous, open-minded and all around happy humans, and these characteristics truly radiate off of them. They also truly embody the idea of a "home" and will literally invite you to come to their house for any holiday even if they don't know you. They want everyone to feel welcome and at home in Israel. If you can't tell from this and other Israel travel blogs already, this is the reason why I love this country so much.
SOLDIERS AND GUNS: There will be soldiers walking by you all the time and everywhere. They will have guns larger than you wrapped over their body. The first time you see this, it will be a little weird. After a while, you realize how normal it is. These soldiers, many of whom are younger than 24, are living their life and protecting their country at the same time.
WEEKENDS ARE FRIDAY & SATURDAY: The world runs a little different in Israel. Shabbat, the day of rest, is Friday night to Saturday night. As such, their weekend is actually Friday and Saturday, with the work week starting on Sunday. Almost everything is closed on Saturdays, especially in Jerusalem. Take the day to really rest…go to the beach, hang at one of the amazing parks, hike around the desert or mountains. There is so much to do. If you can, try to be on a hike or in Tel Aviv during Shabbat – Jerusalem COMPLETELY shuts down with no transportation and everything closed that you won't be able to experience Jerusalem tourist things if that is what you are going for.
My biggest Israel travel blog tip: On a Friday morning, I urge you to go to one of the popular Shuks (markets) in Tel Aviv or Jerusalem – they are BEYOND hectic and crowded every Friday morning and shut down at 3pm. It is amazing. Make sure you plan what to do in Israel around their weekend days.
Israel Currency
The Israeli shekel (ILS) (symbol: ₪)! The shekel is about 3.8 to the US dollar (it used to be better!). But there still is no better time than to visit Israel then now!
Israel Language
Hebrew! Good luck with being able to read any signs unless you know the language. Hebrew is a gorgeous language and I could listen to Israelis talk all day, however it is SUPER confusing and definitely not easy to learn for a quick trip. Luckily, Israelis are taught English from an early age (for the younger generations) so you will find that younger Israelis all speak great English, however the older generation speaks very little English. In Tel Aviv, English is very prominent, but in Jerusalem it is a little harder to get by with no Hebrew – just keep this in mind when you are planning out what to do in Israel – but it shouldn't stop you!
Related Post: Jordan Travel Guide
Other Israel Travel Tips & Is Israel Safe???
ISRAEL WEATHER: Summers in Israel are exceptionally, uncomfortably hot. It is also PEAK tourist season, along with the week of Passover. I recommend planning a trip to Israel in May/June or October/November – this is the absolute BEST weather in Israel and the best time to visit Israel – less tourists, mild and perfect weather, and happy locals.
DON'T BELIEVE THE MEDIA: I can't stress this enough. Probably the best Israel travel tip. No matter your religion, your beliefs, your political views, Israel is for everyone. There is so much history in the holy land that has affected all of our history no matter what. I truly urge you to visit Israel with an open-mind because it is the most remarkable, happiest country I have ever experienced.
RELIGION: Everyone thinks you have to be Jewish to enjoy Israel. SO NOT TRUE. There are SO MANY DIFFERENT RELIGIONS and history of multiple religions celebrated in Israel. Also if you are not religious at all – Tel Aviv is beyond secular! Based on your desires, there is so much of what to do in Israel to cater to everyone truly.
IS ISRAEL SAFE?!: Everyone always ask: "Is it safe to go to Israel right now?". YES! Do believe the saying "Israel is the safest country in the world." This is the truth. I feel exponentially safer in Israel than I do in my own city of NYC. I cannot explain it, no one can, but you will feel it the minute you land in Israel and are walking around the amazing country with the amazing people. Israel is beyond safe and don't let anyone tell you otherwise. Do not let a fear of safety be the reason you don't go to Israel. This is the most foolish, naive and inaccurate statement I have ever heard.

That being said, make sure you are up on current events before you go. The stability is always changing in the Middle East region, including in Israel. As long as you are aware of what is going on around the area and in the country, you will be fine. You can avoid certain borders/areas if need be. I promise you there is never a bad time to go to Israel. 
Related Post: United Arab Emirates Travel Guide
BEST OF ISRAEL CITY & AREA TRAVEL GUIDES
Like this Israel Blog? Pin it for later or share with friends!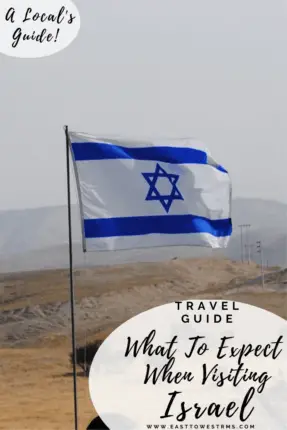 Some emails suck. Mine don't. Sign up to be the first to see my new travel itineraries and secret insider travel tips and hacks only my email subscribers get! I promise I will never spam you!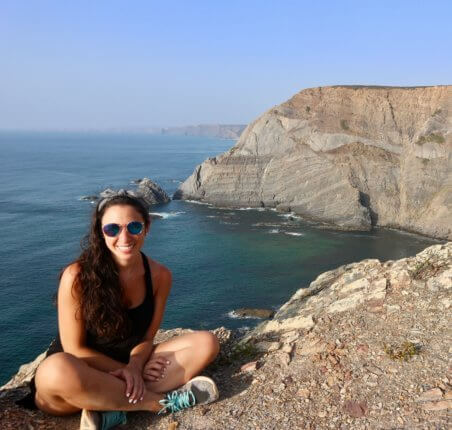 Rachel Shulman is the owner of From East To West and a seasoned traveler having been to 45+ countries and no intention of stopping soon. She is obsessed with planning and specializes in creating detailed, efficient travel itineraries and guides so you don't have to when planning your next destination.