*Russia Travel Guides: Scroll to the bottom to head straight to my St. Petersburg travel guide (Moscow coming soon!) or keep reading to see what to know and expect when visiting Russia and travel tips for Russia.*
I visited Russia in March 2017 for 5 days and was beyond nervous given the current political situation of American/Russian relations. The stress of the Visa situation didn't help either. However, arriving in Russia and my time in this country was AMAZING and was one of the most historically and architecturally interesting places I have ever visited. Read my traveling to Russia guides on how to navigate this crazy country and my city guides for St. Petersburg and Moscow below and you'll be looking up flights there in no time!
Disclosure: This traveling to Russia guide may contain affiliate links. I may receive commissions for purchases made through links in this post. As always, all opinions are my own and I would never post about something I have not personally used/verified.
What To Expect When Traveling To Russia
The rumors are true: Russians are pushy, rude, and generally don't speak English. We encountered this plenty. But the one's who do speak English? Beyond nice, friendly and legitimately want you to enjoy their country and city. They are also confused why you are traveling to Russia. They will also ask you (Americans) about Donald Trump. We took multiple Ubers around St. Petersburg and every driver asked us about him and what we think about American/Russian relations. Be prepared for this if you are American when traveling to Russia!
SAFETY: I couldn't have felt any safer while traveling in Russia. I did not feel nervous there at all. It felt like being in any other foreign country that doesn't speak English. The only main difference was being scared of police officers/security guards. In every other country you tend to feel safer seeing officers, but in Russia you want to be far away and not have an encounter with them. This is generalizing of course, as I am sure some like Americans, but the majority do not. They do not like Americans and do not speak English. They will ask for your passports, they will taunt you, they will follow you and make fun of you for being American; all playful and fun for them, but not so much for us.
We didn't have this experience since we stayed away from officers. Besides this, I felt totally safe, happy and amazed while touring in both St. Petersburg and Moscow and traveling in Russia and you absolutely should to! Just make sure to always be aware of your surroundings while traveling to Russia especially around the main Russia points of interest.
Currency
Rubles (roo-bles). The dollar is very strong with a good conversion rate right now, another reason to get over to Russia now 🙂
Language
Russian! Good luck trying to pronounce anything and figuring out what anything is named. Also good luck talking to anyone. 90% of the population (that we encountered) did not speak any English… EVEN at the most famous ballet theater in the world. It was definitely a shock to see a country so unbelievably removed from a dominant world language.
And the people who spoke the best English? The older generation. This is the opposite of any other country. It is not mandatory here nor taught often anymore, so the younger generation doesn't speak it. St. Petersburg had a bit more English knowledge, but in Moscow, NO one spoke English.
Other Tips When Visiting Russia
RUSSIA VISA: Yep, the reason most people won't travel to Russia. Every person needs a Visa to enter Russia for any and all reasons and for all durations. The visa process took a lot of time, traveling around New York City, and is costly to get one. However, it is totally do-able thanks to the Russian Visa ILS site and is surprisingly way quicker and more efficient than other countries.

PROCESS: Fill out the Tourist Visa form (6+ pages) on the Russian Visa ILS site, get together a passport, passport photos, forms filled out from the Russian hotels stating your stay, and a hefty $123 (for single-entry, more expensive for multi-entry), and head down to the ILS Russian Visa office (in FiDi in New York but also in other major US cities). An appointment (made on the website) is needed to go. There, you hand everything in and then return back there on the date they give you (usually 2-3 weeks) and pick it up. That's it…unless you get called in for an interview, which I heard is totally random and common so be prepared if you do. There are ILS Russian Visa offices in NYC, DC, San Francisco, Houston and Seattle.
The ONLY exception to needing a Russian Visa to enter the country is if entering by cruise or boat and are in the country for under 72 hours.

TIP: When asked for dates of entry and exit, put a date a few days before your arrival and a few days after departure. Trip plans and delays are always fluctuating, and you do not want to get stuck there. The dates on the Visa are VERY strict. 
Read about how you can go to St. Petersburg with NO VISA for 72 hours or less!

STUDENT ID: Most things in Russia are free with a Student ID! We saved a LOT of money this way so don't forget yours (if applicable) when traveling to Russia!
Travel Insurance: When visiting Russia, I highly recommend getting travel insurance. You never know what may happen to your flights, a death/personal emergency in your family, or an accident happening while traveling (think: getting mugged, falling while hiking and spraining your ankle, literally any accident than can happen ANYWHERE!).

World Nomads

makes it super easy and I never leave for a trip without getting their insurance. Most importantly it's extremely affordable:

get your World Nomads travel insurance before your trip here!

Check out this guide for more tips on Russia travel if you still aren't convinced!
Check out this self-guided walking tour for 2 days in Moscow or this great first-timers guide to Moscow if you are heading there until I write my own Moscow guide too!
RUSSIA CITY GUIDES & ITINERARIES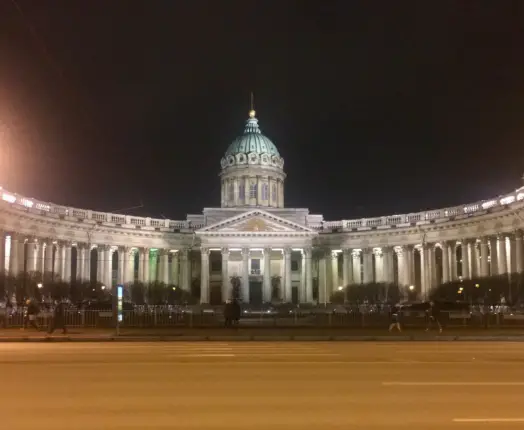 Dubbed the "Venice of Eastern Europe," Saint Petersburg was more than I could have imagined and quickly became one of ...
Like this Traveling To Russia guide? Pin it for later or share with friends!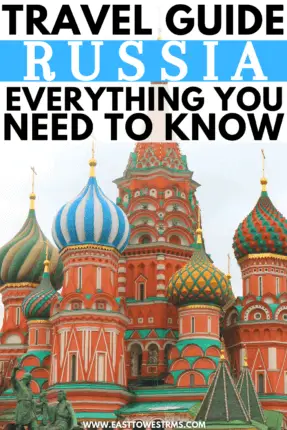 Some emails suck. Mine don't. Sign up to be the first to see my new travel itineraries and secret insider travel tips and hacks only my email subscribers get! I promise I will never spam you!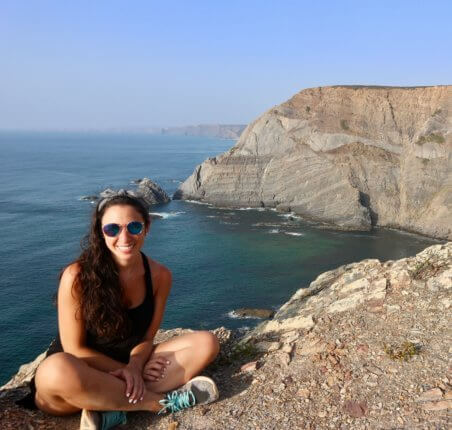 Rachel Shulman is the owner of From East To West and a seasoned traveler having been to 45+ countries and no intention of stopping soon. She is obsessed with planning and specializes in creating detailed, efficient travel itineraries and guides so you don't have to when planning your next destination.