I was definitely nervous landing in Russia, truly unsure of how passport control, security and everything in between was going to go as an American. (You can read more about safety/visa/travel tips to Russia on my Russia travel guide here) However, Saint Petersburg has become one of my top 5 most amazing places I have ever visited. Keep reading to explore the best St Petersburg Russia attractions – everything you need to see, eat and do in Saint Petersburg, Russia.
Note: I visited St Petersburg in the dead of winter so it was so cold that the main rivers were frozen (as shown above). Summer is a totally different experience, one that I hope to experience ASAP as I can only imagine how gorgeous it is during their primetime months.
Disclosure: This St Petersburg attractions guide may contain affiliate links. I may receive commissions for purchases made through links in this post. As always, all opinions are my own and I would never post about something I have not personally used/verified.
Saint Petersburg Travel Tips
You must must must read my full Russia Travel Guide before traveling to Russia. That guide is full of everything you need to know including getting your Russian visa, how to deal with Russian police, and everything else safety and logistics related to traveling to Russia!
TIP: Don't forget your Student ID when doing St Petersburg Russia travel – half of the tourist places of interest are free!
TRAVEL INSURANCE: When visiting St Petersburg, I highly recommend getting travel insurance. You never know what may happen to your flights, a death/personal emergency in your family, or an accident happening while traveling (think: getting mugged, falling while hiking and spraining your ankle, literally any accident than can happen ANYWHERE!). World Nomads makes it super easy and I never leave for a trip without getting their insurance. Most importantly it's extremely affordable: get your World Nomads travel insurance before your trip here!
ST PETERSBURG RUSSIA PACKING: Like I said, I went in the dead of winter. It was freezing. These hand and toe warmers (buy here) are life saviors for cold weather destinations. For help on packing for St Petersburg Russia, check out the rest of my fave travel essentials I bring on any trip compiled together, head to my influencer page on Amazon here for a complete list or my descriptive carry-on packing guide here!
---
How To Get To St Petersburg Russia
We flew from Sweden, which was a quick 2 hour flight! All major airlines fly to St Petersburg Russia direct from America or Europe so you should not have a problem. You can also take a boat here from Helsinki or a cruise, but there are different visa rules for that- I believe you can be in Russia for less than 72 hours without a visa if coming from a boat. From the airport, we booked a private transfer ahead of time to our hostel just to be safe, considering our Russian speaking is non-existent. We booked through LingoTaxi and I highly recommend – they were on time, waiting for us after baggage claim, spoke perfect English and our drive was super friendly. 
Related Post: Russia Travel Guide
---
ST PETERSBURG RUSSIA ATTRACTIONS: Everything to do in St Petersburg
A massive, gorgeous cathedral in the middle of the city. This is one of the earliest openings for the St Petersburg Russia tourist spots (830am) so I would go here first. We went right in the morning while they were still praying so it was a pretty real experience.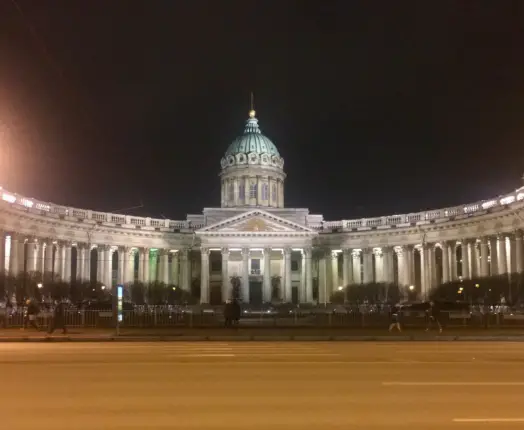 ---
Duh! The most famous spot in St Petersburg Russia attractions due to its jaw-dropping architecture. The insane walls are just as insane as the outside. I went here 3 times in two days because I couldn't get enough of how stunning the building was from the outside. Must check out inside as well! Open 11am-7pm.
---
One of the most famous museums in the entire world. You could spend three days here and STILL not see everything, it is that massive. The Hermitage building itself dates back to the 1700s and even if you took out all the artifacts and history, the building itself is beyond gorgeous, inside and out. You can't miss this massive turquoise building from anywhere and the city and you must make plenty of time for the Hermitage. If you do only have less than or only 1 day in St Petersburg Russia, just do the main complex in the Palace Square, which includes the Winter Palace, the buildings of the Small, Old and New Hermitage, the Hermitage Theatre St Petersburg and the Reserve House. You can book tickets to the State Hermitage Museum here.
---
Usually included in the Hermitage tour, we just took pictures of it outside. You can't miss it as it's right in the main square next to the Hermitage Museum and is bright yellow and massive!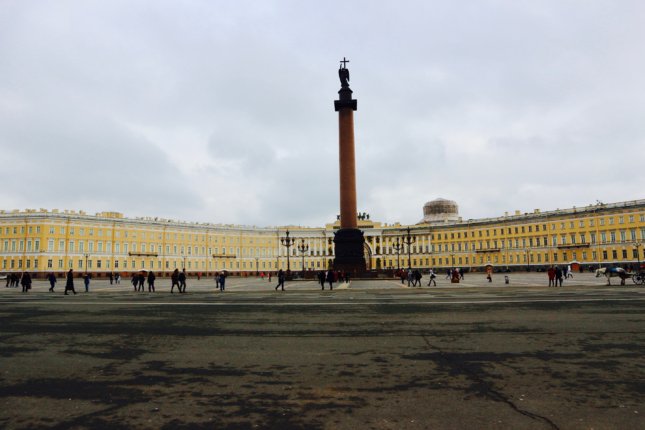 Related Post: Stockholm Sweden Travel Guide
---
The most famous Cathedral in St. Petersburg points of interest and a must-go. Make sure to go all the way to the top for panoramic views of the city! The Cathedral is huge and the inside walls are unreal.
---
A famous statue tributing Peter The Great, definitely go and take pictures here. It is right behind St. Isaacs Cathedral and right along the water, in Senate Square.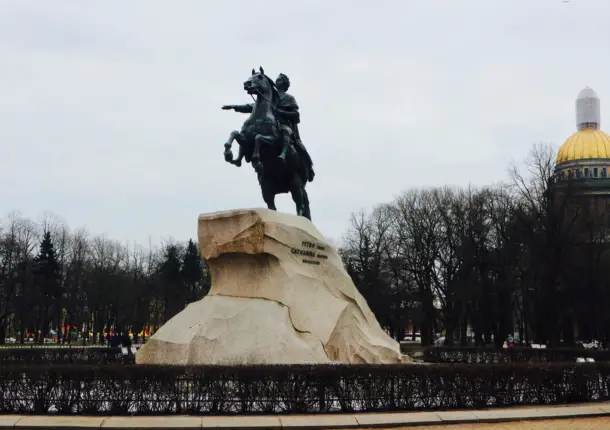 ---
Mariinsky Theater is the most famous theater in St. Petersburg Russia (equal to Bolshoi Theater in Moscow) and is an absolute St Petersburg must-see for its stunning decor. While we were visiting the city though, only opera was playing there, and we really wanted to see a Russian ballet. So we went to the second most famous theater in Saint Petersburg, Mikhailovsky Theater. This theater was no worse or uglier than Mariinsky that's for sure; it was beyond stunning. We sat in the front box here so we had amazing seats where we also got to overlook the amazing orchestra…and Swan Lake was AMAZING. I highly, highly recommend. I never was into ballet but Swan Lake was truly stellar. We went to Mariinsky on the second night to see an opera in the cheapest seats, just so we could see the theater. While i'm glad we went to see the theater (it lived up to the hype), i'm definitely still not an opera fan. I recommend going to both as a once and a lifetime Russia experience!
---
Biggest/most famous street right in the center of the city. You will absolutely walk on it while touring the city. All the souvenir shops are naturally here as well.
---
Beautiful gardens to walk around and are directly on the way to the Peter and Paul Cathedral/Fortress. Very pretty when it's snowing as well as in the summer!
---
The former political prison and fortress to the city. It's a decent walk from the Hermitage and The Church of the Savior on Spilled Blood, but a good walk nonetheless (and we did it in snow and freezing temps!). Don't get tickets for the entire complex, the cathedral is the most worth it to see. You definitely can spend a lot of time walking around the island and seeing the old fortress grounds, too. The Peter and Paul Fortress St Petersburg is by far one of the top St Petersburg attractions that you cannot miss! Don't forget to check out the views of the Cathedral while walking on the bridge to get there (over the frozen river!)
Related Post: Swedish Lapland Travel Guide
---
A gorgeous cathedral with amazing roofs. You just need to go take pictures outside for a few minutes, no need to go inside.
---
Another stunning St Petersburg cathedral (seriously why do they have the brightest, prettiest churches in Russia?!). No need to go inside, just take pictures outside and marvel at the blue.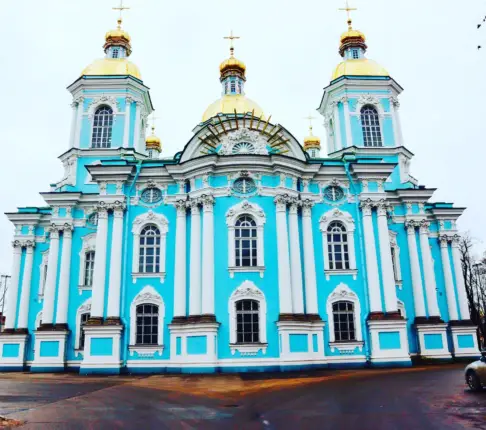 ---
Saint Petersburg is sometimes named "the Venice of Eastern Europe" and rightly so! The city is made up of rivers and canals with bridges to walk over them. In the summer the canals are flowing and it is busy at night. In the winter, the canals are totally frozen, but just as gorgeous. Anichkov is just one of the main bridges that you should walk over.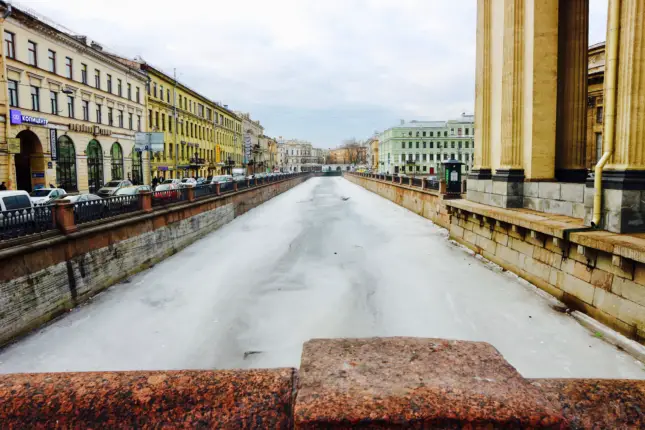 ---
Other Must-See St Petersburg Russia Attractions
Click on any of the attraction titles to learn more/book tickets!
---
Where To Eat In St. Petersburg Russia
Food in Russia is GOOD and don't let anyone tell you otherwise. Here are some awesome St Petersburg restaurant suggestions we went to or heard about that I highly recommend.
Brunch in St. Petersburg
Wood Bar: a bar with really good brunch staples.
Cake & Breakfast: good local spot, breakfast all day, opens early.
Candies by Coffee Room: Cafe/restaurant with awesome vibes. Kind of mix between a hipster-y and trendy little American cafe. We had really good lunch and drinks here, so good that the person I was traveling with got his chicken entree twice during the same meal.
Best Restaurants in St. Petersburg Russia
Related Post: London Travel Guide
---
St. Petersburg Nightlife
Touring all day for two days straight really got to the best of us, especially since we saw a performance both nights we were there, so we didn't go out too hard in Saint Petersburg, plus we stayed at an awesome hostel that had Russian Vodka gatherings there. These are some bars/clubs I'd recommend for a rowdy night out, Russians definitely know how to have a good time.
---
Where To Stay In St. Petersburg Russia
There are a ton of nice hotels in St Petersburg since it's a major city in Russia, and in Europe in general. St Petersburg is also a backpackers haven and there are a ton of amazing St Petersburg Russia hostels to look through too. Search and book for St. Petersburg Russia hotels here.
AIRBNB St. Petersburg: There are also so many apartments in St. Petersburg. They are generally cheaper than hotels so if you like the Airbnb route instead of hotels I definitely recommend it. Also, if you use my Airbnb link you get $40 off your first stay!
Search and book St Petersburg Russia hotels here.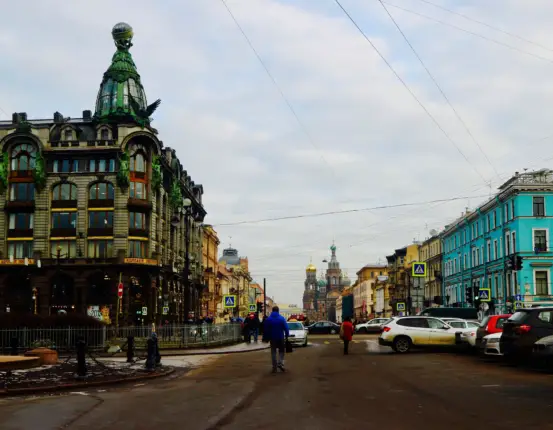 ---
Like this St Petersburg Russia attractions post? Pin it for later or share with friends!
Did I miss any St Petersburg Russia attractions that you loved? Let me know in the comments for my next visit! See the rest of my Russia travel guide here for everything you MUST know before traveling to Russia.
Some emails suck. Mine don't. Sign up to be the first to see my new travel itineraries and secret insider travel tips and hacks only my email subscribers get! I promise I will never spam you!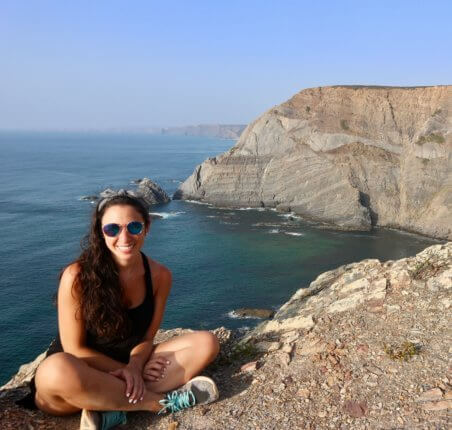 Rachel Shulman is the owner of From East To West and a seasoned traveler having been to 45+ countries and no intention of stopping soon. She is obsessed with planning and specializes in creating detailed, efficient travel itineraries and guides so you don't have to when planning your next destination.