I had high expectations going in to Mykonos, with my love for house music and little stunning towns, and I was not disappointed…Not to mention the sunsets while sipping amazing cocktails. And did I mention the parties. I spent have visited Mykonos twice (once in 2015 once in 2022) and lived to tell the tale. This guide will tell you everything to do in Mykonos in a long weekend (3 days in Mykonos is perfect), including where to eat, where to party, where to stay and where to soak up the amazing Greek weather.
Disclosure: This 3 days in Mykonos guide post may contain affiliate links. I may receive commissions for purchases made through links in this post. As always, all opinions are my own and I would never post about something I have not personally used/verified.
3 Days In Mykonos Travel Tips
For all of my Greece travel tips, head to my Greece Travel Guide!
NOTE: Most of the restaurants, beaches and clubs in Mykonos are only open during the summer/shoulder months as it primarily shuts down in the winter.
TRAVEL INSURANCE: When visiting Mykonos, I highly recommend getting travel insurance. You never know what may happen to your flights, a death/personal emergency in your family, or an accident happening while traveling (think: getting mugged, falling while hiking and spraining your ankle, literally any accident than can happen ANYWHERE!). World Nomads makes it super easy and I never leave for a trip without getting their insurance. Most importantly it's extremely affordable: get your World Nomads travel insurance before your trip here!
MYKONOS PACKING: For all of my fave travel/packing essentials I bring on any trip compiled together, head to my influencer page on Amazon here for a complete list or my descriptive carry-on packing guide here! It's suuuper hot in the summer (when you will likely be visiting) don't forget your sunscreen (my fave travel one here) and your water bottle (my fave here)! Also if you are planning on hitting the day parties/nightlife here get your most trendy outfits + heels together (lots linked on my amazon page)!
How To Get To Mykonos
My first visit I took the ferry from Athens to Mykonos which was super easy and quick and honestly quite beautiful. We took it from the Rafina port, which has more time options than Pireus. The ferry was about 2 hours with assigned seating, like an airplane. It was a really interesting experience as well as affordable (around $60). You can book your ferries here.
My second trip we flew directly to Mykonos from Tel Aviv. There are TONS of flights daily from Athens and many other European cities in the summer and this is great option if you are coming from far away and don't want to spend hours on a ferry!
Mykonos Itinerary: Everything to do in Mykonos Greece
Explore Chora town
Spend a full day in Chora (the main town) and get lost in the alleys. The whole town is tiny but you can easily get lost roaming these streets, eating amazing food, marveling at the all-white buildings and blue accents and shopping in the stores. The shopping is incredible. The cutest boutiques you will ever see with honestly the nicest people! I did a lot of shopping damage on my most recent 3 days in Mykonos trip in 2022 and I love everything I bought! I suggest spending your morning and early afternoon doing this and eating plenty of good meals (eat gyro at Jimmy's Gyro!!!) and ice cream in between!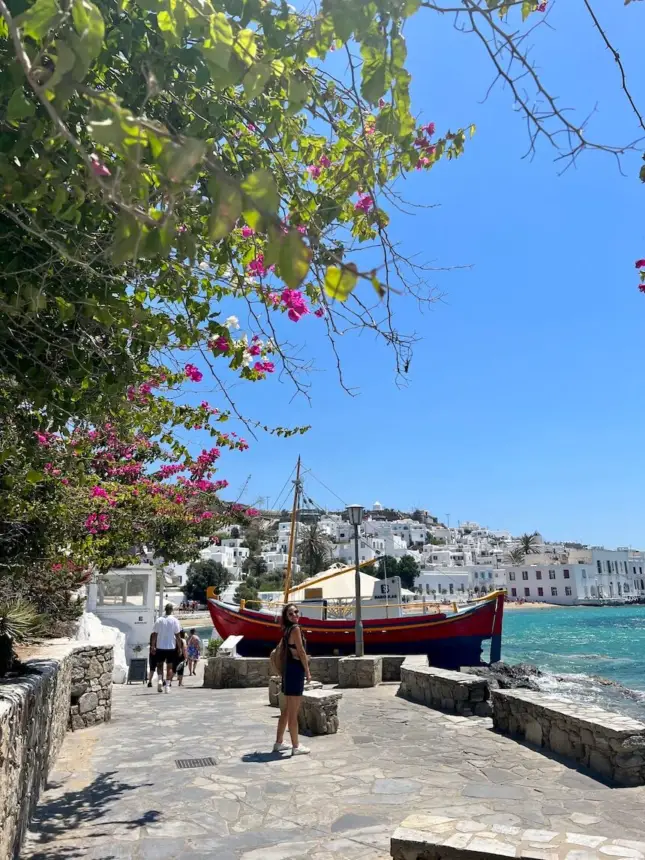 Related Post: Greece Travel Guide
Mykonos Windmills
One stop you must make is on the top of Chora at the windmills – it's an amazing site. Four windmills line the hill and you can look over the water and edge of Chora and Little Venice together. This is the most famous view of Mykonos. Sunset views here are also amazing.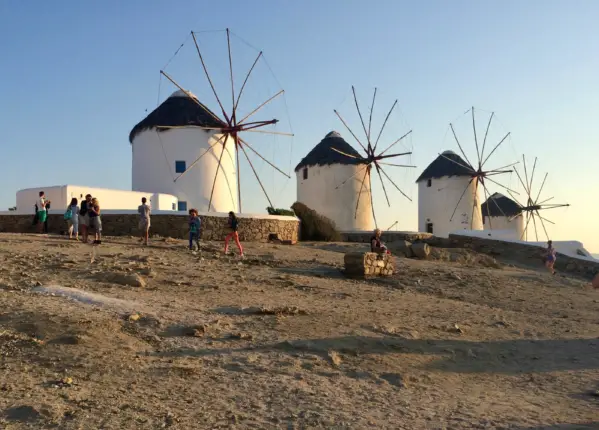 Little Venice Sunsets
When the afternoon starts to come to an end, head to the Little Venice area (part of the town on the border of the water). This area consists of tons of bars that overlook the sunset. It is the most stunning view…and the cocktails are amazing, but they will cost you. There are a myriad of bars to choose from, and I suggest picking wherever you can get a seat legitimately on the water.  We sat at Scarpa and the drinks were amazing. Galleraki is another great option right next door. The sunset is absolutely perfect.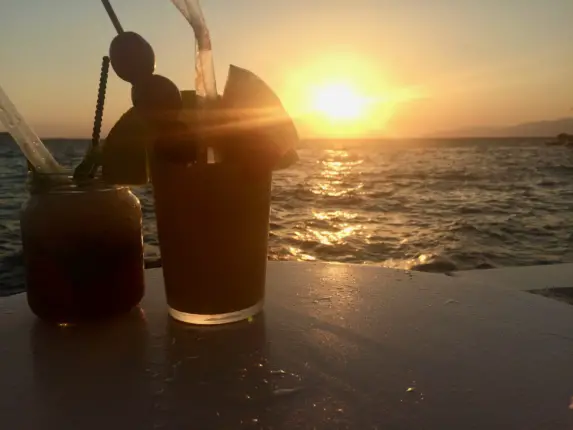 Related Post: Athens Travel Guide
Rent ATVs Scooters
Rent them for a day and ride around the island stopping at different areas like the locals do. There are many gorgeous beaches on the island that you can travel to on them. You can rent one from any beach or area in town.
Beaches: Best Mykonos Beaches To Visit
If you are staying in town and not on a beach, I highly suggest going to check out and lay at one of the famous beaches in Mykonos. Some gorgeous ones are: Paradise Beach (a party one, but gorgeous), Psarou (trendy, famous celebrity-heavy beach), Platis Gialos (close to town) and Paraga (one of most popular and crowded). You will find paradise at any of the Mykonos beaches.
Delos Island: Best Mykonos Day Trip
While I didn't have time for this, I heard this day activity was amazing if you have more time in Mykonos. You can take a short ferry trip (30 minutes) to Delos Island which is known for its awesome archaeological ruins.
 Click on any of the Mykonos activities above to get more information!
Related Post: Santorini Travel Guide
Where To Party In Mykonos: Best Mykonos Clubs (Day & Night!)
Ok so this is probably what you have been waiting for in this guide anyway but many people that come to Mykonos to party. Daytime parties nighttime parties until the morning, bar hopping, restaurants with breaking plates…. Mykonos party scene has it all.
Mykonos nightclubs: Mykonos is the elite party scene in Europe. No question. Generally the party area is on Paradise Beach. This is where the two biggest clubs are on the island for the nighttime, both making the top 20 in the world, Cavo Paradiso and Paradise Club. They alternate nights so not to worry, you can go to both. These clubs hold the top DJs in the world, so they do not disappoint. Do not worry, all of the bars in Chora town are also a huge party every night of the week so you can go out in town in a much more toned down bar instead of a huge club – highly recommend Caprice Club – the back opens onto the water and it's amazing.
Mykonos day clubs: There are a few famous beach day parties in Mykonos. And by a few I mean a lot. Nammos, Alemagou, Principote, Sant Anna, Tropicana Beach Club, and, of course, Scorpios. Scorpios on a Sunday late afternoon into night is an absolute necessity. Make a reservation well in advance. It is stunning and massive and everything you want in a sunset club. All of these beach clubs you can also just eat lunch at so they are perfect for any type of person.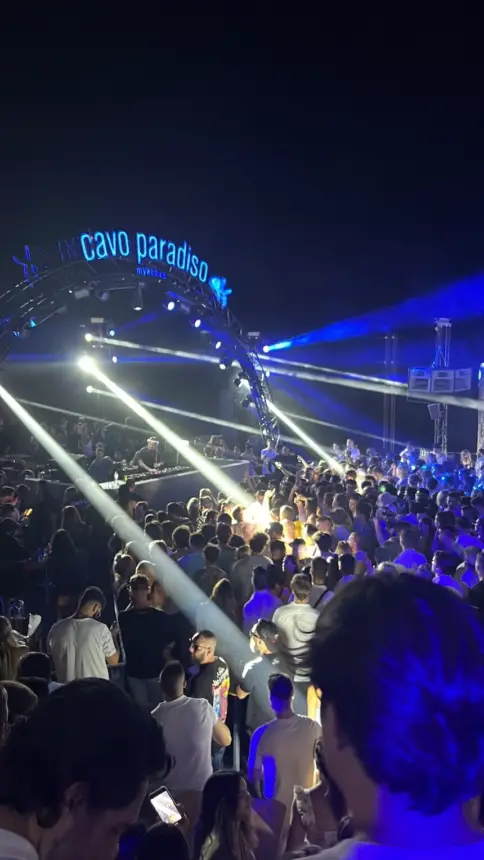 Where To Eat In Mykonos: Best Restaurants in Mykonos
We went to amazing places for dinners as well as sunset drinks (mentioned above)! Greek food is amazing. You must, must, must make reservations at all of these places beforehand (as far in advance as possible in peak months!)
Sea Satin: If you want a party at dinner, this is your spot. Come here any night of the week and what will start as a chill, good dinner will slowly turn into a party into the late hours with everyone dancing on the chairs. Highly recommended. One of my favorite nights in my 3 days in Greece.
Interni
Spillia
Jimmy's Gyros
Hippie Fish
Principote
Nikos Taverna: Traditional Greek food, definitely recommended.
M-Eating: Another option for great traditional Greek food.
Raya: Cute little restaurant overlooking the old port in Chora. Good breakfast food!
Nobu Matsuhisa: If you are feeling fancy. In the Belvedere Hotel.
Click on any of the restaurants above to learn more and book reservations!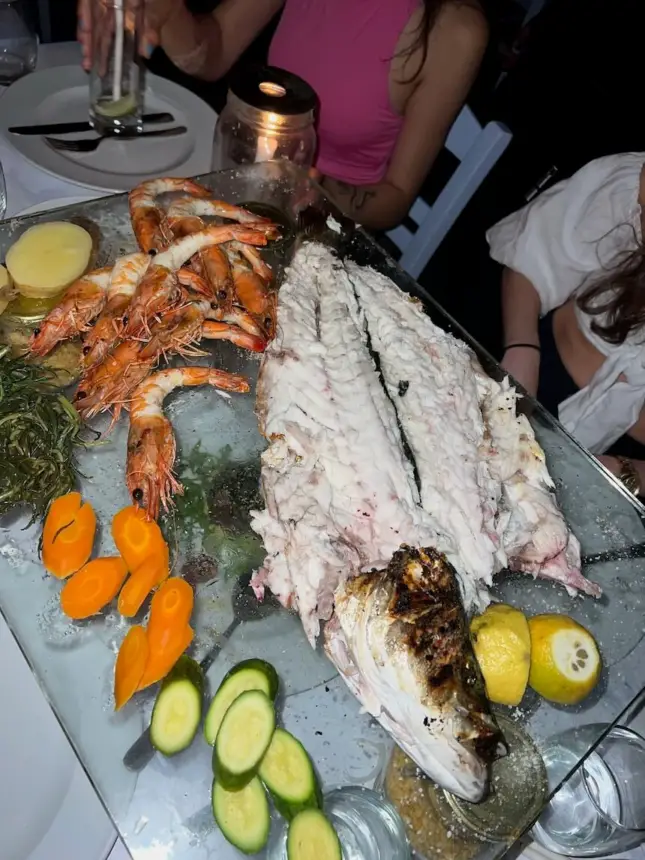 Related Post: Paphos, Cyprus Travel Guide
Where To Stay In Mykonos
On my first visit, we stayed in Paradise Beach, where the late-night (and daytime!) beach partying happens. There is a bus that goes straight into Chora and leaves every 30 minutes right from the hotel and only takes 15-20 minutes to get there, it was so convenient. The hotel was Tropicana Hotel and it was absolutely perfect for what we were looking for (2 people only) with stunning views and a balcony. While many other people would say to stay in the middle of town, I say otherwise if you are there to party. We much preferred to take a bus to and from town during the day as opposed to 2 AM from the club and back into town.
On my second visit, we were a group of friends and we rented a villa about 15 minutes from town and 15 minutes from most of the beach clubs and it was the perfect house and location. If you rent a villa or stay outside of town, you must must MUST hire a driver company, which you can easily find by googling. They were ready for us on demand whenever we wanted, multiple times a day and at any time a night. In our 3 days in Mykonos we did 17 rides total! It was so convenient and I promise you do not want to see the lines of busses and people calling taxis at 6 AM in the morning after the clubs when you just want to get to sleep. There are also minimal taxis on the island so this is a must.
If you are visiting Mykonos for the town only and not the clubs, then there are plenty of good hostels and small hotels located right in the middle of the town, check out some Mykonos town hotel options here!
Book Tropicana Hotel Mykonos here or book other Mykonos town hotel options here!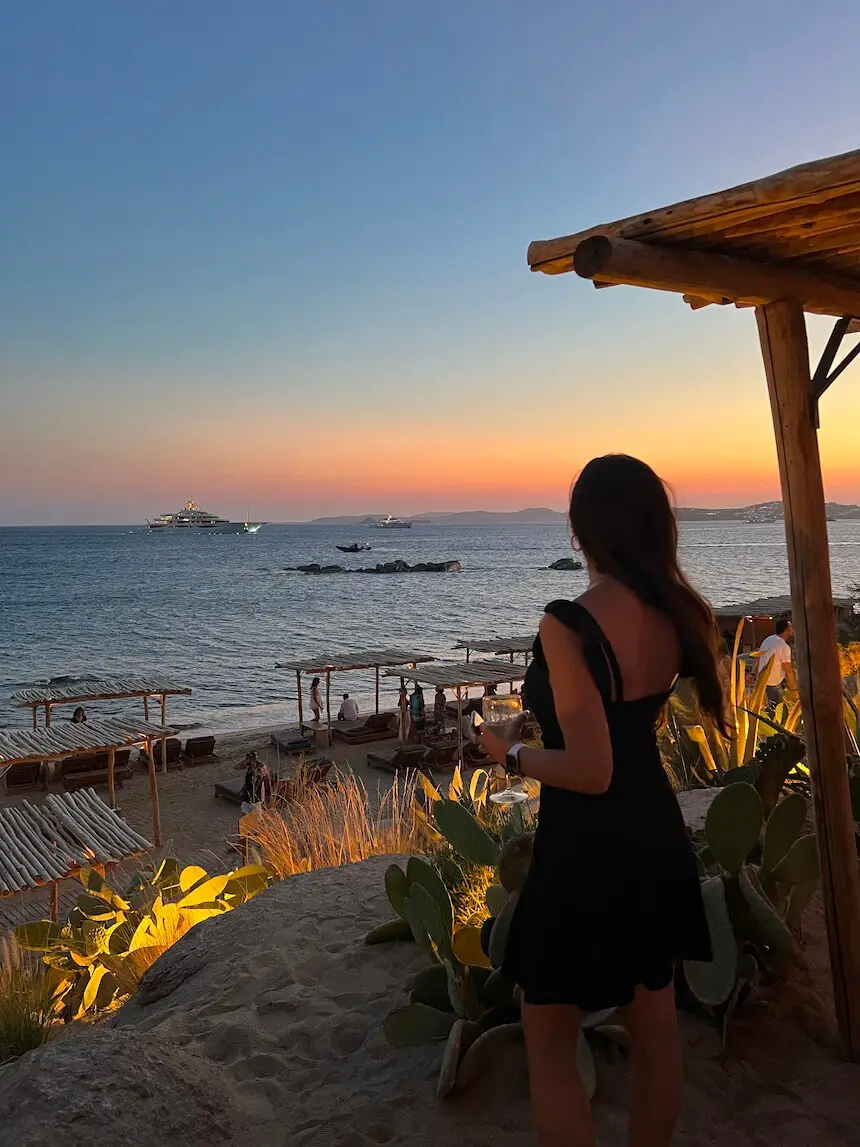 Like this 3 days in Mykonos travel guide? Pin it for later or share with friends!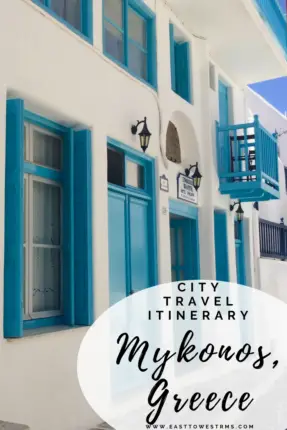 Did I miss something in a 3 days in Mykonos itinerary that you loved? Let me know in the comments for my next visit! Don't forget to check out my full Greece travel guide here! Looking for more Greek city travel guides? If you are visiting Athens head here and if you are visiting Santorini head here.
Some emails suck. Mine don't. Sign up to be the first to see my new travel itineraries and secret insider travel tips and hacks only my email subscribers get! I promise I will never spam you!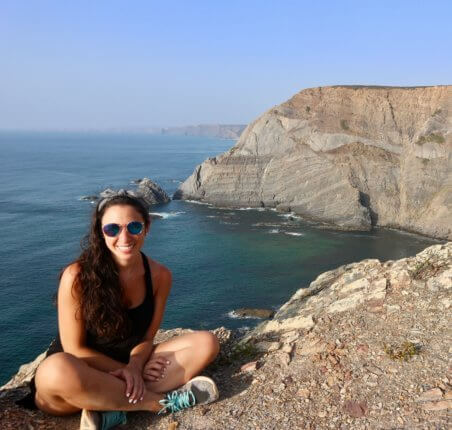 Rachel Shulman is the owner of From East To West and a seasoned traveler having been to 45+ countries and no intention of stopping soon. She is obsessed with planning and specializes in creating detailed, efficient travel itineraries and guides so you don't have to when planning your next destination.