*Scroll to the bottom to head straight to my Ireland city/area guides – Dublin coming soon*
Disclosure: This Ireland country guide post may contain affiliate links. I may receive commissions for purchases made through links in this post. As always, all opinions are my own and I would never post about something I have not personally used/verified.
What To Expect When Visiting Ireland
I visited Ireland when I studied abroad and it was a last minute ticket purchase, as Dublin and Ireland and general were not on my radar to get to when abroad. We ended up having a weekend and decided to visit. Ireland came to be my FAVORITE weekend trip during my time abroad and I was totally surprised by it. The Irish people are SO insanely nice I actually was embarrassed to be a New Yorker. There is live music on every corner and I had actually very good meals here (that did not consist of fish & chips). I also took a half-day tour to the countryside one day and it was my favorite day of all of abroad. The countryside is beautiful. I am already awaiting my next trip to Ireland to visit more of this beautiful country. My full Dublin guide is coming soon separately but in the mean time, read up on things to do and different tips for visiting Ireland. 
Currency
Ireland is on the Euro! Makes it super easy when traveling around Europe.
Language
English! Makes it super easy again! And the Irish accent is amazing.
Related Post: United Kingdom Travel Guide
Other Tips For Visiting Ireland
Travel Insurance: When visiting Ireland, I highly recommend getting travel insurance. You never know what may happen to your flights, a death/personal emergency in your family, or an accident happening while traveling (think: getting mugged, falling while hiking and spraining your ankle, literally any accident than can happen ANYWHERE!). World Nomads makes it super easy and I never leave for a trip without getting their insurance. Most importantly it's extremely affordable: get your World Nomads travel insurance before your trip here!
IRELAND PACKING: For all of my travel/packing essentials I bring on any trip compiled together, head to my influencer page on Amazon here for a complete list or my descriptive carry-on packing guide here or my favorite travel gear here!
Dublin Travel Tips
Dublin and Ireland go wild St. Patricks Day weekend, naturally. Visit during this time so see lots of celebrations and a once in a lifetime experience you can ONLY have in Ireland.
Things to do in Dublin: Guinness Storehouse, Trinity College, Temple Bar, Grafton Street and Dublin Castle.
I usually do not recommend Hop On Hop Off busses to see cities, but Dublin is the perfect city to use this type of tour to see all the main spots because EVERYTHING is on the bus line and they are far from each other! You can buy your ticket in advance here.
Day trip to countryside: Take a day trip to the countryside from Dublin! We did this exact tour to Powerscourt Gardens and Glendalough through DoDublin bus tours, and the ticket also included a HopOnHopOff around Dublin for another day which was perfect! Highly highly recommend during your Dublin trip. Book this tour here.
Nightlife: Dublin is not a club scene, you go to Irish bars and watch live Irish bands play which is really awesome experience! Go out in Temple Bar.
Book the Dublin Hop on Hop Off here or Book the countryside day tour from Dublin tour here!
Other Things To Do In Ireland
Search Dublin hotels, hostels and more accommodations and book here!
IRELAND CITY/AREA GUIDES: COMING SOON!
Some emails suck. Mine don't. Sign up to be the first to see my new travel itineraries and secret insider travel tips and hacks only my email subscribers get! I promise I will never spam you!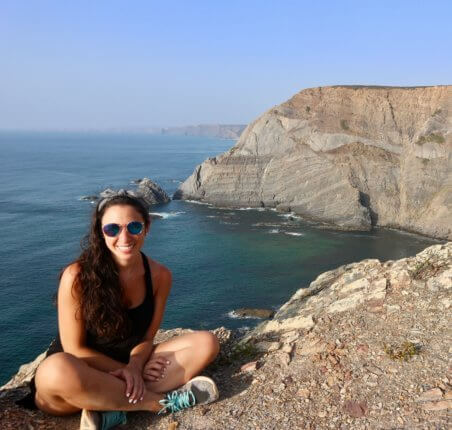 Rachel Shulman is the owner of From East To West and a seasoned traveler having been to 45+ countries and no intention of stopping soon. She is obsessed with planning and specializes in creating detailed, efficient travel itineraries and guides so you don't have to when planning your next destination.