I feel strongly about certain travel gear & photography accessories. Keep reading for my detailed travel gear guide including my favorite travel shoes, clothes and photography and tech equipment for all different types of seasons, vacations and adventures.
Disclosure: This travel gear guide may contain affiliate links. I may receive commissions for purchases made through links in this post. As always, all opinions are my own and I would never post about something I have not personally used/verified.
***Too lazy to read each item I recommend separately? Check out my personal amazon page here which has all my favorite items and recommendations aggregated on one page! Also check out my 2020 Holiday Gift Guide for travelers or travel must-haves under $20**
Travel Shoes
HIKING BOOTS: These Keen Hiking Boots are the most comfortable, durable hiking boots ever. I bought them for my Iceland trip and they went through ALL different types of terrain there; glaciers, lava, moss, grass, you name it. They are totally essential for any Iceland trip and any hiking trip in general. I wore them one again on my Atacama Desert, Chile trip and they were still amazing! They are extremely comfortable to spend hours in so your feet will never be in pain. My entire family owns these and couldn't recommend them enough. Buy here on Amazon.
SNOW BOOTS: My Sorel Boots have made it through plenty of New York winters, and more importantly, my trip into the Arctic Circle in Swedish Lapland. They kept my feet warm, comfortable and dry for hours on end. Buy here on Amazon | Buy here on Sorel.com.
RAIN BOOTS: These made it through 4 years in New Orleans downpours and plenty of New York rains. Hunter boots are one of the most well-known rain boots for good reason. They're bulky but the absolute best and keep your feet and legs completely dry. Buy here on Amazon.
Travel Clothes
HEAT LAYERING CLOTHES: The most necessary clothes EVER for winter destination trips. Uniqlo HeatTech Clothes: Going on a winter destination trip? You need all the clothes from the Uniqlo HeatTech line. I bought two of each for my Swedish Lapland trip and now I wear them all the time around NYC in the winter too! I bought the socks, shirts, leggings and scarves. They were a serious lifesaver for the negative degree temperatures and are beyond soft and warm. Buy here on Uniqlo.com.
TRAVEL LEGGINGS: I bought a few different colors/lengths of these leggings after a review from another blogger and i'm hooked! These are amazing fitting leggings (that accentuate in the right places) AND they have two massive pockets down both of the legs- a MUST for traveling – so much easier to find your phone/passport/ticket etc. while going through airports, public transportation and more. Of course they are also perfect loungewear leggings or workout leggings! Buy here on Amazon.
PACKING CUBES: THE travel clothes must-have accessory. You have to jump on the packing cubes bandwagon- it will change your life. It make packing, unpacking and traveling SO much easier. Especially when you are jumping around hotels each night you don't have to unpack and repack your suitcase just for one thing – you know exactly which cube it is in. Highly recommend this pack.  Buy here on Amazon
Travel Gear Accessories
Photography Gear
BIG CAMERA: I love love love my new Canon Mirrorless camera I got last year. It's perfect for what I was looking for and now I won't travel without it. I've always loved Canon cameras back to the skinny little point-and-shoot cameras I used to have in college, and this is no exception. Highly recommend this as a nice camera for those that don't want to carry around a big, heavy DSLR but want something much nicer and better quality than your phone. I did see that they discontinued making it so if they are sold out by the time of reading this, I still suggest any of Canon's new EOS mirrorless camera models. You can't go wrong. Buy here on Amazon | Buy here on Canon.com.
GOPRO HERO 7: I love my GoPro more than anything. I use my GoPro for water activities (which I always try to incorporate into my travels), adventure activities (like sand boarding) and all the in between. The quality of the pictures and videos are SO high quality and come out amazing – I love the fisheye effect. I highly suggest a GoPro as another camera to always have with you while traveling – it is the best for water and action videos and photos. Buy here on Amazon.
GOPRO REMOTE: A necessity when you attach to a long pole for selfies, a head attachment, or clip the GoPro to another object to take footage. It comes with a band so you can put the remote on your wrist or the pole for selfies or anything. SO MUCH BETTER for taking photos – underwater included! Buy here on Amazon.
JOBY GORILLAPOD: One of my newest and favorite purchases. This is a multi-purpose tripod that you can wrap around ANYTHING and everything for the most amazing, unique angles that a regular tripod just can't give you! Best of all it's super lightweight and portable so it's perfect for traveling. This is recommended by 1000+ bloggers and they are not wrong – my best purchase yet. Buy here on Amazon.
PHONE WATER POUCH: This is the best thing when you don't have your GoPro with you or you want to bring your phone in the water. It was amazing for Yacht Week and any other summer water casual activities. Buy here on Amazon.
Extra Camera Batteries: You never want your camera to die. Especially in drastic temperatures (too cold or too hot), batteries die way quicker than normal. I bought this two-pack of batteries for my Canon EOSM10 and they're perfect. This brand makes the same batteries for any camera and I highly suggest in investing in them. They're way cheaper than the real brand's battery (Canon's were $50 for one, these are $16 for two) and work equally as well as the initial battery. Buy here on Amazon.
Extra Memory Cards: Another catastrophe would be running out of space on your camera for your amazing pictures! I always have extra memory cards with me on my travels. I have a 16GB in my camera at all times and always bring another 16 and a 4GB with me in my bag, and leave them in the hotel safe until I need them! Buy here on Amazon.
Head here if you are looking for some extra photography taking tips.
Head here if you want to learn more about the best cameras for travel photography.
Have a certain travel gear/accessory you can't leave home without or think I should add to my travel gear guide? Let me know in the comments! Head here for my carry-on essentials and packing tips or my favorite travel must-have items under $20!
Some emails suck. Mine don't. Sign up to be the first to see my new travel itineraries and secret insider travel tips and hacks only my email subscribers get! I promise I will never spam you!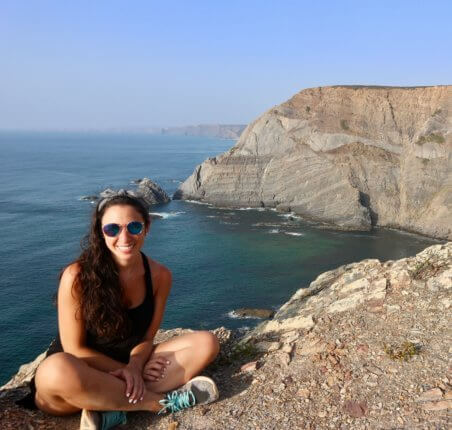 Rachel Shulman is the owner of From East To West and a seasoned traveler having been to 45+ countries and no intention of stopping soon. She is obsessed with planning and specializes in creating detailed, efficient travel itineraries and guides so you don't have to when planning your next destination.