There are some things I cannot leave home without when I leave for my trips. No matter long/short or cold/hot, I always have my staples. Check out what I always have on my carry on packing list for all different types of adventures. You can also check out my2020 Holiday Gifts Guide for travelers for more ideas for packing!
Disclosure: This carry-on packing list guide may contain affiliate links. I may receive commissions for purchases made through links in this post. As always, all opinions are my own and I would never post about something I have not personally used/verified.
---
What I ALWAYS Have In My Carry-On: Packing Essentials
**Too lazy to read each item I recommend separately? Check out my personal amazon page here which has all my favorite items and recommendations aggregated on one page!
I can't start this list without mentioning my favorite carry-on suitcase. The Chester is the most ideal suitcase – it's chic, super lightweight with multiple compartments, 4-360 wheels (the best for connecting flights and running around airports) and of course a built-in lock on the suitcase. I don't travel anywhere without my Chester carry-on, even just for long weekends! Buy here on Amazon
---
Don't think I need to give any explanation why AirTags are at the top of this list in 2022 travel and why I keep one ALWAYS in my luggage. Already countless times the plane has been too packed and airlines have made me gate check my carry-on so I am SO glad I have the AirTag always in the bag. This is a no-brainer. Buy here on Amazon
---
I am beyond afraid of flying, which is pretty ironic since all I do is fly. To make sure I'm as comfortable as possible, I always have my neck pillow. This one is my absolute favorite because it adjusts to the size and support you want it – as tight or loose as you want. It's also so soft and provides support everywhere. It comes with a clip so it clips right on to your bag so you don't have to waste room in your carry-on! Serious space saver. Buy here on Amazon
---
Going along with the pillow, this travel blanket is one of my essentials when getting ready for long trip. First, it keeps you warm on freezing planes. Second, it stands as an extra blanket when that hostel you are staying at has questionable bedding or freezing temps. Third, it folds into a pillow holder (space saver again), forming a pillow for you again when the hostel has questionable pillow sheets or you need that extra head support. Buy here on Amazon
---
Always a good chance you will a) lose your phone charger b) your companion will need one c) yours will randomly stop working. I swear by Anker phone chargers over Apple brand. Anker ones last longer, are more durable and more cost efficient. I also swear by this extra long one so you can reach it in all locations – especially when hotels have one outlet no where near you. Buy here on Amazon
---
RELATED POST: My favorite travel must-have items under $20
If you are not on the suitcase that comes with a built-in lock bandwagon yet, these are a necessity. it's important to always lock your luggage these days (I lock both under the plane and overhead compartment one). It makes me feel better to have everything secure than to have something unlocked that may not be in my possession at all times. There's always the chance that you will have to gate-check your carry-on, leave it with hotel concierge, or anything else, and you don't know who will handle the bag so I always bring a lock no matter the destination or distance. Buy here on Amazon
---
Another accessory that is a must these days. I own multiple and keep them in every bag possible so that I am never without a charge. I swear by Anker's portable chargers too (just like their cords). This one is my favorite because it's the size of a lipstick and fits anywhere. Buy here on Amazon
---
If you're like me, you can't keep track of which adapter works for each region every time you travel. This amazing Travel Adapter is a worldwide charger and fits over 200 countries (re: basically everywhere) AND multiple USB charging ports, you can charge up to 5 items at once! This is an absolute life changer for any frequent international traveler. Buy here on Amazon
---
Ever since S'well came into the world, I've bought multiple. They're really genius. I have all of the sizes and they're great for different purposes. I won't travel anywhere without the medium size since getting it. S'well keeps your drink freezing cold for 24 hours or burning hot for 12 hours, depending on the drink. I go to the airport with it empty and then fill it up after security.  You can put any liquid you want in it! I love all the colors they come in, too. I love having a cold bottle of water with me at all times, especially for warm destinations, so the S'well is a must! Buy here on Amazon
---
I always bring three different headphones when traveling:
1. My over-ear massive noise cancelling headphones, the Wireless Beats Studio3. These are the best headphones for long flights (aka my multiple-per-year flights to/from Tel Aviv / USA) – I sleep for 12 hours with them on and they don't hurt my head nor die. They fully drown out all noises, including babies sitting right next to you. These Beats are better than the Solo version of Beats since they go OVER ear, not ON…they are so much more comfortable. They also come with a cord to make them wired so you can connect to the plane seat entertainment.
2. I also always have my Apple Airpods Pro with me (legit always), since they're tiny and portable and good if the Beats are too bulky, and I switch to them during landing so can just get off the plane quickly. The new Pro version are also sooo much more comfortable than the 1st gen and also have noise cancellation.
3. I always keep a very cheap pair of in-ear wired headphones that have a headphone jack at the bottom of my bag in case my real ones ever break and to watch movies on planes if I don't want to take out my big Beats. (maybe one day the seat TVs will have bluetooth, too). You don't want to be stuck in silence on long transportation rides that is for sure. Buy Beats Studio3 on Amazon here. Buy Apple AirPods Pro on Amazon here.
---
You have to jump on the packing cubes bandwagon- it will change your life. It make packing, unpacking and traveling SO much easier. Especially when you are jumping around hotels each night you don't have to unpack and repack your suitcase just for one thing – you know exactly which cube it is in. Highly recommend this pack.  Buy here on Amazon
---
Truly don't go on any trip without my Kindle. I used to be the person that only liked flipping a page in a physical book but the Kindle totally transformed me – no more having to pick out a book before a trip or bringing too many or too little and no more bulky books taking up room! The Kindle is SO light, so little and you can get books on the go. Also perfect for every beach/relaxation vacations like the Bahamas or Aruba. It's the absolute best for reading and always having a book on you without the heavy weight. Buy here on Amazon
---
Another new product I am obsessed with. I always struggle to fit all of my carry-on liquids into the little size bag. Between my liquid makeups, face wash, shower products, lotion, and sunscreen, I can't fit it all. These liquids tubes are the game-changer. They do not leak at all, even with products close to just water consistency. They are so small but fit more than enough; it is perfect for my foundation and primers, where I really don't need the full 2 oz. bottles they come in and take up so much room. They are also perfect for holding pills and keeping little items organized! Humangear is a very well-known brand in the travel world and I recommend these liquids tubes to anyone who has lots of liquids – the 3 pack is perfect.  Buy here on Amazon
---
Emergency Medicine Essentials: Aka Travel Med Kit
Medicines in every country are different. I always make sure I have tons of Advil and other medicines with me so that I am never caught in a bad situation. I also always have tons of Purell and Tide-To-Go with me since you'll never know what kind of accommodations, public spots and people you'll encounter.
---
One of my new favorite finds –this sleeping mask is so good I started sleeping with it at home! It is so soft and covers all light – makes sleeping on planes SO much easier especially when they turn on and off the cabin lights. Buy here on Amazon
---
Pens
Never know when you will need to fill out something super quickly to speed through lines (like customs).
---
Copy of important documents
Never know when you may lose that important document (ie: passport). It's always best to have a copy of your passport, visa, and any other document no matter where you go – I always keep 1 copy in my carry-on AND 1 copy in my checked luggage.
---
---
Have a packing tip/carry-on essential you can't leave home without or think I would love? Let me know in the comments! Head here for my favorite travel gear & photography accessories! Need a gift for a frequent traveler? Head to my 2020 Travel Holiday Gift Guide!
Some emails suck. Mine don't. Sign up to be the first to see my new travel itineraries and secret insider travel tips and hacks only my email subscribers get! I promise I will never spam you!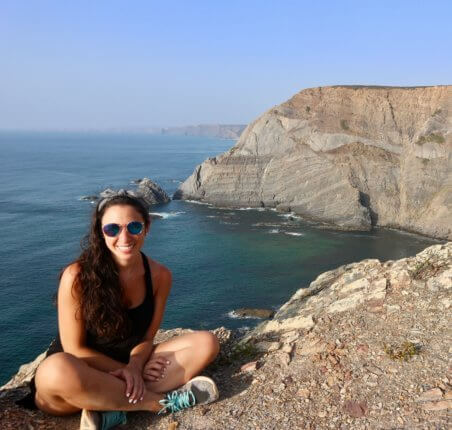 Rachel Shulman is the owner of From East To West and a seasoned traveler having been to 45+ countries and no intention of stopping soon. She is obsessed with planning and specializes in creating detailed, efficient travel itineraries and guides so you don't have to when planning your next destination.