I have spent too much time shopping and trying out new travel must-haves items for when my travels come. As a frequent traveler in a normal world who also has a knack for spending money, I have definitely scoured Amazon, like many others, for the best deals. $20 can shockingly get you SO MANY GOOD THINGS on Amazon that will improve your travel experience. These are ALL items I personally OWN, use often and fully 100% recommend. And now is the perfect time to stock up on these under $20 travel items must-haves for yourself for the minute travel reopens safely.
Disclosure: This under $20 Amazon must have travel items guide may contain affiliate links. I may receive commissions for purchases made through links in this post. As always, all opinions are my own and I would never post about something I have not personally used/verified.
THE BEST UNDER $20 AMAZON TRAVEL MUST-HAVES ITEMS LIST
**Too lazy to read each must-have travel item I recommend separately? Check out my personal amazon page here which has ALL my favorite items and unique travel gifts recommendations aggregated on one page!**
Ok these were by far one of my favorite purchases ever and everytime I show people them they NEED. I had to include it first on the list. I heard about these from another blogger and HAD to get them. I am ALLLLL about the secret compartments on outfit accessories when I am traveling. These secret scrunchies have little zipper pockets inside of them that are totally hidden when you tie up your hair. This is perfect for holding an extra $20 bill or a bunch of bills while you are traveling in the terrible chance that your wallet gets stolen – which is always possible when traveling. This is by far my #1 travel must-have for ladies. It can fit a bunch of bills, a small chapstick/lipstick, keys and more. I also wear these daily when going for a run so I don't have to bring a bag and also when I go in the ocean! Buy secret zipper scrunchies on Amazon here.
I heard about microfiber towels for traveling due to its quickdry nature and I became immediately hooked after purchasing. I use it everyday on the beach in Tel Aviv – where I very much live full time and could purchase a real beach towel if I wanted! Microfiber towels are the BEST for traveling and needed for any trip. They are quick drying towels that really do dry SO fast and will not get everything in your bag soaked. I actually can't imagine traveling without it now. It is perfect for hostels/hotels with questionable/no towels, camping/nature trips, as well, of course, as beach/pool vacations. Also the best part is that it folds up so super small that it will fit in any bag. One oof the best travel must-haves. Buy the microfiber towel on Amazon here.
---
If you're like me, you can't keep track of which adapter works for each region every time you travel. This amazing Travel Adapter is a worldwide charger and fits over 200 countries (re: basically everywhere) AND multiple USB charging ports, you can charge up to 5 items at once! This is an absolute life changer for any frequent international traveler. Buy the global travel adapter on Amazon here.
I have been raving about Sunbum sunscreen face stick for years. It is the BEST for traveling and the BEST sunscreen for your face. It won't add liquids to your bags, you can throw it in any small bag and the solid won't break even if you drop it on the ground. I have this with me in my travel bag at all times to keep my face protected! I lived on this when I was in the Cartagena heat for a trip. They also last for so long. Buy the Sunbum sunscreen stick on Amazon here.
I've been using Labello chapstick since I first was introduced to it on a summer program in Italy when I was 16. Labello is only sold abroad and I used to literally STOCK UP when I traveled and brought so many back to America. I can't believe you can finally back a multi-pack on Amazon now and for so cheap! Since moving to Israel, I buy them almost weekly and always bring back 20+ to America for all my friends – it's always requested! Although, this Amazon pack is so much cheaper than in Israel, I am shocked! Labello is the softest chapstick by far. Nivea makes a copycat of the same look and feel but I promise Labello is the legit one. Buy Labello on Amazon here..
The most necessary accessory when your suitcase is always filled to the brim and borderline over 50 lbs or 22 kg or whatever the limit is for your flight! I use this scale with me every time I pack and it's so light so you could even bring it with you if you will be doing a lot of shopping in your destination! This came in handy when I moved my whole life to Israel! Buy the luggage scale on Amazon here.
Ok this one is a cheat beacuse it now costs a bitttt over $20 normally but when I got it, it was $20 and is always included in Amazon sales (including black friday) for $14! This is how I watch TV when traveling at all times. The Amazon Fire Stick is so cheap and small that you can bring it with you ANYWHERE, connect to the TV and automatically have your Netflix, Amazon Prime, HBO, etc. with you. This is perfect for long stay trips, business trips, or just a relaxing vacation at the same hotel for a week. I also have NordVPN (buy here)
which allows me to connect to all American channels and watch all my shows on their channels on my Amazon Fire! Highly, highly recommend NordVPN
it works perfectly and turns your whole Amazon Fire, computer, phone, etc. as if you are in your home country, or any country. An absolute must. Buy Amazon Fire Stick here on Amazon.
These are one of those things you never think about but I rave about these to ALL of my friends when they see them in my bags. These Secret travel deodorant balls are EXPONENTIALLY far and away better than the regular mini travel deodorant sticks you see at the drug store. For starters, all the scents smell amazing. More importantly, THEY DO NOT BREAK. My other mini deodorant sticks from Dove and other ones I used to get in the travel section literally broke all over my bags. Every. Single. Time. These literally do not break and I have dropped them too many times. I keep these in EVERY single bag I have – probably have about 10. Buy the travel deodorant on Amazon here.
I have gotten two of these as gifts and they are lifesavers! It is a tiny tiny pouch that can fit in any size bag and has SO MANY THINGS you may need in literally any situation that may arise. Chapstick, bandaids, pain reliever, nail file, mouthwash, bobby pins, safety pin, hair spray, floss, tissues and more. Buy the mini emergency kit on Amazon here.
This has been my newest purchase during COVID-19 and I don't even know how I worked without it. This laptop stand/riser is SO much better for your eyes and back as well as if you are having video zoom meetings all the time to have people on eye-level. I use this on my desk and also travel with it now – it folds up into a tiny, tiny thing that you can fit in any bag. Perfect for traveling. Buy the laptop stand on Amazon here.
---
These don't really need an explanation but a great plug that has 2 USB ports so that you can charge multiple things (without bringing multiple chargers and converters) on every trip. Anker is the best and I get all my electronic accessories from them. Buy the dual USB plug Amazon here.
---
The best for the ladies! So many people swear by the Neutrogena liquid make-up remover (me included) and I also used to have the big pack of wipes with me when traveling. They finally came out with MINI SINGLE USE MAKEUP REMOVER WIPES which are literally life-changing because the big pack of wipes used to dry out after being opened for a bit. I now always have these with me! They are perfect for traveling. Buy the mini makeup wipes Amazon here.
---
No description really necessary – the BEST brush for your hair. Love that this one comes with a mini one too! This is all I use on my hair – traveling or not. Buy the Wet Brush on Amazon here.
---
I always struggle to fit all of my carry-on liquids into the little size bag. Between my liquid makeups, face wash, shower products and lotion, I can't fit it all. These liquids tubes are the game-changer. They do not leak, even with products close to just water consistency. They are so small but fit more than enough; it is perfect for my foundation and primers, where I really don't need the full 2 oz. bottles they come in and take up so much room. They are also perfect for holding pills and keeping little items organized! I recommend these liquids tubes to anyone traveling for a short or long trip.  Buy the liquid tubes on Amazon here.
---
This is something everyone must have AT LEAST one of these days. I think I have three and I always like getting more. I love keeping them in all of my different bags so that I am never NOT without a charge. These Anker chargers ones are my favorite (any size and any type of Anker) because they last SO many charges – you don't have to charge them after every single use! You can literally fit this in any size bag – it's the size of a large lipstick! Everyone needs extra chargers! Keep one in every bag you have so you are never without a charge. Buy the portable charger on Amazon here.
---
RELATED POST: Holiday Gift Guide
Everyone ALSO always needs an extra and/or backup phone charger cord when they're on the go. I swear by Anker phone chargers over Apple brand. Anker ones last longer, are more durable and more cost efficient. I love the 6 ft. long one too, way better than the super short Apple one. Pair this with the Anker portable charger and you are set at all times – a definitely travel must-have item.  Buy the phone cords on Amazon here.
---
If you are not on the suitcase that comes with a built-in lock bandwagon yet, these are a necessity. It's important to always lock your luggage these days (I lock both under the plane and overhead compartment one). It makes me feel better to have everything secure than to have something unlocked that may not be in my possession at all times. There's also  always the chance that you will have to gate-check your carry-on, leave it with hotel concierge, or anything else, including wanting to lock your stuff in your hostel/hotel, and you don't know who will handle the bag so I always bring a lock no matter the destination or distance. Buy the TSA locks on Amazon here.
I think I was on trend before Covid-19 was a thing because mini tissue packs are never NOT in every single compartment of every single bag and pocket that I own and travel with. You truly NEVER know when you will need toilet paper, wipe up a mess, clean something dirty off or anything else during your travels. These are a must at all times – and now more than ever in a Covid world. Buy mini tissues on Amazon here.
---
I am guilty of dropping my phone all the time. My phone has yet to crack with this glass screen protector on them. When I do drop it and it cracks, it only cracks the screen protector NOT the phone, so the multi-pack is perfect. Highly recommend. Buy the screen protectors on Amazon here.
Another time I was on trend before COVID-19. And now with COVID-19 these are an absolute 500% must. I have these with me at ALL times and use it every other minute. These ones are the best because they have the clasp and you can clasp it on to your zipper outside your bag so that it's always easily accessible without having to touch more things inside your bag to find it. One of the most popular now must have travel accessories Buy Purell with clasps on Amazon here.
These fit in even the smallest of zipper compartments or purses and are the best for throwing them in and making sure your breath is always good, especially after long flights! The packages won't break or you won't have any broken gum or mints at the bottom of your pockets/bag – listerine strips are the way to go. Buy the listerine strips on Amazon here.
You can never have too many packing cubes. I say that as someone who just moved abroad and could not pack ANY piece of clothing NOT in a packing cube. I think I brought 15 here – all different types, sizes and brands I could find in my house! I had to live out of a suitcase for the first 4 weeks of moving and packing cubes made it SO SO SO much easier to know where everything was. I had been talking about how lifechanging they were to my mother for at least a year and when she finally used them for a long trip she told me that they were, in fact, "lifechanging". I pair packing cubes together to make packing easier, save room and also staying ORGANIZED when living out of a suitcase – MUCH easier. These are one of my absolute favorite travel items must-haves. Buy packing cubes on Amazon here.
---
RELATED POST: My Carry-On Packing Essentials
I'm obsessed with these gold eye masks, especially after a long flight. Relax for 10 minutes during your flight or honestly anywhere with these on and you'll feel amazing! Such a good deal for a big pack. And if you have a mini-refrigerator in your accommodation I highly recommend popping them in there for 15 minutes before – so refreshing. Not going to lie, I use these weekly when I am not even traveling. Buy the gold eye masks on Amazon here.
---
The most necessary travel must have items pen needed in every single bag you have at all times. I ALWAYS have one on me. Tide-To-Go pens take care of stains you do NOT want to sit on your belongings for longer than they have to. Buy tide-to-go on Amazon here.
---
On long-haul flights they are always turning the lights up and down at different times depending on where you are flying so I love having this eye mask to keep it always dark for when I am sleeping. It is also perfect for Airbnbs or apartments that are super bright, and just helpful for sleeping anywhere! I love this one specifically because it really lets in NO light and is super softBuy this sleeping mask on Amazon here.
---
I love these! I bought this pack for The Yacht Week and they really do keep your phone totally waterproof. These are the perfect companion for ANY warm weather destination where you are going to be in water a TON and maybe don't want to bring your expensive GoPro if you have one. And they come in a three pack so they will last a while! Buy these floating pouches on Amazon here.
---
---
Like my personal travel must-haves under $20 guide? Pin it for later or share with friends!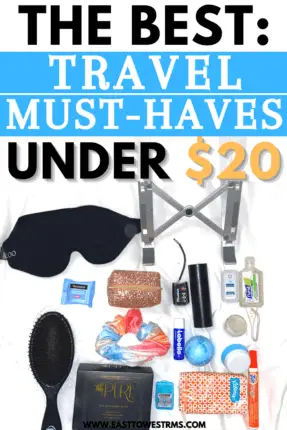 Have other under $20 travel must-haves that you think should be on this list (personal recommendations only!)? Let me know in the comments! Looking for more of my travel packing tips? Head here for all of my travel packing guides and travel tips!
Some emails suck. Mine don't. Sign up to be the first to see my new travel itineraries and secret insider travel tips and hacks only my email subscribers get! I promise I will never spam you!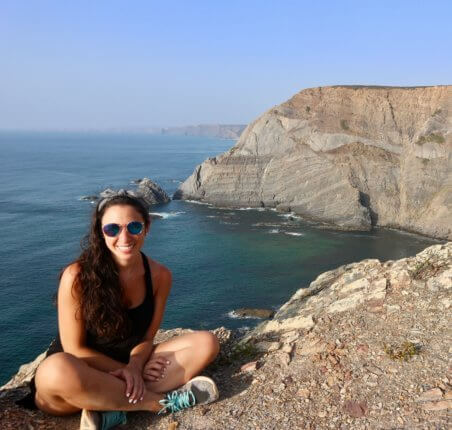 Rachel Shulman is the owner of From East To West and a seasoned traveler having been to 45+ countries and no intention of stopping soon. She is obsessed with planning and specializes in creating detailed, efficient travel itineraries and guides so you don't have to when planning your next destination.