I have wanted to go to Cartagena ever since I started hearing about it years ago, but never thought it was safe. Then tourism started booming. I quickly realized how close it is to NYC (5 hour flight direct). Cartagena is a Caribbean city and is full of culture, food, bright colors and HEAT. Keep reading on what to do in 4 Days in Cartagena (or more!) including where to eat, best day trips from the city, where to stay and more. Make sure to read up on my Colombia country guide here for safety tips, currency and what to expect when visiting Colombia!
Disclosure: This 4 Days in Cartagena itinerary may contain affiliate links. I may receive commissions for purchases made through links in this post. As always, all opinions are my own and I would never post about something I have not personally used/verified.
I used Hi Cartagena to help us plan everything in our 4 days in Cartagena. They were very easy to work with leading up to the trip – ask for Dhruv, he is a star! Hi Cartagena made all of our reservations for us and book us our tours we chose to do (request Julie!). They also provide airport transfers and tons of other activities. They are very responsive throughout the trip on Whatsapp and each day checked in with me after the tours. I found their prices to be comparable and better to other tour companies and the customer service is fantastic. Don't go to Cartagena without checking out Hi Cartagena's offerings and booking through them!
Cartagena Packing & Cartagena Travel Tips
PACKING FOR CARTAGENA: For all of my travel/packing essentials I bring on any trip compiled together, head to my influencer page on Amazon for a complete list or my descriptive carry-on packing guide here or my favorite travel items under $20 here!

It is HOT in Cartagena. Even after living in New Orleans for 4 years (New Orleans travel guide here), this was another level. The humidity is at 90% every day due to its proximity to the equator. BE PREPARED and bring A LOT of sunscreen. We all got insanely burnt during our trip, even after re-applying regularly. I love this Sunbum sunscreen stick here that was easy to pack in a small purse and re-apply without needing a mirror.
It is also BUGGY in Cartagena. Humidity brings bugs! Pack lots of bug repellent. We only used carry-ons so I bought these bug repellant wipes so they didn't take up liquids room and they were perfect! I got ZERO bug bites from using this daily (and can't say the same for my friends who used regular bug spray!). I highly recommend these Cutter bug repellant wipes here.  

Don't drink the water. There is bottled water at every restaurant, street stop and convenience store. Better to be safe than sorry, even the locals say the visitors should not drink the water (though you can brush your teeth normally!).
Negotiate everything. Taxis, store prices, fruit off the street, etc. Everything is negotiable.
When visiting Cartagena, I highly recommend getting travel insurance. You never know what may happen to your flights, a death/personal emergency in your family, or an accident happening while traveling (think: getting mugged, falling while hiking and spraining your ankle, literally any accident than can happen ANYWHERE!). World Nomads makes it super easy and I never leave for a trip without getting their insurance. Most importantly it's extremely affordable: get your World Nomads travel insurance before your trip here!
Backpacking solo in Cartagena? Check out this backpacking Cartagena guide here.
Only going to Cartagena for 24 hours? Check out this one day Cartagena guide here.
Related Post: Colombia Travel Guide
How To Get To Cartagena
Cartagena's proximity to America and NYC makes it an amazing long weekend trip. New York to Cartagena is a quick 5 hour non-stop flight and tons of airlines fly there. As I mentioned in my Colombia country travel guide here, avoid Avianca Airlines at all costs. We flew Jetblue direct from JFK and it was easy. To get to the Old City from the airport, take a taxi, they're lined up outside the airport and should cost around 15000 pesos. The ride is only 15-20 minutes to the old city. For cash, do not take out money on the street ATMs in the city. Try to take out as much as you possibly need in the legitimate ATMs in the Cartagena airport.
THINGS TO DO IN CARTAGENA COLOMBIA
Cartagena Overview: There are 3 main areas of the city: the Old City (inside the walls), Getsemani (hipster, up & coming) and Bocagrande (chain hotels on the beach). 4 days in Cartagena will give you plenty of time to see all of the top spots and more!
1. GET LOST IN THE CARTAGENA OLD CITY
One of the best things to do in Cartagena (multiple times) is to get lost in the Old City! The old city is surrounded by walls (more on that later) filled with colorful houses and winding streets. Every corner you turn on will be different and full of bright flowers, buildings, painted doors and animal knockers. Every other person on the street is selling jewelry, hats or fresh fruit. Make sure to walk through Plaza Santo Domingo, the main square containing the famous Fernando Botero's statue, La Gorda Gertrudis (more on him in my Medellin guide). Also walk through Plaza Bolivar, which is a square for people watching, coffee vendors and live music. You will see lots of Las Palenqueras, the colorful dressed fruit ladies you have undoubtedly seen pictures of, you can tip them to take a picture of/with them!
2. LA TORRE DEL RELOJ
No Cartagena itinerary is complete without walking around the famous clocktower on the edge of the Old City, it's the main landmark of the city and you will likely walk under it and in the square multiple times.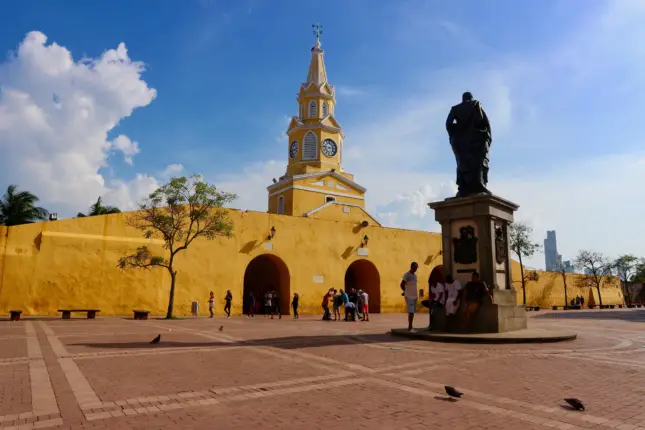 3. WALK THE OLD CITY WALLS & CAFE DEL MAR AT SUNSET
The Old City is surrounded by walls that were built to keep pirates out in the early ages, which makes for a gorgeous old town. You can walk the entire perimeter of the walls in about 90 minutes. On part of the wall, there is a famous, touristy bar called Cafe Del Mar that you must go to for the sunset. It is the perfect spot and it is always packed so make sure to get there a little before 5PM to get the best viewing spot. TIP: Order the sangria pitcher and watch the crowd and views for hours!
Related Post: Traveling To Medellin Colombia Itinerary
4. CASTILLO DE SAN FELIPE
Castillo De San Felipe is the famous fortress of Cartagena and a UNESCO site. You can't miss it. Walk through the system of underground tunnels in the fortress and take the steep steps to the highest point of the top to get views of the city and fort from above. Try to do it in the early morning to escape the heat (and crowds). This was included in our Private City Tour from Hi Cartagena.
5. CONVENTO LA POPA
Convento La Popa is the highest point in Cartagena and gives the best panoramic views of the entire city. There is also a beautiful garden inside the Convent that can't be missed. Convento La Popa is situated high on top of a winding hill over a poor neighborhood – do not walk to La Popa by any means. Book a taxi to take you there, wait about 30 minutes for you and then take you back. Or it will be included in your Private City Tour with Hi Cartagena! The views are outstanding and it is a must-visit.
6. BAZURTO MARKET
I highly recommend Bazurto Market on a tour or with a private guide; do not go alone. While safe, this is the least tourist activity in Cartagena and it is best to go with a guide. We went with a private guide from Hi Cartagena, which was included in our Private City Tour. She walked us through the bustling market telling us about the different fruits, vegetables and fish that come here fresh every morning. This is the REAL Cartagena and everyday life for most locals. It is a must-visit for a true Colombia experience. I will note that there are a lot of homeless people around and it is best to double-watch your stuff.
TIPS: Wear closed-toe shoes, no one speaks English here and there are no bathrooms. Try some Pitaya (see picture) or Uchava or anything else you think looks interesting! It is the freshest of the fresh.
7. GETSEMANI
Getsemani is the hip up-and-coming neighborhood of Cartagena full of street art, murals and graffiti. This is where you will find a bunch of budget hostels as well as a bustling nightlife. To get here from the Old City, walk through Parque Del Centenario which has a bunch of shopping stalls as well as some cool wildlife – look out for orange squirrels, massive lizards and sloths! Get lost in the streets of Getsemani photographing the walls and make sure to hit Plaza De La Trinidad at night time, it's the main square of the area and where everyone hangs out early in the night before the bars.
Related Post: Guide to Atacama Desert Tours in Chile
8. CARTAGENA DAY TRIP TO THE ISLANDS
The Cartagena beaches are notoriously ugly. There are relentless people asking for money every 5 seconds. The best way to get in beach time is to go to the islands! It is one of the top day trips from Cartagena. Hi Cartagena arranged a full day private boat tour for us and it was everything we wanted and more! Rent a private boat for the day and go to 3 main island spots; the Rosario Islands, Cholón & Playa Blanca. This was the best, most relaxing day of our trip. We had the entire boat, a cooler with ice, speakers, and a driver to take us anywhere! First we went to Rosario Islands to go snorkeling, then we went to Cholón to party and each lunch (seriously the partying boats here are crazy, and this was the best fish I have ever eaten) and lastly to Playa Blanca, the most gorgeous white beach. Many tourists hate Playa Blanca because it's so busy and annoying, but our boat docked all the way at the end where there was few to no people at all. This day was perfect and I suggest setting aside an entire day for a full-day boat tour of the islands.
If you just want to go to Playa Blanca though, the most popular island, there are public boats and busses that go there that your hostel/hotel can arrange for you. Or you can book a pre-paid just Playa Blanca tour online. It will be crowded but decent for a relaxing easy one-stop beach! It's a 45 minute ride (whether on boat or bus).
Like I noted above, a big tip: In order to find more empty spots on the beach I recommend you walk all the way to the right side of the beach facing the sea.
Book a private full-day boat tour here or a just Playa Blanca tour here.
Related Post: Swim With Pigs in the Bahamas Guide
9. SHOPPING IN THE CARTAGENA OLD CITY
There's a lot of good boutiques and endless shopping in the Old City. Street vendors line the streets with timeless colorful items; make sure to bargain down the prices. Cartagena is known for woven hats, patterned shoes and purses, jewelry and more. Some other really good boutique stores are: Casa Chiqui (woven espadrilles), El Arcon Anticuario (antiques), Loto Del Sur (body goods) and Love Me Wappa (bikinis and beach accessories).
---
Other Day Trips From Cartagena
Museo Del Oro: Good gold museum, but a better one in Bogota if you are going there as well!
Half Day Trip to Volcano El Totumo: Another great day trip. El Totumo is an old deserted volcano where you can float in volcanic mud. Wear a bathing suit you don't mind getting ruined. Locals will massage you aggressively inside the volcano, then another local can take pictures with your camera, and then after getting out an old woman will sit you down in clean water and remove your bathing suit and rub the mud off you. All of these locals expect to be tipped individually. This tour was not for me BUT I have heard good things for a true one of a kind experience!
---
Where To Eat In Cartagena
There's a big food scene making its way to Cartagena. Four days in Cartagena wasn't nearly enough to try all the top restaurants! Make sure to drink Aguila Beer. The most authentic dish in Cartagena is Pargo Rojo (Fried Red Snapper) with coconut rice and plantains. It doesn't look good (comes with eyes and bones) but tastes amazing – truly the best fish I have ever eaten. The best place to eat it is on the Rosario Islands. Also the coconut rice – it's amazing – we got it with EVERY meal. Ceviche is another must have in Cartagena.
Breakfast and Coffee Shops in Cartagena
Lunch in Cartagena
La Cevicheria: A must. Anthony Bourdain went here so you know it's good. Go on an off time and it will still be crowded. Put your name down and walk around the city for a little before going back. So so good.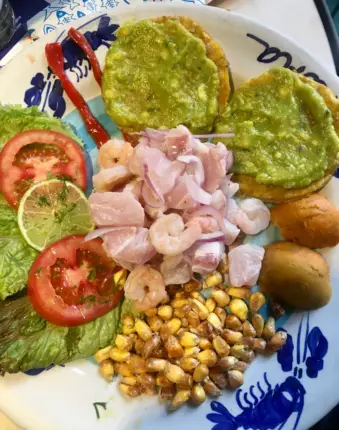 Best Restaurants in Cartagena
Click the Cartagena restaurant names above to find out more.
Cartagena Nightlife
CHIVA NIGHT BUS TOUR: Oh, the Cartagena Chiva bus. You can't miss these. They are bright, open busses speeding around the city at night time, 18 run each night. They are loud. They are obnoxious. They are an experience you have never had. I highly suggest booking a Chiva Night Bus Tour one night and experience it for yourself. Without giving too much away, it is basically a party bus that drives all around Cartagena from 8-11 PM with a few stops along the way. There is a live band on the bus and all the rum you can imagine. It ends at a nightclub where entrance is included.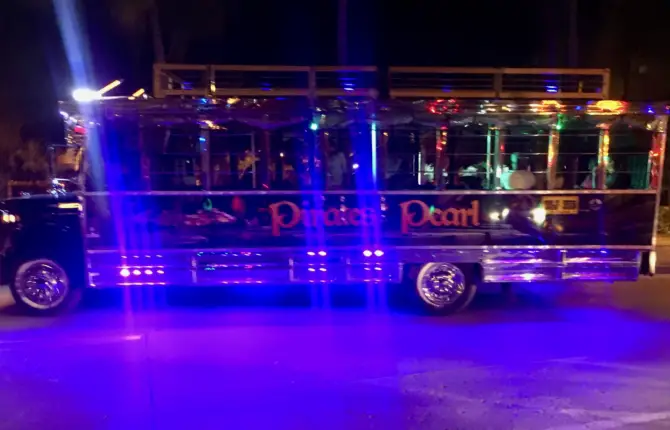 Click the Cartagena nightlife bar names above to find out more.
Where To Stay In Cartagena
I recommend staying in the Cartagena Old City 100%. You will not need taxis at all if you do. There are hundreds of boutique hotels where you really get the feel of Cartagena casas. We were obsessed with our hotel – Casa La Fe (book here)! They were super nice, the rooms were clean, the included breakfast was amazing, the courtyard was super cute, and the rooftop with a pool and bar was the best. But they're no longer taking reservations at this time post-covid. To search for more Cartagena hotels, search here! For the highest-end Cartagena hotels in the Old City, I suggest the Sofitel, Movich Hotel, Charleston Santa Teresa or Casa San Agustin. Click the hotel names to book! Read any of these Cartagena hotel reviews on TripAdvisor here!
For more budget Cartagena hotel options, stay in the Getsemani area where there are a lot of cheap hostels. Alternatively, you will see a LOT of big chain resorts in the Bocagrande area of Cartagena. I really don't suggest staying here, it is a 15 minute cab to get to the old city. The ONLY reason I would stay in Bocagrande is if you were going for a solely beach vacation and not looking to explore the city at all. Head here for budget options in Cartagena!
AIRBNB Cartagena: Many people also choose to stay in Airbnb in Cartagena. I personally chose the hotel route for safety precautions, but Cartagena is totally safe and I suggest an AirBnb in the Old City if you are with a big group! They're definitely cheaper than the hotels in the Old City. Also, if you use my Airbnb link you get $40 off your first stay!
Search and book Cartagena hotels and hostels here!
Is Cartagena Safe?
Scared to go to Colombia? Don't be! I felt totally safe in Cartagena the entire time – and we were just three girls. Cartagena is safe and I highly recommend visiting! Check out my safety tips for traveling around Colombia here.
*Thanks to Hi Cartagena for helping set up our private tours and dinner reservations in order to make our 4 days in Cartagena and blog post possible! While I did receive discounts on activities booked through Hi Cartagena, my review and experience with them is, as always, 100% personal and honest*
Like this things to do in Cartagena travel guide? Pin it for later or share with friends!
Did I miss something in my what to do in Cartagena travel guide that you loved? Let me know in the comments for my next visit and check out my Visiting Colombia travel guide for more tips and what to expect in Colombia or my Medellin travel guide here!
Some emails suck. Mine don't. Sign up to be the first to see my new travel itineraries and secret insider travel tips and hacks only my email subscribers get! I promise I will never spam you!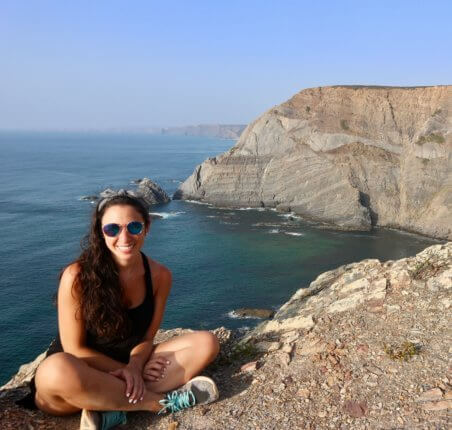 Rachel Shulman is the owner of From East To West and a seasoned traveler having been to 45+ countries and no intention of stopping soon. She is obsessed with planning and specializes in creating detailed, efficient travel itineraries and guides so you don't have to when planning your next destination.