*Portugal Travel Guides: Scroll to the bottom to head straight to my Douro Valley Wine Tour or Porto Food Tour guides (10 day Portugal road trip, Lagos and Lisbon itineraries coming soon!) or keep reading to see what to know and expect when visiting Portugal and travel tips for Portugal*
I visited Portugal in September 2018 for nine days and traveled all around the country. September was the PERFECT month to visit Portugal because the weather was absolutely amazing – no rain, no humidity, just sunny skies and perfect conditions. We rented a car for half the trip and took the train and Ubers the other half. I loved visiting different parts of Portugal and learning the different cultures and customs in each area – they were all so different! I spent 4 days in Lagos (in the Algarve in the South), 3 days in Lisbon (with a day trip to Sintra) and 2 days in Porto in the North (including one full day in the Douro Valley) and still didn't think I had enough time for everything! If I were to go back I would spend more time exploring the North of Portugal for sure, however, nine days was a perfect duration to see all the main spots of the country and really get to learn the culture. My Portugal guide will include a detailed nine day Portugal itinerary and how to accomplish each area like I did as well as specific city guides for Lagos, Lisbon and Porto!
Disclosure: This visiting Portugal travel blog may contain affiliate links. I may receive commissions for purchases made through links in this post. As always, all opinions are my own and I would never post about something I have not personally used/verified.
Portugal Travel Advice and Tips
The Portuguese are extremely nice and generally all speak English which makes it easy to get around.
There are so many things to do in Portugal you likely cannot fit it into one trip but I hope you will try! I had nine days and felt like I only scratched the surface of this beautiful country.
Portugal Weather: Portugal has one of the warmer seasons year-round in Europe due to its location. However it does tend to get cold in the cities and beach areas during the winter time so I highly recommend visiting in the spring and fall for the perfect weather (and less tourists than the summer)! If you are there for summer (May-September) expect the heat!
Travel Insurance: When visiting Portugal, I highly recommend getting travel insurance. You never know what may happen to your flights, car a death/personal emergency in your family, or an accident happening while traveling (think: getting mugged, falling while hiking and spraining your ankle, literally any accident than can happen ANYWHERE!). World Nomads makes it super easy and I never leave for a trip without getting their insurance. Most importantly it's extremely affordable: get your World Nomads travel insurance before your trip here!
If you are going to spend 10 days in Portugal check out this itinerary.
Portugal Packing: For all of my travel/packing essentials for any weather compiled together, head to my influencer page on Amazon here for a complete list or my descriptive carry-on packing guide here!
Renting A Car In Portugal – Do Not Use BUDGET Rent A Car!
Since Portugal is a pretty small country, renting a car in Portugal is one of the best things to do as a tourist so you can get around the whole country easily. I rented a car through Budget Rent A Car, DO NOT USE THEM. They scammed me 10x and I have had to close my credit card because of them. When we got to the rental car area in the Lisbon airport, not only did we wait 45 minutes in line just to get to the rental desk, but while we were talking to the rep he was very flirty with us and added things on to our contract that we did not want, but since he was talking as we signed the contract we didn't notice. He added 70 EUROS of pre-paid gas. You DO NOT need this!!!!!! You can get gas on your own. Then, after I returned the car and returned from my trip, over 30 days later I received a $60 charge on my credit card. I did not receive any email, notification, message or anything about it. When I called, they said they didn't know and that they had to contact the Budget in Portugal and that it would take 15 business days to find. They are a TOTAL SCAM! Please don't use Budget for your sanity.
Besides our terrible experience with renting with Budget Rent A Car, having the actual car throughout our trip went smoothly. If you are from America you will have no issue driving as thy drive on right side of the road as us. Just make sure you get an AUTOMATIC car!!!! Most are manual and are cheaper but get automatic. Another tip, get the Via Verde pre-paid machine (similar to an EZPass in USA). This will pay automatically for the tolls on the highways. If you are driving down to the Algarve from Lisbon, you will hit an insane amount of tolls and it is much cheaper to do the one upfront! Oh, and KEEP ALL RECEIPTS. You never know if you will get scammed like I did.
I highly suggest renting a car with Auto Europe (click here), which automatically compares all the rental car prices that are available in Lisbon (and anywhere in Europe). Just don't use Budget.
Portugal Currency
Euro! Portugal is on the Euro so it makes it easy to travel from/within Europe easily.
Portugal Language
Portuguese, duh! Portuguese sounds a lot like Spanish except much faster and different accents. I used to think if I knew Spanish I would be able to understand Portuguese – not true! However, everyone in every city/area I visited in Portugal spoke perfect English!
Related Post: Spain Travel Guide
PORTUGAL TRAVEL BLOG CITY GUIDES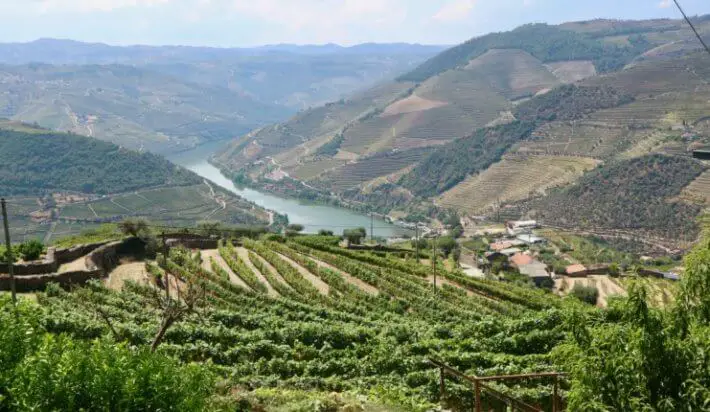 You cannot visit Porto without visiting the Douro Valley. The Douro Valley is the countryside of Porto in North Portugal ...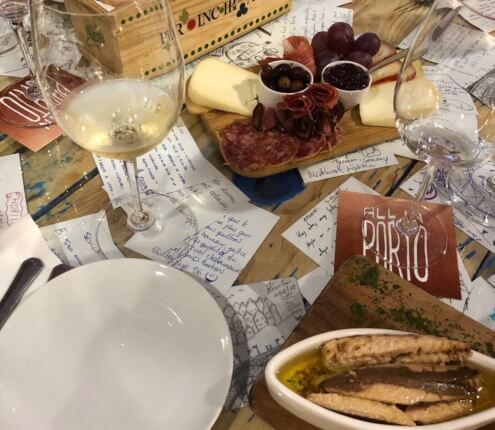 A detailed review covering the best food tour in Porto Portugal with Taste Porto! Read everything we ate, saw & ...
Like this Portugal Travel Blog? Pin it for later or share with friends!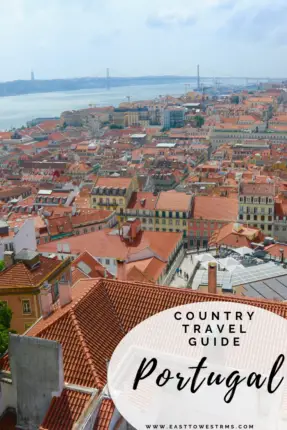 Some emails suck. Mine don't. Sign up to be the first to see my new travel itineraries and secret insider travel tips and hacks only my email subscribers get! I promise I will never spam you!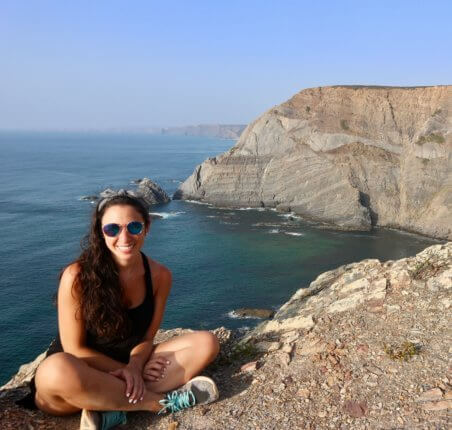 Rachel Shulman is the owner of From East To West and a seasoned traveler having been to 45+ countries and no intention of stopping soon. She is obsessed with planning and specializes in creating detailed, efficient travel itineraries and guides so you don't have to when planning your next destination.