*Spain Travel Guides: Scroll to the bottom to head straight to my Madrid, Barcelona, Ibiza, Mallorca and Tenerife guides or keep reading to see what to know and expect when visiting Spain and travel tips for Spain*
Disclosure: This visiting Spain travel guide may contain affiliate links. I may receive commissions for purchases made through links in this post. As always, all opinions are my own and I would never post about something I have not personally used/verified.
What To Expect When Visiting Spain
I have visited four different cities in Spain and each time it is drastically different which is why I love this country so much. Between all four cities (Madrid, Barcelona, Mallorca and Ibiza) they each hold a different culture and experience and I still have yet to see half the country! I have so many more destinations in this country to visit to see the unique sides of Spanish culture.
In each city, I have never had a bad encounter nor someone that didn't speak a little bit of English. Spaniards are notoriously nice and fun and you will have a great time in any destination in this amazing country. Visiting Spain is one of my favorite countries to go to and I have plenty more Spanish cities lined up to visit.
SIESTA! I am sure you have heard about the Spanish siesta. Siestas are the designated 'nap time' during the day and the reason they eat dinner at midnight and go out so late. Take this into consideration when planning and act like a local and definitely take a siesta!
Spain is an amazing country to road trip around! Check out these five top Spain road trip ideas for inspiration.
Spain Nightlife: If you are into nightlife, do not miss going out in Spain. Their nightlife is notorious…and LATE! They don't eat dinner until around midnight and go out afterwards. Every night I went out everytime I have gone to Spain I have returned home at 7AM! It's insane. But that's where their famous SIESTAS came to be!
Travel Insurance: Unfortunately, things can and do go wrong when you travel. World Nomads offers coverage for more than 150 activities as well as emergency medical, lost luggage, trip cancellation and more. Buy at home or while traveling and claim online from anywhere in the world. We receive a fee when you get a quote from World Nomads using this link. We do not represent World Nomads. This is not a recommendation to buy travel insurance.
Check out another 188 Spain Travel tips before your trip!
PACKING FOR SPAIN: For all of my travel/packing essentials I bring on any trip compiled together, head to my influencer page on Amazon here for a complete list or my descriptive carry-on packing guide here.
Spain Currency
The Euro! Makes it easy for traveling around and through Europe.
Spain Language
Spanish, duh! If you know any basic Spanish you will be good. If not, I highly suggest learning the basics before you go just to familiarize yourself since its such a widely spoken language across the world!
Related Post: Portugal Travel Guide
Spain City Guides: Beautiful Places In Spain
Barcelona Travel Tips
Places to see: Gaudi buildings (duh), Las Ramblas (watch your bags for pickpocketing), Picasso Museum, Princesa Street (really cute shopping).
The nightlife is absolutely insane in Barcelona. You eat dinner at midnight and don't go to the clubs (if that's your thing) until 3am and stay until 7am. The schedule is bizarre, but it works for Spaniards. Definitely go to Opium Club – it's the most famous one and on the beach.
Check out the best spots to eat your way through Barcelona.
Visiting Barcelona with a baby? Check out everything you need to know here!
Search and book Barcelona hotels, hostels and more accommodations here!
Madrid Travel Tips
I LOVED Madrid way more than I thought I would. The food was amazing. Madrid is a MASSIVE city so plan your days out accordingly. And don't forget about Siesta time.
Things to see in Madrid: Prado Museum, Retina Park and San Miguel Market (a must for foodies).
The nightlife in Madrid is similar to Barcelona – we ate dinner at midnight and went to the clubs (Capital was the best one) at 3am!
See exactly how to visit Madrid in a day here.
Search and book Madrid hotels, hostels and more accommodations here!
Ibiza Travel Tips
Ibiza is wild and stunning. I already need to go back. It's NOT all party – but it's a lot of it. The beaches are absolutely stunning though so if you just want a beach island vacation this can also be it. But if you want to party – it's amazing as it's hyped up to be. FYI there isn't a lot of English here but we made do!
Things to see in Ibiza: beaches!!, walk through the old streets, walk to the castle and look out at top of the hill
Restaurants in Ibiza: Puerta Del Sol, Mambo Cafe, La Bodega, Bfor Sushi
Nightlife in Ibiza: This is clearly the main event. Every single club possible hosts the best DJs all summer. Go to Ushuaia Ibiza. It is one of the most famous and is truly an experience.
Hotels in Ibiza: We stayed at Hotel Corso and it was perfect for a big group- it looked over the beach and had a beautiful pool. It was perfect. You can book Hotel Corso here.
Search and book Ibiza hotels, hostels and more accommodations here!
Mallorca Travel Tips
We paired Mallorca with Ibiza thinking it would be a relaxing part after a crazy time in Ibiza – nope, it was just as crazy! Mallorca is beyond stunning with so much to do, as well as a crazy nightlife with just as amazing DJs as Ibiza.
Restaurants in Mallorca: Eat at Cordillero De Mar – best paella i've ever had.
Nightlife in Mallorca: Magaluf is the party area, you can take a quick cab there and just walk around and hit all the spots. BH Mallorca has a cool day stage rage party and BCN Planet Club is a cool club as well.
Hotels in Mallorca: Definitely stay in the Palma area (aka Palma de Mallorca) – it is the nicest area of Mallorca and around everything. Stay at Hotel Gran Melia Victoria. It's absolutely stunning. I never wanted to leave this hotel. Book Hotel Gran Melia Victoria here.
Search and book Mallorca hotels, hostels and more accommodations here!
Tarifa Travel Tips
Search and book Tarifa hotels, hostels and more accommodations here!
Related Post: France Travel Guide
Some emails suck. Mine don't. Sign up to be the first to see my new travel itineraries and secret insider travel tips and hacks only my email subscribers get! I promise I will never spam you!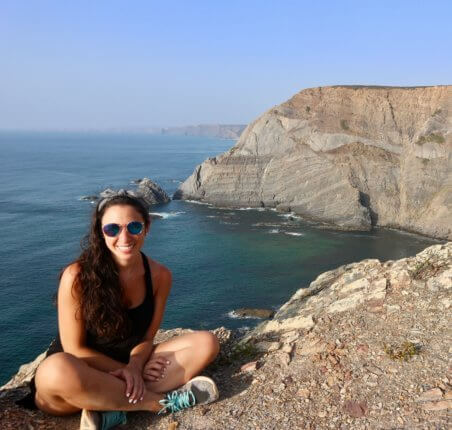 Rachel Shulman is the owner of From East To West and a seasoned traveler having been to 45+ countries and no intention of stopping soon. She is obsessed with planning and specializes in creating detailed, efficient travel itineraries and guides so you don't have to when planning your next destination.