*Visiting the Bahamas? Check out my Bahamas travel guide below for everything you need to know when traveling to the Bahamas, where to stay when visiting Nassau, and the best places to visit in the Bahamas! Want to swim with pigs? Scroll down to head to my swimming with the pigs full tour guide!*
Disclosure: This best places to visit in the Bahamas travel guide may contain affiliate links. I may receive commissions for purchases made through links in this post. As always, all opinions are my own and I would never post about something I have not personally used/verified.
Bahamas Travel Tips
BAHAMAS PACKING TIPS: It is HOT in the Bahamas year-round! Lots of bathing suits and cover-ups! For all of my travel/packing essentials I bring on any trip compiled together, head to my influencer page on Amazon here for a complete list or my descriptive carry-on packing guide here or my favorite travel gear here!
---
Bahamas Currency
The Bahamas Dollar, which is equivalent to the US Dollar.
Related Post: Aruba Travel Guide
---
Bahamas Language
English, of course!
---
Best Places To Visit In The Bahamas & Best Bahamas Hotels
Nassau is THE place to stay in the Bahamas and the best place to visit in the Bahamas as your base to touring the island! There are a TON of big name hotels for the Bahamas, specifically in Nassau. I recommend staying at hotels in Nassau because it is close to the airport, it is the most built up area of the city, and its where any of the excursions you may be interested in leave from. I personally have stayed at the Atlantis (amazing for kids) and most recently, Grand Hyatt Baha Mar, which I HIGHLY recommend! Read more on both below. You can search other Bahamas hotels on Booking.com by clicking here or searching in the box below. Find more Nassau hotel reviews on TripAdvisor here!
Baha Mar Bahamas
On my most recent trip to the Bahamas, when I went swimming with the pigs (full review link below), I stayed at the new and modern Baha Mar resort. Baha Mar consists of 3 hotels connected to each other – SLS, Grand Hyatt and the Rosewood, from lowest to highest in price and amenities. I personally stayed at the Grand Hyatt but I honestly don't see ANY difference in where you stay. You can sit at any of the 3 hotels pools (all with different comfort in cushions (seriously), you can eat at all of the hotels different restaurants and bars, and the same with everything else. It REALLY doesn't matter which you sleep in because you can use all facilities. I highly recommend the Baha Mar for couples, solo, family or groups of friends (the SLS side is very popular for bachelorettes because of the club on the ground floor as well as a daytime pool exclusively for clubbing). I loved staying at this new, modern resort and can't wait to get back! You can click here to book the Grand Hyatt Baha Mar as well as the other Baha Mar properties.
Book the Baha Mar Bahamas Hotel here!
Atlantis Bahamas
You really can never go wrong staying at The Atlantis Hotel when visiting the Bahamas. With a significant other, friends, small family, massive family, this hotel has it all. I have so many good memories of staying at the Atlantis at all different ages and occasions. This is THE spot to stay at if you are looking for the quintessential beach+pool+activities destination. It really is perfect for the WHOLE family.
Book The Atlantis Hotel Bahamas here!
---
Related Post: USA Travel Guide
BAHAMAS TRAVEL GUIDES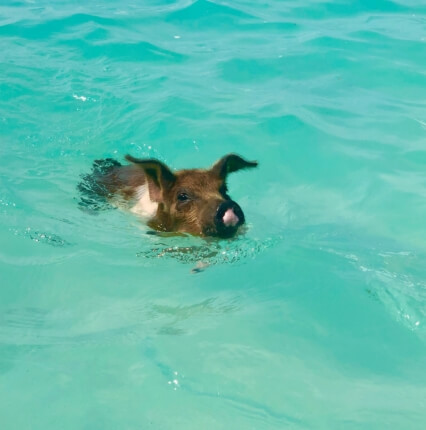 On my past trip to the Bahamas, my sister and I took a day excursion to do the famous swimming ...
Like this Bahamas Travel Guide guide? Pin it for later or share with friends!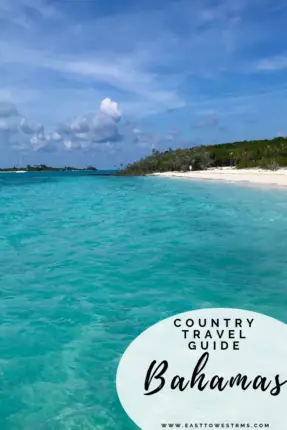 Some emails suck. Mine don't. Sign up to be the first to see my new travel itineraries and secret insider travel tips and hacks only my email subscribers get! I promise I will never spam you!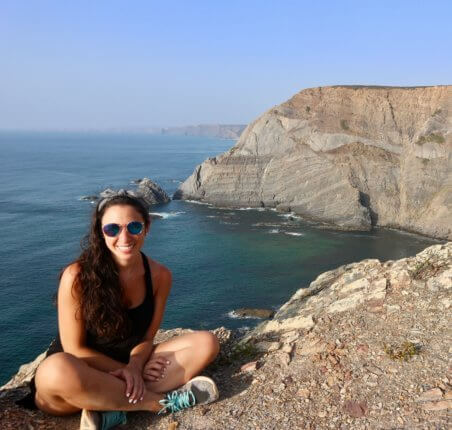 Rachel Shulman is the owner of From East To West and a seasoned traveler having been to 45+ countries and no intention of stopping soon. She is obsessed with planning and specializes in creating detailed, efficient travel itineraries and guides so you don't have to when planning your next destination.