I visited the Atacama Desert and San Pedro de Atacama in Chile, South America in December and it was one of the most adventurous, outdoors trips ever. We did a TON of Atacama Desert Tours to see the different areas. The Atacama Desert is known to be the driest place on earth and you could definitely feel it in the dead of December (the middle of South America's summer). The Atacama Desert also contains the third largest salt flats in the world (Salar de Atacama) that you cannot miss! There are tons of activities and tours to do in the Atacama region to cater to anyone's interests that it is a destination for anyone adventurous. Keep reading to find out my favorite Atacama Desert tours and must-sees. Note: San Pedro de Atacama is the small town within the Atacama Desert.
Disclosure: This Atacama Desert Tours guide may contain affiliate links. I may receive commissions for purchases made through links in this post. As always, all opinions are my own and I would never post about something I have not personally used/verified.
Atacama Chile Travel Tips
Atacama Desert Elevation: The desert is high up and a lot of the excursions you will partake in are extremely elevated – one of them goes up to 14,000 feet (to put in perspective, that's higher than the mountains in Vail, Colorado to go skiing). You need to acclimate to this elevation and a lot of the tours that go to the extra high elevation spots won't let you go unless you have been in the Atacama Desert for 2 days already, so make sure you make your trip longer than two days! You also must drink tons of bottled water which leads me to my next point.
Don't drink the water: There is bottled water at every restaurant, street stop and convenience store. Better to be safe than sorry, even the locals say the visitors should not drink the water (though you can brush your teeth normally!).
Negotiate everything. Taxis, store prices, fruit off the street, etc. Everything is negotiable in the town of San Pedro de Atacama.
TRAVEL INSURANCE: When visiting the Atacama, I highly recommend getting travel insurance. You never know what may happen to your flights, a death/personal emergency in your family, or an accident happening while traveling (think: getting mugged, falling while hiking and spraining your ankle, literally any accident than can happen ANYWHERE!). World Nomads makes it super easy and I never leave for a trip without getting their insurance. Most importantly it's extremely affordable: get your World Nomads travel insurance before your trip here!
Atacama Desert Packing Tips
Hiking Boots: A must. The Atacama is all desert (duh) and almost all of the excursions include hiking! You need a good pair of hiking boots. As I always talk about, I'm obsessed with my Keen's hiking boots for any hiking destination, which you can purchase here! They are always comfortable and have been the best for hiking in Iceland, Chile and more!
Water Bottle: I would also bring a S'well water bottle. While the hotels/tours give you water each day, they get warm quickly from the desert sun. It is the driest desert in the world – you need cold water! I always dumped the new, cold water into my S'well bottle which gave me cold, refreshing water throughout the day! You can buy a S'well here…it's my favorite travel item.
Sunscreen: It's a desert. The driest desert in the world. It is HOT. There is no shade. You must bring sunscreen and lots of it. I love my Sunbum stick, it smells good and is easy to apply without getting messy. You can buy a Sunbum stick here.
Sweatshirt/Layers: Yeah, I said it. Following how hot it is. While the desert is hot during the day, it gets close to FREEZING at night. It is beyond windy right when the sun sets (and before it rises) and it is extremely cold. We needed layers, blankets, gloves and hats for one of the day trips before the sunrise. Do not forget layers when packing for the Atacama!
For all of my travel/packing essentials I bring on any trip compiled together, head to my influencer page on Amazon here for a complete list, or my descriptive carry-on packing guide here!

Related Post: Chile Highlights Travel Guide
How To Get To The Atacama Desert
It's not easy. We flew from New York City and it took us 3(!) flights just to get to travel to the Atacama. We had to fly to Houston then to Santiago and THEN to Atacama! It was a pain and a full day of traveling. If you are already in Santiago, going from Santiago to the Atacama Desert isn't so bad. Hopefully it is easier for you to get to Santiago or somewhere that flies into Calama Airport in Chile, as that's Atacama's closest airport. Calama is also an hour drive to San Pedro de Atacama so just make sure you leave enough time for all your tours knowing how long it takes to get to and from the Atacama! TIP: Get a window seat when flying in or out of Calama! The bird's eye view of the desert is breathtaking.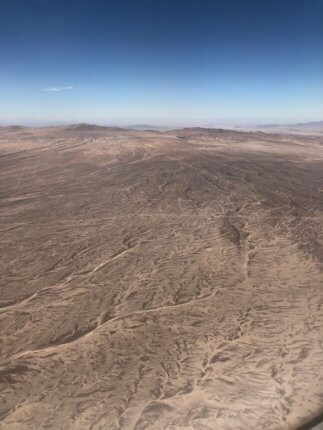 ATACAMA DESERT TOURS: WHAT TO DO IN THE ATACAMA DESERT
Moon Valley & Death Valley Tour (Valle De La Luna & Valle De La Muerte)
The most popular Atacama Desert tour and by far the highlight of my trip. It really does feel like you are on a moon and the terrain is so surreal here. This Moon Valley and Death Valley Tour is a half day tour that ends after sunset over the Moon Valley (Valle de la Luna). The temperatures are insanely warm during the day and you are on top of the mountains, and dip to cold and windy as the sun sets so make sure to bring a sweatshirt. This tour is an absolute must and the #1 thing you must do if you only can choose one Atacama tour. You'll be brought to a few different spots along this tour, don't forget your hiking boots (which will come back with lots of sand in them!). You can also do other tours with sandboarding here as you can see how crazy smooth the sand is! Make sure to turn around after the sunset and look at the red hued mountains behind you.
El Tatio Geysers (Geyser del Tatio)
El Tatio Geysers is another one of the top tours to do in the Atacama region. El Tatio is the third largest geyser field in the world. Tours include an early morning wake up (5 AM departure) since the geysers are most active in the morning. It is also about an hour and a half drive from San Pedro de Atacama. It is absolutely FREEZING in the morning before the sun starts to rise; we had two layers on, gloves, hats and blankets and were still cold. Once the sun rises and you tour all of the geysers, your guides make you a fresh, warm breakfast to enjoy. Tours used to also include a hot springs bath there afterwards but they weren't running when we were there, so we stopped at a small desert town instead for some llama meat. This is a full day tour and will take a lot out of you since it is so early but it is a must-do San Pedro de Atacama Desert Tour. I will say that these geysers were pretty underwhelming compared to the geysers in Iceland since they don't explode, but it's still very cool!
Chaxa Lagoon (Laguna Chaxa)
Chaxa Lagoon is most famous and one of the most popular trips in the Atacama for one reason: its flamingos! This lagoon is full of pink lagoons yearly (and sometimes other birds) and it is an amazing sight. You can get super close to them while they're standing in the water. This area is also surrounded by the Atacama Salt Flats that you walk on to get to the lagoon. We came here during sunset and the tour included an amazing Chilean picnic too. The sunset is not to be missed here either! It is a stunner. This is a must go San Pedro de Atacama tour. Make sure to bring layers as it gets windy and cold during/after sunset!
Related Post: 6 Day Iceland Adventure
Miscanti & Miñiques Lagoons (Laguna Miscanti & Miñiques) & Las Piedras Rojas (Red Rocks)
Another top Atacama Desert tour is visiting these two lagoons, Miscanti and Miñiques. They are two gorgeous cobalt blue reflective lakes that provide for stunning views and photography. The bright blue lagoons cannot be missed. Unfortunately our hotel wasn't offering this tour on the three days we were there but I plan on going back to see these lagoons! a href="https://www.easttowestrms.com/RedRocksAtacama" target="_blank" rel="nofollow noreferrer noopener" aria-label="Las Piedras Rojas (the red rocks) (opens in a new tab)">Las Piedras Rojas (the red rocks) are a great spot to hike along (with a tour), they are incredibly photogenic and an amazing tour in the Atacama.
Cactus Canyon Guatin Atacama
Another one of my top highlights of the Atacama Desert tours to do! This Cactus Canyon in Guatin is paired with the Puritama Hot Springs trip and it was AMAZING! One of the coolest landscapes I have ever seen. I'll let the name and Cactus Canyon pictures below speak for itself but its basically a canyon you hike through (30 minutes very basic walking) full of massive canyons double the size of humans. The taller the cacti are the older they are; some cacti here are 1000 years old! Guatin and its Cactus Canyon are a must in what to do in Atacama Desert in Chile!
Salar De Tara
Salar de Tara is another spot I wasn't able to get to in my time in the Atacama but it is supposed to be an even more gorgeous area of the Atacama (salt flats) and can only get there on a private tour in 4x4s.
Laguna Cejar
Another amazing lagoon within the Atacama. This lagoon differs from the others though because you can float it in like the Dead Sea in Israel due to its large salt quantities! If you want a family fun tour (and haven't been to the dead sea) then Laguna Cejar is for you.
Related Post: Peru Travel Guide
Puritama Hot Springs
The Puritama Hot Springs was another highlight of our trip and a much needed relaxing change from all the hot hiking the other days. We did this tour on our last day and it was perfect. The Puritama Hot Springs are the most scenic hot springs in the Atacama and consists of 8 different volcano hot springs pools and waterfalls that you can relax in! They are heated naturally by the hot water from the Puritama River. Most of the guided tours include an elaborate lunch with wine that your guide makes for you while you're in the hot springs as well!
Nighttime Stargazing Tours
The Atacama is most well known for having the clearest skies in the entire world. NASA has its own observatory here near San Pedro because its so clear. You absolutely must do a stargazing tour while you are there. Even without one, just looking up in the sky when it turns dark is insane, you really feel like you are inside a planetarium, it is so clear and vast. Make sure to check meteor shower schedules before going as well (and make sure they're visible in the Southern hemisphere).
Related Post: Traveling to Medellin Colombia Guide
Where To Eat in San Pedro De Atacama
While there are a handful of restaurants in the town of San Pedro De Atacama, a lot of the hotels in Atacama have all inclusive meals. We ate at our hotel each night but did see a bunch of people eating in town. There are tons of San Pedro de Atacama restaurants with good food around if you are staying in town at a hostel too. Make sure to try the llama meat when visiting San Pedro de Atacama, it's the Atacama's speciality and everywhere!
Atacama Desert Hotels
Hotel Cumbres: We stayed in a high-end all inclusive in the Atacama Desert at the Hotel Cumbres (you can book here) which was pretty good. It was family friendly and had all of the Atacama Desert tours (all included) you could want to do while visiting the Atacama Desert in Chile. The rooms were huge and the facilities were beyond nice and really gave you the desert vibe with the outdoor private showers, wooden buildings, cacti all around the grounds, various pools and mountains in the backdrop. I will note that their English here was very minimal and we had a hard time communicating with them.

You have to pick the tour you want to do the day before so make sure you are on top of them. Make it very clear which tours you want and pick them out the first day you arrive for your entire trip.
For the food, I personally thought it was delicious here and the dinner menu was extensive. My family (two don't eat fish and one doesn't eat meat) had a harder time finding options.  We booked the all-inclusive package so we ate all meals here (which did get redundant by the fourth day), but you have the option to not book all inclusive and can eat in town in San Pedro. Also alcohol is not included except one glass of wine at dinner, so that was a negative of the hotel.

Another hotel that is top-notch and on par with Hotel Cumbres that we also looked at but was sold out was Tierra Atacama (book here) that people rave about.
Backpacking on a budget? Atacama is still a great spot for you! Atacama caters to backpackers and has tons of hostel options right in town, search for an Atacama Hostel here!
Like this Atacama Desert Tours travel guide? Pin it for later or share with friends!
Did I miss something in my Atacama Desert tours travel guide that you loved? Let me know in the comments for my next visit and check out my Chile highlights travel guide for more tips and what to expect when traveling in Chile!
Some emails suck. Mine don't. Sign up to be the first to see my new travel itineraries and secret insider travel tips and hacks only my email subscribers get! I promise I will never spam you!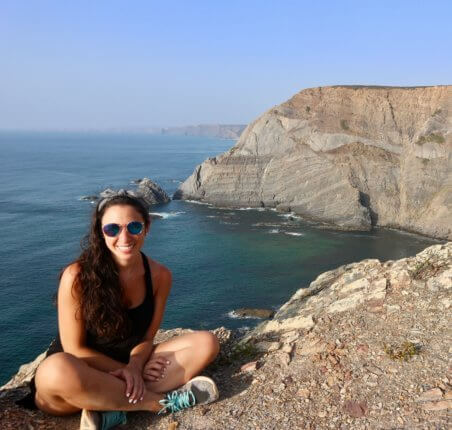 Rachel Shulman is the owner of From East To West and a seasoned traveler having been to 45+ countries and no intention of stopping soon. She is obsessed with planning and specializes in creating detailed, efficient travel itineraries and guides so you don't have to when planning your next destination.