As I mentioned on my Iceland travel blog here, I did a 6 day Iceland trip in September with my family and planned out the whole itinerary myself through much research. This is the ideal Iceland road trip for getting in as much as possible in a short time while seeing the top attractions. Six days in Iceland is a perfect duration for seeing the entire South Coast of Iceland and the best way to tour Iceland. It has some of the most stunning attractions, is easy to do with little time, and has many locations for Northern Lights spotting! Keep reading for an ideal driving 6 Day Iceland Itinerary guide!
Disclosure: This Iceland Itinerary guide may contain affiliate links. I may receive commissions for purchases made through links in this post. As always, all opinions are my own and I would never post about something I have not personally used/verified.
Related Post: What To Do In Reykjavik
TIPS For My Six Day Iceland Itinerary
Iceland Weather: Their 50 degrees in September feels like New York's 30 degrees so make sure to pack more layers than you think you'll need, depending on the time of year. I promise, I was not prepared even a little.
ICELAND DRIVINGTIPS

Renting a car in Iceland on your own is essential for this Iceland itinerary as it's a full road trip adventure.
There is one highway that spans the entire perimeter of Iceland called the Ring Road. This is Route 1 and what you will be staying on at all times for this Iceland itinerary! This Iceland Ring Road driving itinerary will help you plan everything you need!
Stop at the rest stops/gas stations on the Ring Road in Iceland for cheap snacks and good lunch!
Stop along the way to pet the gorgeous wild horses; they are friendly horses, you can just walk up to them and pet them.

ICELAND BUDGET: This Iceland itinerary is not the cheapest and will set you back, but I truly believe this was one of the best trips of my life and I wouldn't do anything differently. Also this is still way cheaper than booking a week Iceland tour from a company!
INSURANCE: Travel Insurance: Unfortunately, things can and do go wrong when you travel. World Nomads offers coverage for more than 150 activities as well as emergency medical, lost luggage, trip cancellation and more. Buy at home or while traveling and claim online from anywhere in the world. We receive a fee when you get a quote from World Nomads using this link. We do not represent World Nomads. This is not a recommendation to buy travel insurance.
ICELAND PACKING TIPS: Check my full packing guide on my Iceland travel blog before your trip to Iceland! DON'T FORGET LAYERS AND HIKING BOOTS. All of the glaciers, volcanoes, etc. tours REQUIRE real hiking boots. Not sneakers. No exceptions. These are essential for any Iceland itinerary. Mine were super comfortable and perfect in all terrains (and waterproof!). You can purchase them here: KEEN Hiking Boots. Keen is one of the best brands in hiking apparel. Also you NEED hand/toe warmers. These are the ones I have (click here). Perfect multi-pack. For all of my general travel/packing essentials I bring on any trip compiled together, head to my influencer page on Amazon here for a complete list of my favorite travel apparel, camera and tech gear or my descriptive carry-on packing guide here!
---
THE Six Day Iceland Itinerary Road Trip
Day 1: Arrive early morning –> Blue Lagoon –> South Coast Waterfalls –> End in Vik
Most flights land in Iceland in the early morning (6 AM) from America to give you a full day. If for some reason you are meeting someone there who already rented a car, then you can take the Grayline Bus directly to the Blue Lagoon from the airport, but if not, then drive here straight from the airport after picking up your rental car.
TIP: The Blue Lagoon is close to the airport and not near anything else so it is a perfect first destination when entering Iceland or last destination before leaving.
The Blue Lagoon Iceland is a must-do and one of the top things to do in Iceland! The natural springs are rejuvenating and gorgeous. The water is clear blue and it really is awesome. We were there while it was hailing and 40 degrees and it was still amazing to be outside. The face masks are also a fun touch. Do not miss the Blue Lagoon on your Iceland road trip. Book your tickets for the Blue Lagoon here.
15 minute drive from airport
You must make a reservation far in advance and do the VIP package. These packages book quick.
Stay here for 3-4 hours. Each lunch at LAVA Restaurant – it is one of the best restaurants in Iceland.
They give you a waterproof wristband that links to your Credit Card to purchase drinks while you're in the water so you won't have to worry about bringing cash (yes there is a bar in the water 🙂 )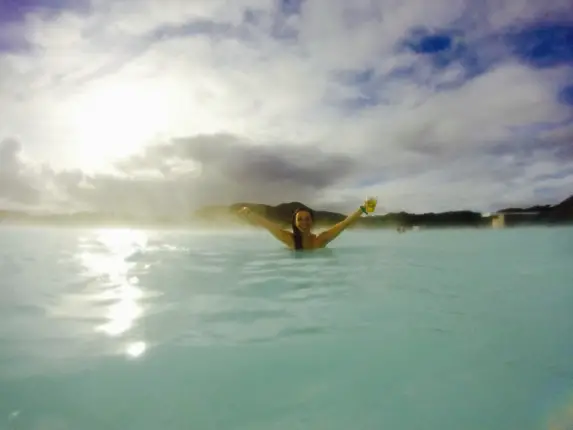 After visiting the Blue Lagoon, you will start your official Iceland road trip down the Iceland South Coast (Route 1 – Ring Road).
~2 hour drive to get here. These falls are gorgeous AND you can walk behind them for some amazing views and pictures. Around 1 hour stay here. Make sure you wear rain boots and a rain jacket as it's misty and muddy. This is a must stop and one of the most popular Iceland attractions.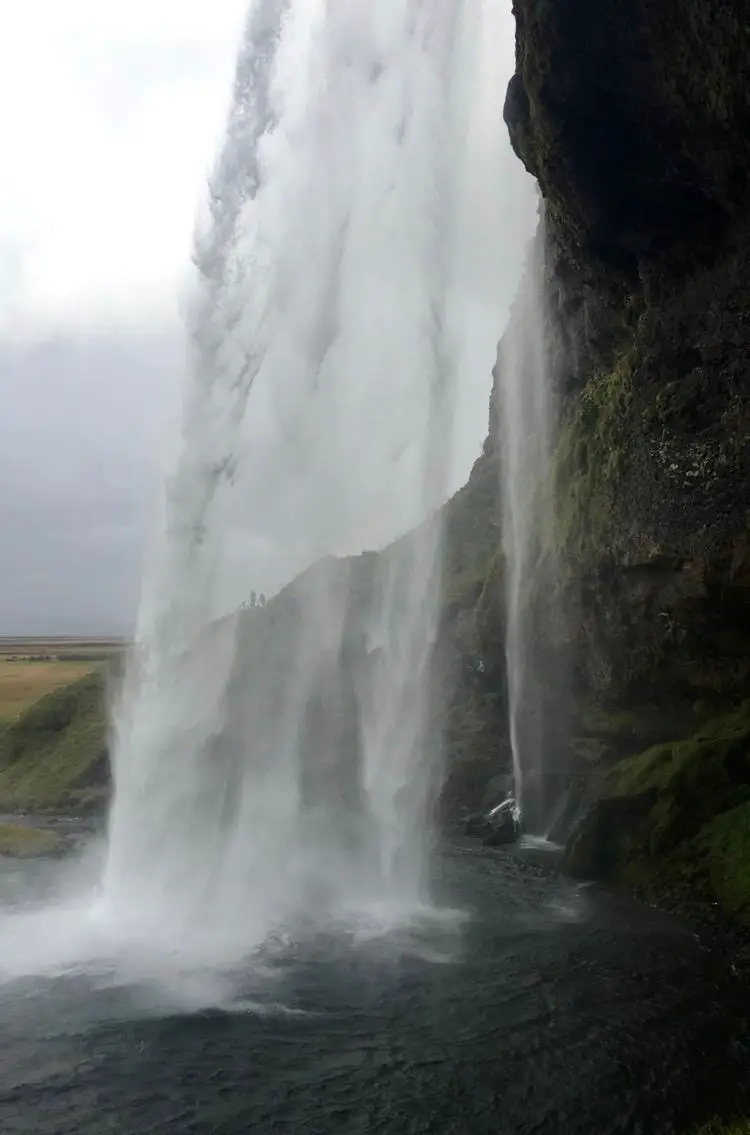 From Seljalandsfoss, walk to the hidden Gljufrabui Waterfall. It is a 4 minute walk to the left on the path. This was definitely a highlight for a few reasons, but mostly because there are 1/4 amount of tourists compared to Seljalandsfoss so it was serene, hidden and solo (also very muddy and wet and you are walking through a light stream of water and rocks). Wear raincoats because you get up close and personal in the small waterfall.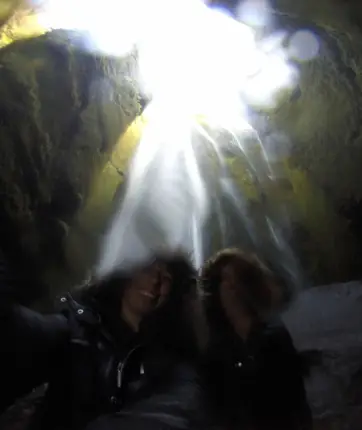 Related Post: Full Iceland Travel Tips
30 minute drive further East on the Ring Road to Skogafoss Waterfall is the next stop on your Iceland itinerary. Another top thing to do in Iceland on the South Coast. It is a massive stunning waterfall and you can walk the staircase to the top (2 hour stay) or just look from the bottom (30 minute stay). There is a very good chance of seeing rainbows here, too!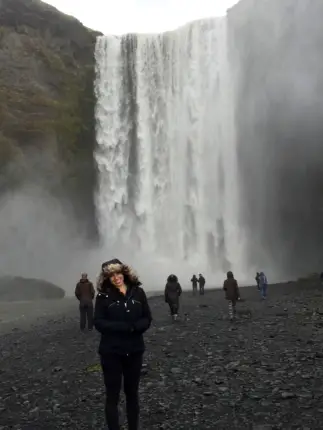 Continue the drive on Ring Road and stay overnight in Vik or Kirkjubaejarklauster (Klauster) town.

We stayed in Klauster so that the drive on day 2 would be less, but Vik has more hotel/food options if you want to do that instead. Search Vik hotels here. The best hotels in Klauster Iceland are Hotel Laki (where we stayed) and Hotel Klauster. Both highly recommended. Read Hotel Laki reviews on TripAdvisor here.   
#1 restaurant in Klauster: Systrakaffi at Klausturvegi 13. A good cafe with pizza and burgers. Ate here both nights we stayed here. It was a very good restaurant (at least for Iceland's standard).
Search Vik hotels here or book Hotel Laki or Hotel Klauster.
Day 2: Driving Further East On Ring Road Iceland (Glacier Hikes & Ice Lagoons)
Drive 50 minutes from hotel (1.5 hours from Vik) to Skaftafell National Park.
Skaftafell is part of Vatnajokull National Park – the largest glacier in Europe!
Here you can either do a Glacier hike (Skaftafellsjokull Glacier) or Waterfall hike (Svartafoss Waterfall). Probably can't do both due to time constraints. Also good to note that different activities are offered during different seasons – these were the options when we went in September. 
We opted for the Glacier Wonders hike (book here!).

It was around 4 hours and was really informational and cool! The guide was great. It wasn't as awesome as our second glacier hike the next day (see more below), but it is the largest glacier in Europe so it is pretty amazing to say you hiked it so I would 100% do it.
Book the Glacier Wonders hike here!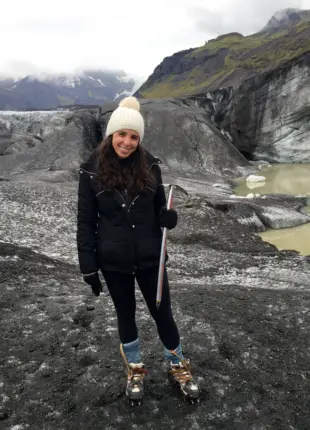 Related Post: Stockholm Travel Guide
Drive another 40 minutes East to Jokulsarlon Glacier Ice Lagoon and do a boat tour. This was the absolute highlight of my Iceland itinerary and one of the COOLEST places I have ever been. It was mind-blowing and the pictures don't do these icebergs justice at all. It is considered the most beautiful place in Iceland. 

You can opt for the Amphibian Boat Tour (a big group boat that starts on the ground then drives into the water) or the Zodiac Boat Tour (a small personal boat for 6 people)  

Jokulsarlon Tickets here: There is no fixed schedule for the Iceland Amphibian boat tour you just show up and get the time for your excursion. Note that the last amphibian boat tour departs about one hour before closing time. CLOSES AT 5 PM. Zodiac Tour you have to book in advance!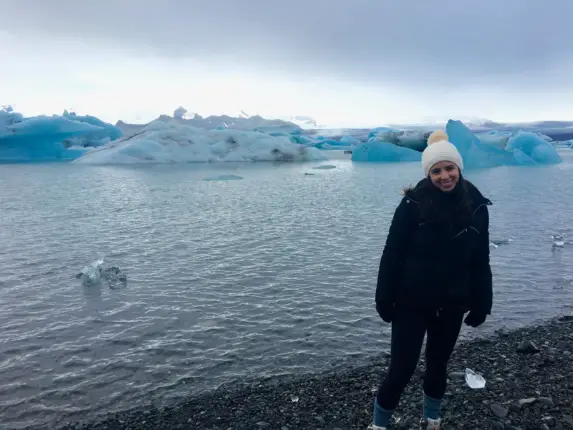 Drive 1.5 hour back to Kirkjubaejarklauster (or Vik – 2 hours) Stay over at Hotel Laki again.
Make sure to look up for the Northern Lights!
Search Vik hotels here or book Hotel Laki or Hotel Klauster.
Day 3: Driving back West on Ring Road to Hella (Black Sand Beach & Glacier Hikes)
Drive an hour back west on the Ring Road (10 minutes if staying in Vik) to the Black Sand Beach in Vik (Reynisfjara).Really cool beach with black sand (duh) that has basalt columns, caves and sea stacks. Don't go close to water (there is a strong tide). Walk around here for a bit to see the famous Reynisdrangur rock formations. Need 10-15 minutes here.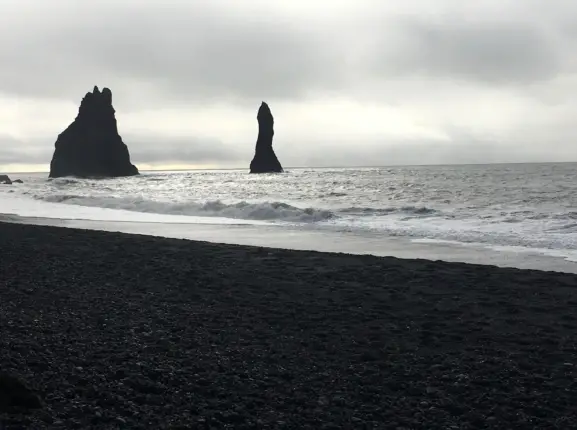 Drive another 20 minutes to Dyrhólaey, a peninsula with a cliff with amazing views on the water. This is a great puffin and other sea birds viewing location (in the right season – spring/summer). It is a long windy road up a steep hill to get there. You are going to think you're going the wrong way because it's barely a road and there are few signs but this is correct – don't turn around, your big rental car can handle it.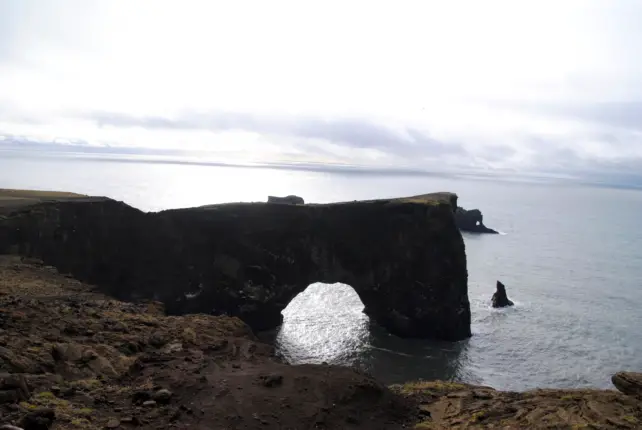 Drive another 20 minutes and then stop on Route 1 where all the cars are for the Solheimasandur Plane Wreck. You have to walk about an hour on the sand to find it after parking on the road. It is RIGHT before you turn right to go to the next glacier tour. We didn't make it here because we were rushed for timing to get to our glacier hike but I highly recommend if you can squeeze it.
Drive 2 minutes more and make a right on Road #221 and drive about 4 Km to get to Solheimajokull Glacier Hike – another Iceland road trip highlight of my trip. They pick up at the cafe at the base. There are lots of signs here for the glacier.
BOOK TOUR HERE. Meeting point at Solheimajokull cafe. 2-3 hour hike.
This glacier hike was amazing and exceeded our expectations after our other one. I definitely suggest this one as you get to do different activities and see different aspects of the glacier (and hike further up). The water is so clean on the glaciers that they encourage you to drink it! Definitely another top thing to do in Iceland you must do.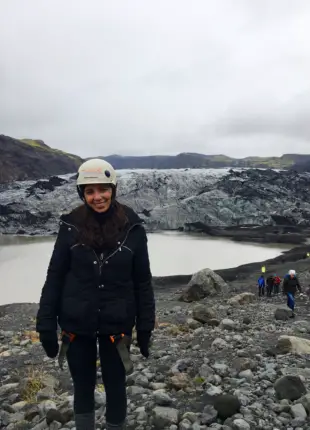 Drive another 50 minutes west to Hotel Ranga for the night – the BEST HOTEL EVER.

Hotel Ranga is THE TOP hotel in Iceland and only 4 star hotel in South Iceland. The hotel is amazing and the restaurant is fantastic. If there is one thing I recommend more than anything else it is staying at Hotel Ranga when on a trip to Iceland. Also best restaurant in Iceland by a landslide.
This hotel was MADE for Northern Lights searching, there is an astrologist on site and stargazing center with amazing telescopes and stories about the sky. Hotel Ranga is an absolute must when visiting Iceland – book here! And read reviews for Hotel Ranga on TripAdvisor here.
There are also Northern Lights wakeup calls at Ranga incase they come out in the middle of the night 🙂
Book Hotel Ranga (the best hotel in Iceland) here!
Day 4: Iceland Golden Circle Day (Craters, Waterfalls, Snowmobiling and Geysers)
Kerid Crater is a 45 minute drive from Hotel Ranga. Really cool crater to look at. You can walk to the bottom but we just took pictures from the top since we had a packed day.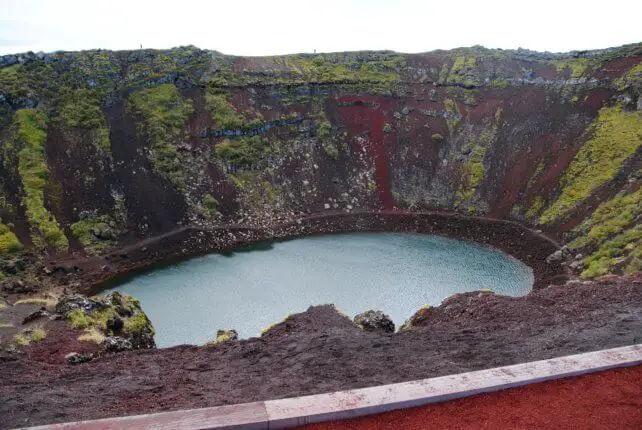 30 minute drive. This is a magical very hidden waterfall and you have to walk through the woods to get to. This is an absolute MUST do and by far the best place I saw in the entire country. Follow my directions specifically so you can find this hidden treasure. 
Directions: Take Road 35 from Gullfoss, turns into Route 37 AKA Laugarvatnvugr stay on that for 8 km, then will reach a large summer house area on the right side (Brekkuskogur). Take the first road into this area and drive straight ahead. Just follow this way until you reach a bigger path with two tracks. Keep left there to stay on Brekkuskogur when you reach the end of this road and stay left. When you see the #12 parking spot, turn left for a few meters then park in the little dirt alcove on the right (so small, only fits about 2 cars) and then start walking on the path on the left there and follow it down to the right. It's about a 10 minute walk through the muddy woods but it's easy. Just listen for the falls and you will find them!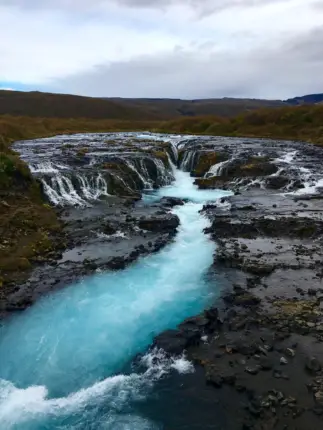 The Gulfoss Waterfall is one of the 3 destinations on the Iceland Golden Circle and top attractions. It is a massive, stunning waterfall that you can hike around. The cafe here also has great food (and warmth!).
This is also where you get picked up for the main Snowmobiling Tour company that I highly suggest (see below).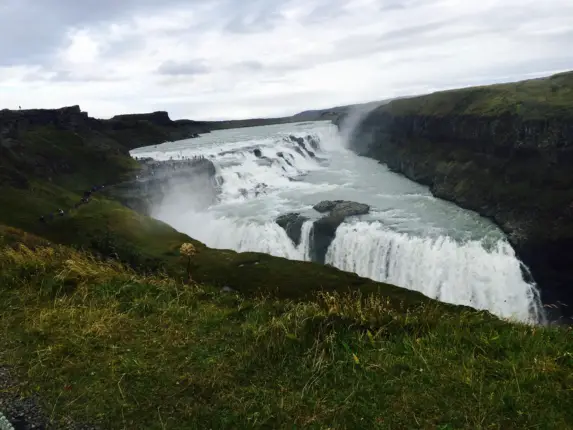 A must-do top Iceland activity! It includes a (long) large jeep tour to Langjokull Glacier and then about an hour or so of snowmobiling on the glacier! You can book the Snowmobiling Tour online here and must book in advance. 3-4 hour tour. 1230 PM departures daily. Obviously it is an investment but it is so worth it in my opinion. This tour is one of the top in Iceland.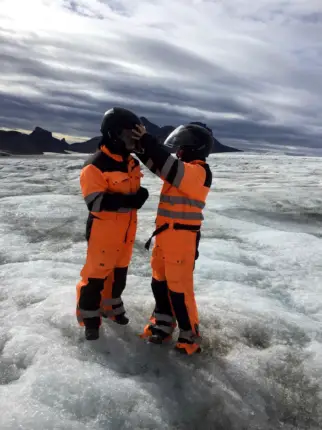 Related Post: Swedish Lapland Travel Guide
10 minute drive from Gulfoss. This is another one of the 3 destinations on the Golden Circle that is a must hit. It is very touristy but cool! The Strokkur Geyser erupts every 5-10 minutes and produces a gorgeous bright blue circle right before erupting. I have seen geysers in other locations (see my Atacama Desert tours guide here which has the 3rd largest geysers in the world) and the Iceland geyser's are way more fascinating. 
45 min drive to Thingviller National Park, where the first Icelandic, and longest, parliament was and also where the two tectonic plates separate Europe and North America. This is the last of 3 destinations on the Golden Circle. It is a nice park to walk around in and see the plates divide. Usually need only 30 minutes – hour here. You can also go scubadiving here, which is a popular Iceland summer activity between the tectonic plates. 
Related Post: London Travel Guide
Day 5: Reykjavik & Helicopter Tour
See my full, detailed Reykjavik specific travel guide here for the best helicopter tours and what to do/where to stay in Reykjavik!
Day 6: 1/2 Day Reykjavik & Leave
See my full, detailed Reykjavik specific travel guide here for what to do in Reykjavik.
Most flights out of Iceland back to America are in the early afternoon so you have the morning to explore Reykjavik and then that's the end of the 6 Day Iceland Itinerary! You could easily spend one week in Iceland on this itinerary and spend more time in Reykjavik. We had the best time during our 6 days in Iceland – one of my favorite adventures to date. Don't miss this amazing location while it's popular!
Did I miss something on my 6 Day Iceland Itinerary that you loved? Let me know in the comments for my next visit! See the rest of my Iceland Travel Blog here or check out my Reykjavik city guide here.
Like my "6 day Iceland Itinerary" guide? Pin it for later or share with friends!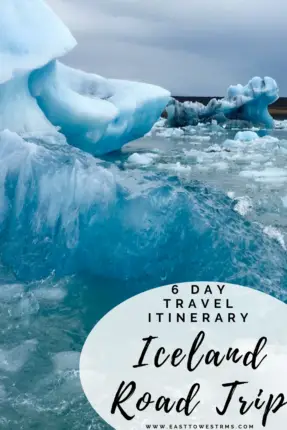 Some emails suck. Mine don't. Sign up to be the first to see my new travel itineraries and secret insider travel tips and hacks only my email subscribers get! I promise I will never spam you!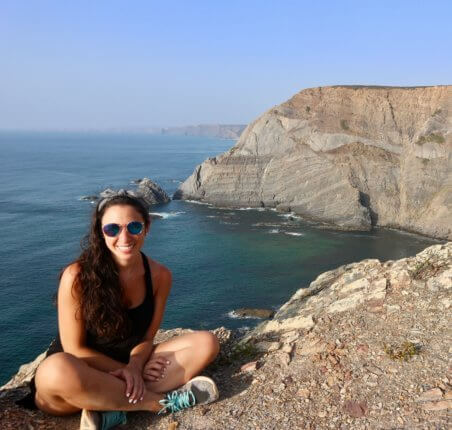 Rachel Shulman is the owner of From East To West and a seasoned traveler having been to 45+ countries and no intention of stopping soon. She is obsessed with planning and specializes in creating detailed, efficient travel itineraries and guides so you don't have to when planning your next destination.