Visiting Aruba in the Caribbean? I went to Aruba with my family in December 2019 and loved this stunning, picturesque island. Check out this Aruba travel blog guide for everything you need to know when traveling to Aruba, where to stay when visiting Aruba, and the best things to see and do in Aruba.
Disclosure: This Visiting Aruba travel blog guide may contain affiliate links. I may receive commissions for purchases made through links in this post. As always, all opinions are my own and I would never post about something I have not personally used/verified.
Aruba Travel Blog: Travel Tips
Did you know Aruba is only 30km off the coast of Venezuela?! That's how far south it is and why the weather is almost consistently PERFECT year-round.
Aruba is about a 4.5 hour flight from New York and there are plenty of direct flights into their airport. While it's the farthest island in the Caribbean from America, like I said, it has the most consistent weather. Aruba has the most beautiful, clear turquoise water you may ever encounter, especially this close to America.
TRAVEL INSURANCE: When visiting Aruba, I highly recommend getting travel insurance. You never know what may happen to your flights, a death/personal emergency in your family, or an accident happening while traveling (think: getting mugged, falling while hiking and spraining your ankle, literally any accident than can happen ANYWHERE!). World Nomads makes it super easy and I never leave for a trip without getting their insurance. Most importantly it's extremely affordable: get your World Nomads travel insurance before your trip here!
ARUBA PACKING TIPS: It is HOT in the Bahamas year-round! Lots of bathing suits and cover-ups and sunscreen! You need my favorite ever sunscreen face stick – the best for traveling! For all of my travel/packing essentials I bring on any trip compiled together, head to my influencer page on Amazon here for a complete list or my descriptive carry-on packing guide here!
Related Post: Bahamas Travel Guide
Aruba Currency
The Aruba Florin, however the US dollar is accepted absolutely everyhwhere.
Aruba Language
English, of course!
Where To Stay in Aruba
There are a TON of big name hotels in Aruba and most (if not all) are situated on the same strip of beach in Palm Eagle Beach, Aruba. This is where you should stay. The hotels are all accessible and you can literally walk to all of them and through all of them on the beach as they are side by side. It's really cool because it means nothing is secluded and you are not set to only restaurants in your hotel or anything else. There are a ton of different hotels at different budgets with the most popular and biggest ones being the Ritz Carlton, Hyatt and the Marriott. You can search and book hotels in Aruba by clicking here. You can read reviews for hotels in Aruba on TripAdvisor here.
Search and book hotels in Aruba here! Read reviews for hotels in Aruba on TripAdvisor here!
Ritz Carlton Aruba
When I went to Aruba, I stayed at the Ritz Carlton and it was literally the nicest and best hotel I have EVER EVER EVER stayed at. The staff is TOP notch and some of the nicest people in the world. Everyone is there to help you, the food is great, the beach is insane (and they walk around with watermelon and ice pops during the day to your seats). I loved it and would highly recommend but you cannot go wrong with any of the beautiful hotels in Aruba especially on the Palm Beach strip. You can book the Ritz Carlton Aruba here! Or you can read reviews for the Ritz Carlton in Aruba on TripAdvisor here!
Book the Ritz Carlton Aruba here! Read reviews for the Ritz Carlton in Aruba on TripAdvisor here!
What To Do In Aruba
There are SO many fun activities and excursions to do in Aruba besides just sitting at the pool and beach all day (although if that's what you want to do, I won't judge. I have done that for a week at a time!). This Aruba travel blog explores some of the best and most popular things to do in Aruba – click their name to learn more and book!
Aruba Flamingos: See the famous Aruba flamingos you have undoubtedly seen in your Instagram feed. This is free if you are staying at the Renaissance or $125 for a day pass to the private island. You can book the Aruba flamingos day pass here.
Snorkeling: There are amazing snorkeling excursions in Aruba. The best places to snorkel are in Mangel Halto or Boca Catalina. You can book an excursion that picks you up from your hotel. Book this one!
Off-road UTV Safari in Arikok National Park Desert: Book this awesome adrenaline excursion here.
Catamaran Sunset Sail: Aruba has some of the best sunsets possible. Book a sunset boat tour here.
Walk around the colorful town of Oranjestad
Related Post: Swimming with the Pigs Bahamas Tour Guide
Where To Eat In Aruba
Breakfast in Aruba 
What would this Aruba travel blog be without a food guide?! If your hotel doesn't include breakfast, there are a ton of different cafes and cute breakfast spots around Aruba!
Dinner in Aruba
There is a pretty big food scene in Aruba with a ton of big (usually overpriced) restaurants, especially on the beach. These are some of the rest I highly recommend.
Click on any of the restaurant names above to learn more on TripAdvisor and get reservations!
Related Post: USA Travel Guide
Like this Aruba Travel Blog guide? Pin it for later or share with friends!
Some emails suck. Mine don't. Sign up to be the first to see my new travel itineraries and secret insider travel tips and hacks only my email subscribers get! I promise I will never spam you!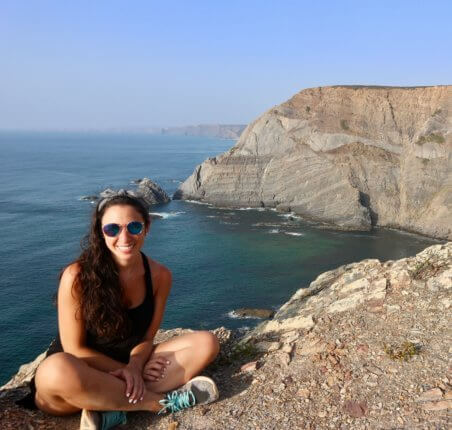 Rachel Shulman is the owner of From East To West and a seasoned traveler having been to 45+ countries and no intention of stopping soon. She is obsessed with planning and specializes in creating detailed, efficient travel itineraries and guides so you don't have to when planning your next destination.