I have been to the Bahamas various times and most recently in November 2018. On this relaxing vacation, my sister and I took a day excursion to do the famous swim with pigs Nassau to Exuma tour you see all over your Instagram feed! We went on a day trip, which leaves from Nassau with Hidden Beaches Bahamas. The day was amazing and the Pig Beach Bahamas Tour was an excursion I'll never forget! This guide will detail everything you need to know about visiting the swimming pigs in the Bahamas, what to expect, how to get to Pig Beach in the Bahamas, other options, and a full review on the Hidden Beaches Swimming With The Pigs Excursion, which includes much, much more than just seeing the pigs from Nassau (like swimming with sharks and feeding iguanas). There are many different tours that follow similar itineraries so you can definitely find one that caters to your needs!
Disclosure: This Nassau Swim With Pigs Bahamas guide may contain affiliate links. I may receive commissions for purchases made through links in this post. As always, all opinions are my own and I would never post about something I have not personally used/verified.
Pig Beach Bahamas Tour Tips – Before You Book
One of the most important things to note is that the Bahamas Pig Beach IS NOT IN NASSAU, which is presumably where you are staying. Pig Island is in the Exuma Cays, a string of islands located a couple hundred miles off of Nassau.
There are two ways to get Pig Beach from Nassau:

1) You can fly to Stanley Cay and do a half day tour with a company that runs only from Exuma. The positives of this: shorter excursion, less time on a boat, more companies offering tours, morning or afternoon options. The negatives: having to fly to Stanley Cay, the weather not cooperating and then you wasted a flight and a day.
2) You can do a full day tour that departs directly from Nassau. The positives: you don't have to fly, you can cancel/change dates depending on weather, lots of time on the water relaxing. The negative is that 70% of the tour is just sitting on a boat making your way to the Exuma Islands and going between each stop. If you don't like being on the water, this probably isn't your best bet, however, it is a speedboat so the water does not get choppy.

We chose the full day Exuma from Nassau swim with pigs tour because we did not want to get screwed over with weather and it was less work leaving directly from Nassau than having to coordinate taxis, flights, etc. This swim with pigs Nassau Bahamas excursion is the most popular way. I totally recommend this way and I loved being on the water all day. We felt this was the best way to swim with pigs from Nassau.
The tour is on a speedboat for the entire day therefore it is even a great tour for those that get seasick! There is no rocking around or side to side since the boat is moving so fast, so swimming with the pigs is really an excursion for everyone.
The Exuma tours from Nassau only run when the weather is good (which is generally most days) but it definitely won't run when its a storm or rough winds. INSIDER TIP: If you are staying in the Bahamas for a few days, book the tour for one of your first days, that way if it gets rained out, they reschedule you for the next day, for free! This gives you the best possible chance of going. If you're going on a cruise, unfortunately you don't have an another option but to hope for the best!
FULL SWIM WITH PIGS NASSAU TO EXUMA TOUR DETAILED GUIDE
The Pig Beach Bahamas tour starts at their meeting spot of Margaritaville at the Paradise Island Ferry Terminal. This is on the Atlantis Island so it is very close if you are staying there, is close to the cruise ports, and is about a 20 minute drive from Baha Mar (where I was staying – more on hotels in Bahamas later). When you arrive, you check in and are given a certain colored wristband, which separates the two Hidden Beaches boats. The boats have cold beer, water and soda available for free on the boat for the entire day. There is also a bathroom on the boat so no worries there – it's a long day but you are now ready for your Swimming With Pigs Nassau To Exuma tour!
RELATED POST: Bahamas Travel Guide
Exuma Tour Stop #1: Feed The Iguanas Bahamas
After about an hour of cruising along across the Bahamas beautiful turquoise waters (that get even more turquoise as you go deeper into the Exumas), you arrive at your first stop, Allen's Cay, for feeding the indigenous iguanas! These little iguanas are fast. I was also told they like colored toe-nail polish so watch out for that. You do not feed these iguanas with your hands (they bite), you are given a wooden stick and grapes/bread by your boat guides to feed them. You stay at this stop trying to feed (and photograph) the iguanas in the Exumas for about 20 minutes before you're off.
Exuma Tour Stop #2: Swim With Sharks Bahamas
After another hour on the boat, you have made it to your next stop – swim with sharks in the Bahamas at Compass Cay! Sounds terrifying but totally the opposite – these are nurse sharks which are friendly to humans! You make your way to a small cove within a dock where there are tourists and you can swim with the nurse sharks. The guides are throwing food at them so that they swarm you (the only way they'll stay close to the dock!). Once you're ready, you jump in the water and join. The sharks are soft and harmless and basically just swim around you looking for food. You are allowed to rub them on their back. You stay at this stop for around 30 minutes. After swimming with the sharks (which was also a highlight in my opinion) you get to the main attraction on this Pig Beach Bahamas tour….
RELATED POST: Aruba Travel Blog Guide
Exuma Tour Stop #3: Bahamas Swimming With Pigs Exuma
The third stop was just a 5 minute ride from the shark swimming. This is the main attraction and is packed with tourists – but there are plenty of pigs to go around! Once docked by the Bahamas Pig Island, you jump out and are given carrots by your guides to lure the pigs to get closer to you. This was truly a once and a lifetime experience. There are massive pigs (which are honestly terrifying) and little baby piglets. I tried to go for the piglets but the bigger pigs were much feistier and wanted the carrots and kept coming towards us. There are only 3 female pigs of the whole group and these are apparently the feistiest! You are not supposed to put your back to them because they will bite you! You get to stay here for around 45 minutes before you are off again. This was by FAR the highlight (naturally) and I still am not over that we actually touched – and swam with – PIGS! Swimming with the pigs in the Bahamas can officially be checked off the bucket list.
Exuma Tour Stop #4: Lunch at Stanley Cay Yacht Club
After all of your exhilarating excursions, you'll probably be hungry! Just another 5 minute ride away is Stanley Cay Yacht Club where you eat lunch at their restaurant. You are offered the meals to choose before the tour (burgers, chicken, etc.) so the food comes out quick. You stay here for about 45 minutes – the whole time we were honestly just looking at our pictures with the pigs!
RELATED POST: USA Travel Guide
Exuma Tour Stop #5: Bahamas Private Beach
The fifth and final stop of the Hidden Beaches Bahamas Tour is at a private beach. It's about 50 minutes from lunch. You also may go to a sand bar instead, but we didn't have time and there was a storm coming later in the evening so they wanted to get us closer to Nassau just in case! I don't think I have ever been anywhere more beautiful in my life. It was totally secluded in the beautiful turquoise, clear water and perfect weather. It was the perfect relaxing end to the adventurous day. After 20 minutes riding back you arrive back in Nassau to end your tour.
Final notes on Hidden Beaches Exuma Swimming With The Pigs Bahamas Tour: This was one of the coolest things I have ever done that I highly recommend adding swimming with pigs Nassau Bahamas tour to your bucket list, NOW! If you are looking to see the swimming pigs and leave directly from Nassau and not have to plan ANYTHING, THIS is the tour for you, I HIGHLY recommend Hidden Beaches Bahamas. This is by far the best swim with pigs Nassau Bahamas excursion. Hidden Beaches is efficient, easy to contact/book, and was a fun and organized tour the entire day. The guides on the boat were also great. Just know you are spending more riding on the boat in between the stops than the stops itself. But, did you see the color of the water?! It's worth it – it's beautiful! I would recommend Hidden Beaches to anyone visiting the Bahamas and wants to go on a Pig Beach Bahamas tour! You can book your tour right here!
*Thanks to Hidden Beaches for having me take part in the famous Exuma Bahamas Swimming Pigs tour! While I did receive discount on this tour as a gift, my review and experience with Hidden Beaches is, as always, 100% personal and honest*
RELATED POST: New Orleans Local Travel Guide
Other Bahamas Travel Tips
Head to my full Bahamas country guide to read everything you need to know about where to go, what to do, where to stay and everything else when traveling to the Bahamas by clicking here!
Nassau Bahamas Hotels
There are a TON of big name hotels for the Bahamas, specifically in Nassau. I recommend staying at hotels in Nassau because it is close to the airport, it is the most built up area of the city, and its where any of the excursions you may be interested in leave from. I personally have stayed at the Atlantis (amazing for kids) and most recently, Grand Hyatt Baha Mar, which I HIGHLY recommend! Read more on both below. You can search other Bahamas hotels on Booking.com by clicking here or searching in the box below. Find more Nassau hotel reviews on TripAdvisor here !
Book Baha Mar Bahamas by clicking here. Book The Atlantis Bahamas by clicking here. Search and book other Bahamas hotels here. Find more hotel reviews on TripAdvisor here.
Bahamas Travel Tips
TRAVEL INSURANCE: When visiting the Bahamas, I highly recommend getting travel insurance. You never know what may happen to your flights, a death/personal emergency in your family, or an accident happening while traveling (think: getting mugged, falling while hiking and spraining your ankle, literally any accident than can happen ANYWHERE!..or like, getting bit by a Bahamas pig!!). World Nomads makes it super easy and I never leave for a trip without getting their insurance. Most importantly it's extremely affordable: get your World Nomads travel insurance before your trip here!
PACKING FOR BAHAMAS: It is HOT in the Bahamas year-round! For all of my travel/packing essentials I bring on any trip compiled together, head to my influencer page on Amazon here for a complete list or my descriptive carry-on packing guide here or my favorite travel gear here. If nothing else, you need my favorite Sunbum Face Stick suntan lotion (buy here). I do not go on ANY beach trip without it its the best.
Like this Swim With Pigs Nassau Bahamas excursion guide? Pin it for later or share with friends!
Don't you want to swim with the pigs now!? Let me know in the comments! Looking for a Bahamas travel guide? Check out my Traveling To Bahamas guide for more tips.
Some emails suck. Mine don't. Sign up to be the first to see my new travel itineraries and secret insider travel tips and hacks only my email subscribers get! I promise I will never spam you!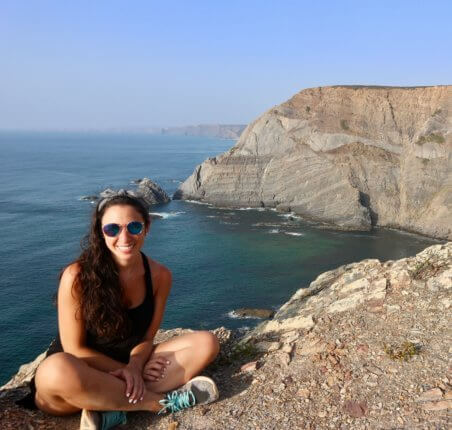 Rachel Shulman is the owner of From East To West and a seasoned traveler having been to 45+ countries and no intention of stopping soon. She is obsessed with planning and specializes in creating detailed, efficient travel itineraries and guides so you don't have to when planning your next destination.