It's holiday season! While the end of 2021 might not seem like another year for celebrating, or travel planning (thanks Omicrom) we can all agree optimism is key. And since so many people will probably be looking to travel ASAP when it is safe, now is the perfect time to gift them (or you, no judgments) the perfect unique travel gifts. Check out my recommended list below for the best gifts for travelers in 2021, across all budgets. There are so many unique travel gifts these days – I own or have used ALL of these products and wouldn't recommend anything I have not personally tried. As someone who moved abroad last year, yet have not traveled in a while, I can still attest to all of these. I am an expert in what makes flying and traveling JUST a little easier. This unique travel gifts guide will make any frequent traveler happy when they can travel again.
Disclosure: This unique travel gifts guide may contain affiliate links. I may receive commissions for purchases made through links in this post. As always, all opinions are my own and I would never post about something I have not personally used/verified.
UNIQUE TRAVEL GIFTS FOR THE FREQUENT TRAVELERS IN YOUR LIFE
**Too lazy to read each item I recommend in my 2021 gift guide for travelers separately? Check out my personal amazon page here which has all my favorite items and unique travel gifts recommendations aggregated on one page!**
This is my new favorite addition and probably the most 'unique' in this unique travel gifts guide for travelers. Priority Pass is arguably the best thing that has happened to my traveling experience in the last two years. I received a Priority Pass card when I signed up for a new credit card and it is truly lifechanging. Priority Pass offers you access to thousands of airport lounges and restaurants globally. Almost every airport I have traveled to in the past two years – even the smallest of airports – have had a lounge accessible through Priority Pass. It makes traveling SO much better and when you get through security two hours before your flight you can go to the lounge and drink free alcohol and eat free food. There's nothing better for that pre-flight anxiety. This is SUCH a good gift for the holidays. A one year subscription is $99 but there is a SUPER black friday sale highly discounted if you buy now!! Buy A Year of Priority Pass here.
This has become my new favorite suitcase and is a quarter of the price of the famous Away bags (which I also have, and love) but the Chester is a better price point, better constructed, and super chic. Chester suitcases have all the features you want in a suitcase: sturdy, four spinner wheels, cleanable, built-in lock, and a ton of compartments. I love my Chester and can't imagine traveling without it again. I have the carry-on size and it fits everything perfectly from a long weekend getaway to an extra for a long trip. This is a must for travelers in your life – the carry-on is the most used traveler accessory needed so you need a good one. It may not be a unique travel gift per se, but it is definitely the most useful. I also intend to buy the large suitcase as my next purchase! They are amazing. Buy here on Amazon.
I freakin love experiences, rather than products, and this is one of the most unique travel gifts you can give. Tinggly curates actual EXPERIENCES you can gift someone in countries around the world. Like every location you can think of. Have friends/family going on honeymoons, solo trips, business trips, girl trips or anything else? Gift them an actual experience they will always remember, instead of a product. This is such a good gift to get someone who loves to travel and loves to do different things in new cities. There are all different types of experiences, themes and price points so it can fit anyone for any type of gift you are looking for! You pick the "gift box" theme for a certain amount and then you pick the location and experience. It's genius. Buy here on Tinggly.
Ok these are probably the lease unique travel gift on this list but I am still as obsessed with my AirPods as I was when I bought them two years ago. I JUST upgraded and bought the AirPods Pro and they are SOO MUCH BETTER than the regular AirPods which I didn't think was possible! These are much softer on the ear and stay in much better. They also have noise cancellation which is HUGE. These usually go on Amazon's Black Friday sale so I highly recommend watching! AirPods Pro are perfect for literally everyone in your life. As a frequent traveler, AirPods are a necessity and I wouldn't be able to function without them. They are so small, fit everywhere and are easy to take in and out. Get AirPods ASAP for everyone. Buy here on Amazon.
Not so much of a unique travel gift anymore but, I don't know how it took me so long to jump on the Kindle train (just got one in 2018) but now I can't leave home without it. The Kindle PaperWhite is a must for any short, long or permanent traveler in your life. A Kindle for traveling is by far my number one recommended gift. It is SO light, the battery lasts SO long and it can be read in even the darkest or sunniest of areas, inside or out. The Kindle is also so affordable (especially during the holiday season sales). You'll never have to pay for a book again either so it's a money saver. You can rent from local libraries for free online and the book is delivered instantly to your phone and then "returned" back automatically. It is by far the best e-reader out there and is a must for all kinds of travelers. Buy here on Amazon.
To go along with the Kindle, you should make sure your gift receiver has a case! Always want to protect the new electronics you buy and with the cases you can make them match their personalities and make their kind more unique. I am obsessed with this marble smart case I got for myself and highly recommend it. It is so chic, but also comes in 20+ color/design combinations for any type of person! Buy here on Amazon.
I've been obsessed with my Wireless Beats Studio3 since the day I bought them and I would not be able to survive a flight without them anymore. They drown out ALL noise (including babies right next to you) and are a perfect travel gift for someone looking for better noise cancellation than tiny headphones that also have a good base and do not hurt your head. I keep these on for 12 hours straight on my flights back and forth from Tel Aviv and New York and they do not hurt my head and the battery life lasts the whole flight! I also used to even SLEEP with them on at home when there was construction next door at early hours. These headphones are worth the money and are one of the most unique travel gifts to get for someone you want to spend a little more money on (or for yourself) to make flying WAY more enjoyable. They also come in multiple colors for any type of personality!  Buy here Amazon.
Another unique travel gift I can't leave home without. I was gifted a S'well a few years ago and now I own three. I have one with me at ALL times. I have all of the sizes and they're great for different purposes. If you are unfamiliar, S'wells keep drinks freezing cold for 24 hours or burning hot for 12 hours, depending on the drink. I go to the airport with it empty and then fill it up after security in the water fountains. One – this saves money on the insane $5 water bottles in the airport and two the water then stays freezing cold for the WHOLE flight and you don't have to wait forever for the flight attendants to come around with drinks! S'wells also come in so many patterns and colors to match any person. I love having a cold bottle of water with me at all times, especially for warm destinations, so the S'well is not only perfect for the actual travel time, but also the destination as well. Buy here on Amazon.
You can never have too many packing cubes. I say that as someone who just moved abroad and could not pack ANY piece of clothing NOT in a packing cube. I think I brought 15 here – all different types, sizes and brands I could find in my house! I had to live out of a suitcase for the first 4 weeks of moving and packing cubes made it SO SO SO much easier to know where everything was. This might seem like a boring gift to give, but I promise you if you gift this to someone who has never packed with them before – you will change their life. I had been talking about how lifechanging they were to my mother for at least a year and when she finally used them for a long trip she told me that they were, in fact, "lifechanging". I pair packing cubes together to make packing easier, save room and also staying ORGANIZED when and living out of a suitcase MUCH easier. These are my favorite travel gifts to give! Buy here on Amazon.
Pairing along with the packing cubes, I'm obsessed with having all of my accessories/makeup/cosmetics organized when packing. I have probably 15 of these Stoney Clover Lane pouches in different sizes, colors and customizations. They're the best and perfect for remembering where all of your stuff is if you customize your pouches! Buy on Website or on Nordstrom.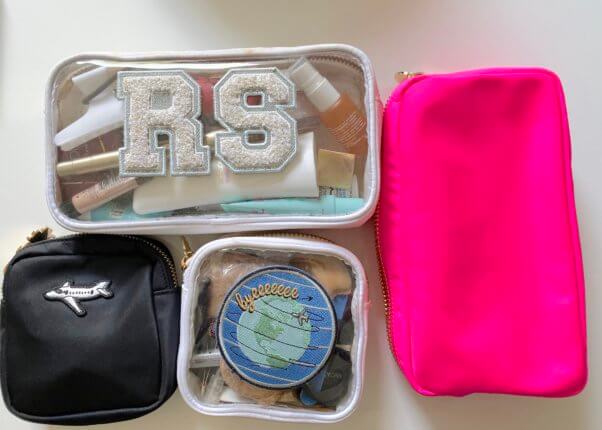 Probably one of the most unique travel gifts on this list (since most people just think of travel pillow) but I honestly can't leave home without my travel blanket these days. Flights, trains, busses are all always FREEZING (or at least I'm always freezing) and need 5 layers on. Having this blanket with me always ensures I won't be shaking from being so cold and can focus on trying to sleep! This blanket in particular is the best because it also doubles as a pillow. It folds up into a little pillow holder (which helps with space saving) with a tie that you can connect to your backpack so you can use it as a pillow when you don't need the blanket. Lastly, this travel gift ALSO benefits as an extra blanket (or pillow) when you stay at a hostel or Airbnb with questionable bedding or freezing temps. I always wrap myself in this when I don't feel like the bedding is so clean!! Buy here on Amazon
Everyone loves a good travel pillow. This is my new favorite one (and I have tried out many). It has a tie to clip right to your backpack so you are not that person traveling with it around your neck. It also is super flexible so it is made to help your neck in any which way you decide to fall asleep. Definitely another perfect unique travel gift to give your frequent flyer (or any flyer) friends – especially ones who hate flying! Buy here on Amazon
This is an AMAZING photography gift. I'm obsessed with the GoPro ever since I had the first edition for years. Everyone is always ENVIOUS of my underwater photos and videos. I just got one of the newer models and its even better than the other one which I thought couldn't happen. Whichever the model you get, any traveler in your life (or you) will love a GoPro for their adventures.  Buy here on Amazon
This is something everyone must have AT LEAST one of these days. I think I have three and I always like getting more. I love keeping them in all of my different bags so that I am never NOT without a charge. These Anker chargers ones are my favorite (any size and any type of Anker) because they last SO many charges – you don't have to charge them after every single use! You can literally fit this in any size bag – it's the size of a lipstick! Any traveler or any person in your life would be happy to receive extra chargers! Keep one in every bag you have so you are never without a charge. Buy here on Amazon.
RELATED POST: Best Travel Must-Have Items Under $20
This is my new favorite travel accessory. On long-haul flights they are always turning the lights up and down at different times depending on where you are flying so I love having these to keep it always dark for when I am sleeping. It is also perfect for Airbnbs or apartments that are super bright, and just helpful for sleeping anywhere! I love this one specifically because it really lets in NO light Buy here on Amazon.
I love this mini speaker! I bought it for my new apartment four years ago when I was looking for a small but loud speaker for my living room. It ended up becoming my favorite travel accessory. This speaker is small enough to fit in any bag and so lightweight but the sound is next level. It is the perfect travel accessory for long weekends away with friends when you want to play music, moving abroad, long hiking adventures to keep from getting bored, or even just relaxing on the beach and don't want to have headphones in! This is one of the best unique travel gifts for men and women alike. Buy here on Amazon.
I love these! I bought this pack for The Yacht Week and they really do keep your phone totally waterproof. These are the perfect companion for ANY warm weather destination where you are going to be in water a TON and maybe don't want to bring your expensive GoPro if you have one. This is the perfect add-on gift for frequent travelers since they are so cheap or are the perfect gift for coworkers, white elephant party or anything else! And they come in a three pack so they will last a while! Buy here on Amazon
I love love love my  Canon EOS M series camera. It's the perfect travel camera for anyone looking to take way better photos than their phone. It is compact and light yet makes for an amazing shot. It takes amazing pictures especially of the night sky. Highly recommend this as a nice camera and a nice gift! Canon is always making newer models, I highly suggest any of Canon's new EOS mirrorless camera. You can't go wrong. Buy here on Amazon | Buy here on Canon.com
I was first introduced to Lo&Sons travel bags a while back from other frequent travelers and was hooked immediately. I bought their bought their "OG" bag and it has been the absolute BEST shoulder bag to travel with. It has SO many pockets and can fit WAY more than it seems. It's the perfect travel companion and fits right under the seat on a plane. You literally can keep stuffing things in and everything will be organized and fit. I have the medium size and it's amazing and the quality is great. Also there is even a string to connect your keys so you can throw it at the bottom of the bag but know exactly where they are when you get back home. Buy the OG here: Shop Lo & Sons!
Everyone always needs an extra and/or backup phone charger when they're on the go. I swear by Anker phone chargers over Apple brand. Anker ones last longer, are more durable and more cost efficient. I love the 6 ft. long one too, way better than the super short Apple one. Pair this with other travel gifts and its the perfect add-on accessory gift for travelers.  Buy here on Amazon.
Like my unique travel gifts for holidays guide? Pin it for later or share with friends!
Have holiday gifts for travelers that you think should be on this list? Let me know in the comments! Looking for more of my travel & packing tips? Head here for all of my packing guides and travel tips!
Some emails suck. Mine don't. Sign up to be the first to see my new travel itineraries and secret insider travel tips and hacks only my email subscribers get! I promise I will never spam you!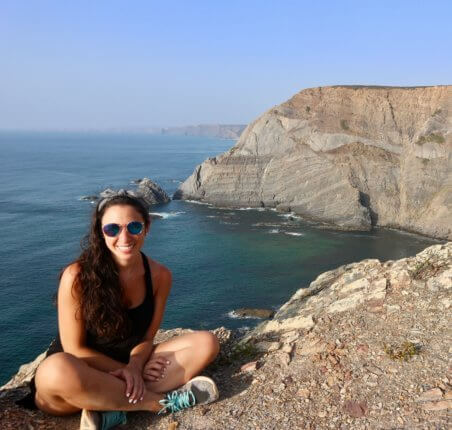 Rachel Shulman is the owner of From East To West and a seasoned traveler having been to 45+ countries and no intention of stopping soon. She is obsessed with planning and specializes in creating detailed, efficient travel itineraries and guides so you don't have to when planning your next destination.