FULL DISCLOSURE: I am obsessed with New Orleans. I went to college here, so I lived here for 4 years in a little student bubble attempting to explore the city, while also maintaining a student life. I learned the best things to do in a New Orleans itinerary throughout the past 9 years. This New Orleans blog proves it. I have visited New Orleans countless time since graduating, each time exploring new areas. I feel strongly about anyone who pronounces it wrong; saying "New Or-LEANs" instead of "New Or-lins"…so when you're visiting, please use the latter. I went to NOLA for the first time in 2008, only 3 years after Katrina devastated the city. I never would have known how much a city can come together and rebuild.
I watched New Orleans struggle while also exponentially rebuild.  I watched the New Orleans Saints win their first Super Bowl championship EVER in 2010. I watched New Orleans HOST their first Super Bowl ever in 2013; dubbed 'Super Gras' as Mardi Gras and the Super Bowl were in the same week. I watched the city expand, diversify and formulate, while I simultaneously did the same in college. I still watch it do this each time I visit; there is a new building, a new high-end restaurant winning global awards, and more tourists than ever before. NOLA is America's most eclectic city in the country. When visiting, you don't feel you're in America; whether it be from the French sounding street names, from people walking with open cups of alcohol at all hours of the day on the streets or from the nicest people in the entire world living here.
So maybe I don't have the true tourist experience in New Orleans, but that's why this New Orleans travel blog is special as an insider local New Orleans experience. I learned NOLA as a tourist, a student, a resident and more. My New Orleans itinerary guide below reflects these NOLA statuses all meshed in to one; it's an insider New Orleans experience. 
Disclosure: This New Orleans travel blog guide may contain affiliate links. I may receive commissions for purchases made through links in this post. As always, all opinions are my own and I would never post about something I have not personally used/verified.
NEW ORLEANS TRAVEL BLOG TIPS
How to get to New Orleans: New Orleans just re-did their airport and it reopened in Fall 2019 and is absolutely stunning. The old airport was small and decrepit. Now it's insanely nice (code: MSY). Every major domestic airline flies to NOLA and they also have a bunch of international flights so it should be pretty easy to visit from anywhere! New Orleans Louisiana is in the South of the USA so it's extremely close to anywhere in Latin America. Flying to New Orleans is super easy and quick!
TRAVEL INSURANCE: When visiting New Orleans, I highly recommend getting travel insurance. You never know what may happen to your flights, a death/personal emergency in your family, or an accident happening while traveling (think: getting mugged, falling while hiking and spraining your ankle, literally any accident than can happen ANYWHERE!). World Nomads makes it super easy and I never leave for a trip without getting their insurance. Most importantly it's extremely affordable: get your World Nomads travel insurance before your trip here!
NEW ORLEANS PACKING: If you visit in the summer, it is HUMID. Be prepared For all of my fave travel/packing essentials I bring on any trip compiled together, head to my influencer page on Amazon here for a complete list or my descriptive carry-on packing guide here and my travel must-haves under $20 here!
---
NEW ORLEANS BLOG: FULL NEW ORLEANS ITINERARY
Walk around the French Quarter
My number one and most obvious tip for this New Orleans travel guide. Walk around the amazing and famous French Quarter. The French Quarter is an amazing, eclectic area (but very touristy) and you should get lost throughout the Quarter filled with live music in the streets, bars that are always open, and boutique stores lining the different streets.
Make sure to ogle at the famous St. Louis Cathedral at Jackson Square, which you can't miss – take in the views from Decatur Street.
Shop around the amazing artists that line the perimeter of Jackson Square, some of my favorite art pieces come from here… and the artists are more than happy to tell you their favorite NOLA story.
Stop at the New Orleans French Market to do some shopping for all of the souvenirs you could think of.
Lastly, don't forget to stop for beignets at the famous, always crowded, Cafe Du Monde (more on that in food section – it must be in every New Orleans itinerary)!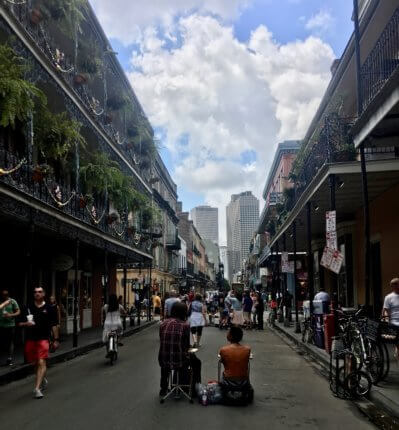 Get Lost In The Marigny/Bywater
All the colorful cute houses and buildings you see in everyone's New Orleans instagrams? They're in the Marigny & Bywater areas. These areas are more downtown than the French Quarter and you can get their by walking through the Quarter past Frenchman Street, or take a quick Uber/Taxi. You can get lost in these streets staring at the colorful, bright houses that change on every block.
Tired after exploring the streets? Head to the edge of the Bywater to Crescent Park to relax and for amazing views of the French Quarter and Mississippi River.
Hungry and in the area? Head to my favorite insider New Orleans cafe: Satsuma.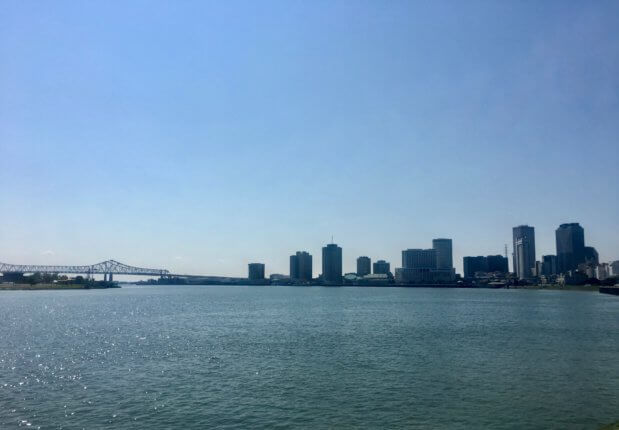 RELATED POST: USA Country Travel Tips
Take the Streetcar Uptown & Explore Uptown NOLA
There are a few New Orleans streetcar lines but I suggest taking the St. Charles line to get to Uptown through the Garden District. It's a long, slow, often hot, ride but it goes along the famous St. Charles Street where you can stare at the amazing, southern mansions along the way. I suggest taking it all the way to Carrollton Street at the end during your New
When you reach Carrollton, go to the famous institution of Camellia Grill for brunch (see more in food section).
After brunch, walk down to Audubon Park/Tulane University. They are across the street from each other a few blocks from Carrollton. If you're interested, Tulane's campus really is gorgeous (maybe I'm biased 🙂 ) with amazing Southern buildings and the famous Bead Tree on campus!
Then, head into the gorgeous Audubon Park and walk around the park which is a few miles long and loops around the golf course. If you walk to the other side, cross the street (Magazine) and head to the Audubon Zoo or keep walking straight to "The Fly" which is the levee area where a lot of students and locals hang out, tan, and play sports along the Mississippi River. The sunsets are amazing here too.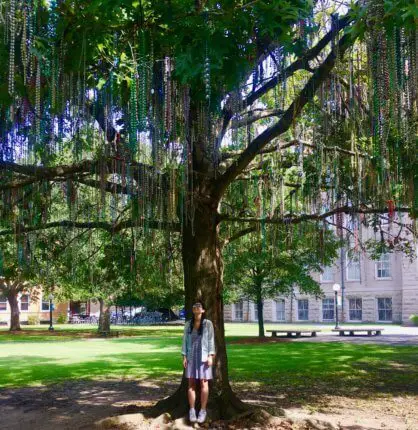 New Orleans Swamp Tour
One of the best Louisiana activities to do while visiting NOLA is to head out to the swamps in the bayou and do a New Orleans Swamp Tour! Here you can take a tour on an airboat through the Bayou swamps, watch massive alligators around you and even feed them marshmallows. Any of the main hotels in the French Quarter will have brochures on the different swamp tour that you can book while you're there, or, you can book in advance and secure your Swamp Tour spot here.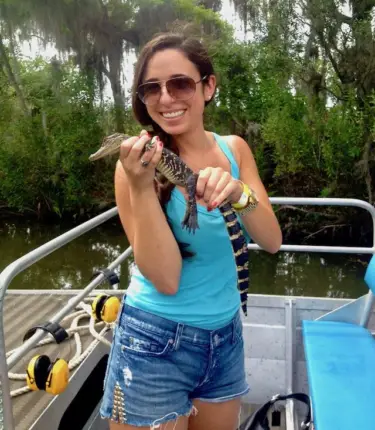 Book the best New Orleans swamp tour here!
Riverboat Cruise
Another popular NOLA tourist activity is to take a Riverboat Cruise on the Steamboat Natchez down the Mississippi River in the French Quarter. It's a nice boat ride with many departure times throughout the day that goes around the Mississippi, giving you another perspective of the city. You can book Riverboat Cruise tickets here.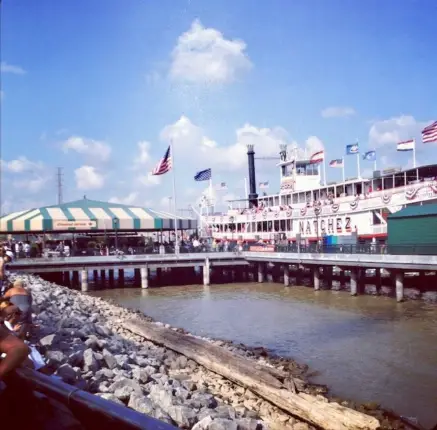 Book the Steamboat Natchez Riverboat Cruise tickets here!
Shop & Walk Magazine Street
Magazine Street is a great street that stretches from downtown to uptown with tons of cute boutiques, restaurants and bars lining the way. The houses and buildings are so cute and always decorated and it's a great street to stroll around when you are looking to just walk around, explore, shop and eat.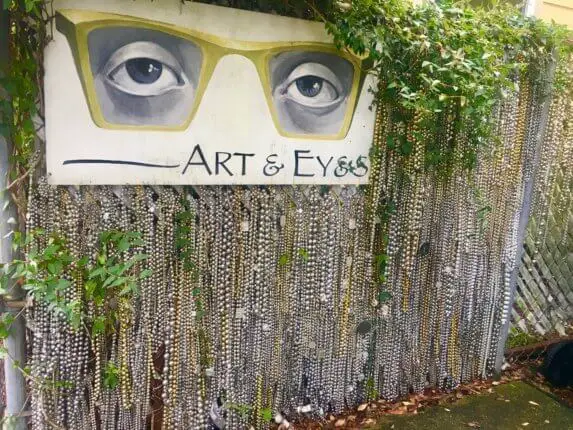 WWII Museum
The World War II Museum in New Orleans is a must-see. It is the perfect rainy day or too-hot weather activity. The museum is put together extremely well and gives an in depth tour through WWII. People come from all over the world to see this museum as it is one of the top in the country.
Saints Game
New Orleans, and Louisiana as a whole, LOVE their New Orleans Saints. They are crazy about football and their team and going to a game at the famous Superdome is no different. If they are playing at home while you are there I highly suggest getting tickets and experiencing it! If they are playing away, you will see every single bar packed with screaming fans.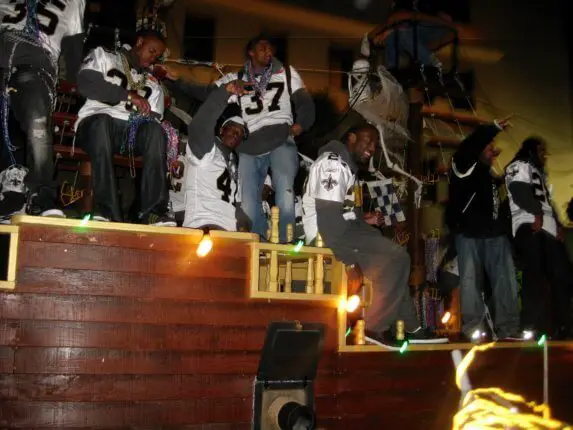 Want more things to do in New Orleans?
RELATED POST: How To Spend 36 Hours In Charleston South Carolina
---
BEST RESTAURANTS NEW ORLEANS
The New Orleans food scene is outrageous and is growing extensively. The nicest restaurants are affordable (at least comparable to New York City) and unbelievably amazing… I plan my visits to NOLA around my favorite restaurant recommendations. Unfortunately I can't list everything or it would take days so I kept it to my top restaurants in each category to talk about. The foods here ARE the best things to do in New Orleans.
New Orleans Brunch Restaurants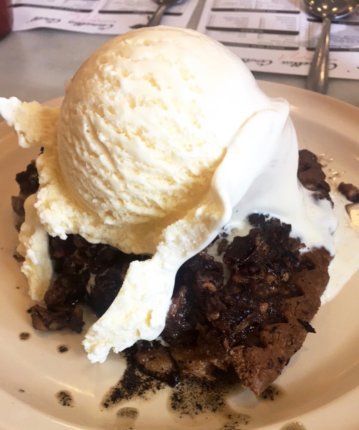 Related Post: Best Brunch in New York City
New Orleans Take Out/Fast-Casual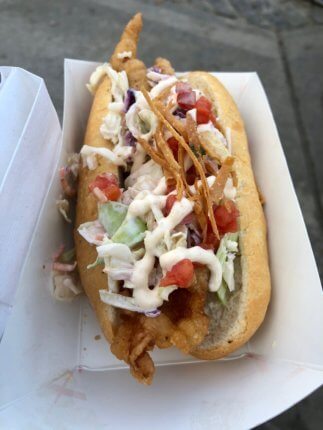 New Orleans Dinner Restaurants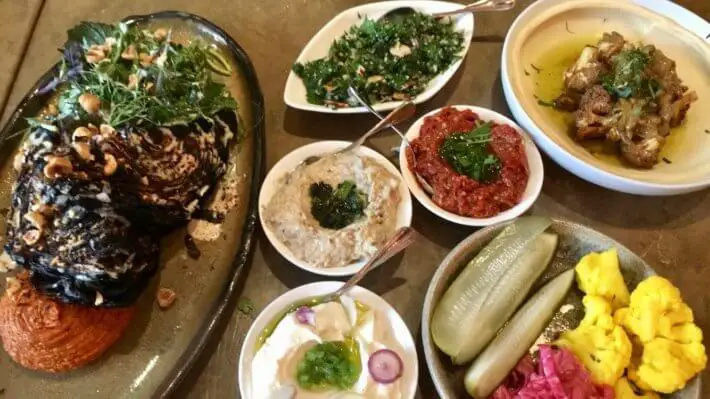 Special New Orleans FOOD you should have: Abita Beer, King Cake (Mardi Gras season), Voodoo flavored Zapps Chips, Crawfish, Gumbo, Jambalaya, Po-boys, Snowballs, Daiquiris & Hand Grenades.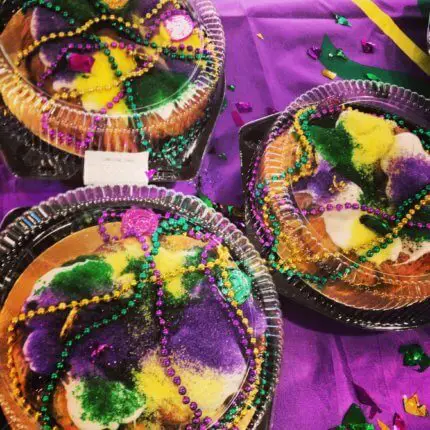 Click on any of the restaurant names to learn more and book reservations!
RELATED POST: Tel Aviv Food Guide
---
NEW ORLEANS NIGHTLIFE
Bourbon Street: Ah, the famous Bourbon Street. Can't go to NOLA and not party here. Any night of the week it will be a crowded, crazy night, but especially on the weekends. Make sure to definitely hit the Piano Bar in Pat O'Briens and get the famous hurricane to start out or end the night; it's an institution and full of tourists and locals alike. Other fun, notable spots on Bourbon are Fat Catz and Gold Mine (a block off Bourbon known for their flaming Dr. Pepper shots), but really, all spots on Bourbon are fun. Make sure to take the time to try a hand grenade & hurricane drink and just walk around Bourbon with them in hand and watch the chaos unfold outside.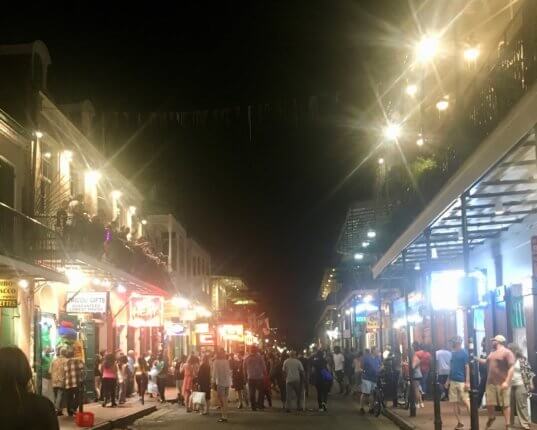 Frenchman Street: My FAVORITE area to bar hop in all of New Orleans. Frenchman Street is in the Marigny right past Bourbon and is a long stretch of bars with live music, in and outside. Some of my favorite bars are Maison, Cafe Negril, Spotted Cat, and d.b.a, but you really can't go wrong in any of them. It is the most NOLA vibes ever and is fun any night of the week. There are always random people performing on the street and they're always amazing too. Frenchman is a must-go, especially to get the real, NOLA, non-tourist feel of the city vibes.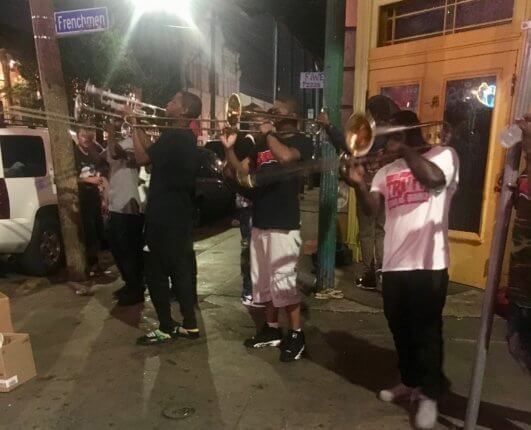 Carousel Bar: A trendy off Bourbon Street that's perfect for pre-dinner drinks. The actual bar is literally a carousel that rotates in circles!
Sazerac Bar: A nice bar inside the Roosevelt known for their drink, the Sazerec! Just get it.
Le Bon Temps: A well-known bar in New Orleans that is uptown on Magazine. A very good NOLA band, The Soul Rebels, play here weekly and it is an extremely fun, NOLA vibes spot.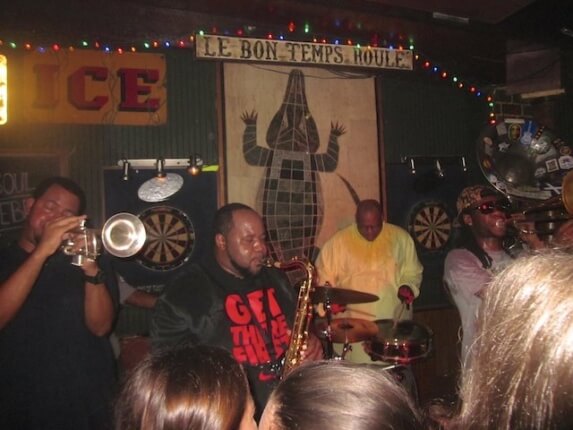 Tchoup Yard: This is a relatively new bar that just opened on Tchoupitoulas Street which is a totally different concept for NOLA. It is a massive outdoor spot in an old parking lot with lots of bars, tables and games.
Bacchanal: Another amazing, true NOLA spot. Bacchanal is far, far downtown in the Bywater and rarely has tourists. You have to take a cab here from the Quarter but it is so worth it. Bacchanal is a wine bar with a massive outdoor area and live music many nights of the week. It's amazing and a must-hit if you like wine, locals and live music 🙂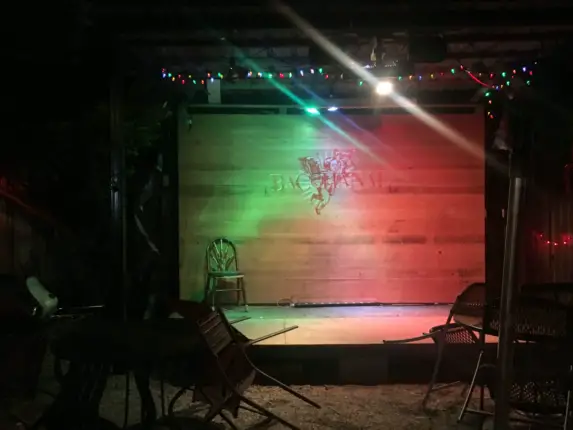 Tipitina's: A fun concert hall known for its live music. Different bands play here all the time and it's always a fun spot. Always check the schedule to see if you want to see anyone while you are visiting. I've seen some great New Orleans & famous musicians play here and I love the venue. 
---
BEST NEW ORLEANS HOTELS
Naturally, my New Orleans travel blog has a lot of hotel/hostel/apartment recommendations! For New Orleans hotels, generally, tourists usually stay on or near Canal Street in the French Quarter and I highly suggest this. Everything downtown is walkable and it's a great, lively area. There are plenty of chain and boutique hotels around that are perfect for staying at for any budget. I recommend the Marriott New Orleans, Roosevelt New Orleans, Windsor Court New Orleans or the new and trendy, one of the best new hotels in New Orleans, Ace Hotel (with an amazing roof). If you want to stay away from downtown, I highly suggest the cutest, Southern boutique hotel on the fancy St. Charles Street, The Columns Hotel.
Book the Marriott, Roosevelt, Ace Hotel, Columns Hotel or more NOLA hotels here. If you are looking for hostel/budget options you can search here.
AIRBNB New Orleans: There are also so many cute apartments in downtown New Orleans with extra nice hosts. They are generally cheaper than hotels so if you like the Airbnb route or are with a big group I definitely recommend it in New Orleans. Also, if you use my Airbnb link you get $40 off your first stay!
---
PLANNING A TRIP TO NEW ORLEANS: Best Time To Visit New Orleans
My favorite local New Orleans travel tip is to visit New Orleans more than once; Visit on a random weekend to really get to see the city and to also visit for a certain event (like Mardi Gras, Jazz Fest, etc.). This is the best way and best times to go to New Orleans
Anytime Except The Summer
The weather in New Orleans is almost always amazing…if you take out their 100 degree humid summers and their random downpours throughout the year with some hurricanes. Besides that, you'll often get an amazing 75 degrees, especially when it's freezing in the Northeast. NOLA continues to be an ever-changing, lively, eclectic city and there is so much to do and see that doesn't revolve around a festival. Just avoid the summertime weather, it's unbearable, unless you like cockroaches, humidity and 100 degree weather :).
New Orleans Mardi Gras
I don't think Mardi Gras needs any introduction. Mardi Gras is truly one of the most cultural yet insane events I have ever experienced. New Orleans totally shuts down for 4 days and it becomes wild. The whole city is celebrating together in ways you never thought was possible. The parade decorations, costumes, beads are put together a year in advance and everything is perfected. You have to experience it for yourself to understand. Just make sure you know what you are in for – drinking all day every day, total debauchery, and the most fun, interesting characters you have ever seen. Everyone should visit for Mardi Gras at some point in their life. PS – No, you don't have to do anything stupid to get beads thrown at you – they throw them at everyone🙂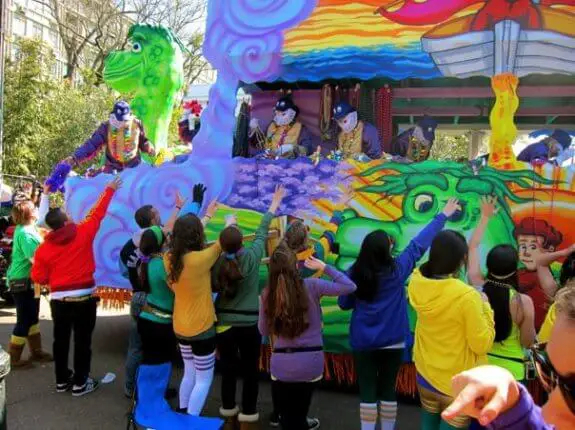 New Orleans Festival Season
After you visit for a different weekend and learn the real New Orleans, make another trip down here for a festival. The best time of year to visit New Orleans? April. New Orleans in April means the best weather, and more importantly, festival season. It will be worth it. New Orleans is notorious for its different festivals and they are some of the best things to do in New Orleans. The most popular are French Quarter Festival and Jazz Fest. French Quarter Festival New Orleans is a huge festival with lots of food and music stands all throughout the French Quarter & Jackson Square. Jazz Fest New Orleans spans two weekends in April and May and brings down thousands of visitors along with top-notch music performances. Jazz Fest consists of over 10 stages of music across all genres with lots of food vendors. It's an amazing experience! Some other amazing festivals include Crawfest, Oak Street Po Boy Festival, Freret Street Festival and more.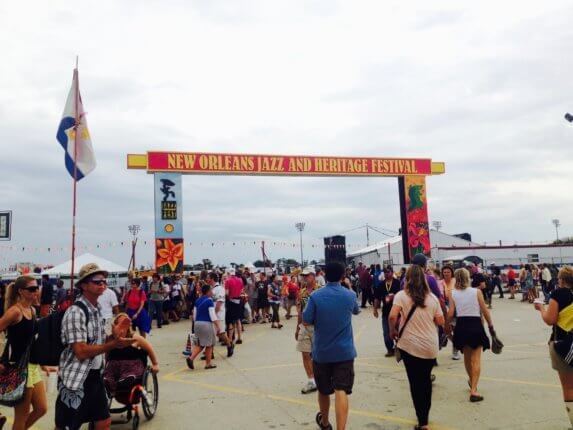 Like my travel New Orleans travel guide / New Orleans travel blog? Pin it for later or share with friends!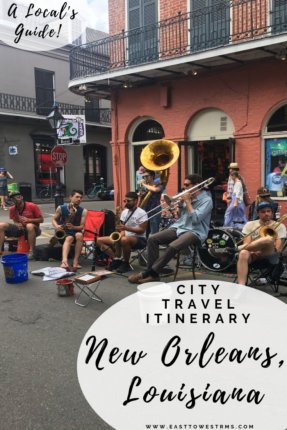 Did I miss one of the best things to do in my New Orleans travel guide that you loved? Let me know in the comments for my next visit! Be sure to check out my full country USA travel guide here too!
Some emails suck. Mine don't. Sign up to be the first to see my new travel itineraries and secret insider travel tips and hacks only my email subscribers get! I promise I will never spam you!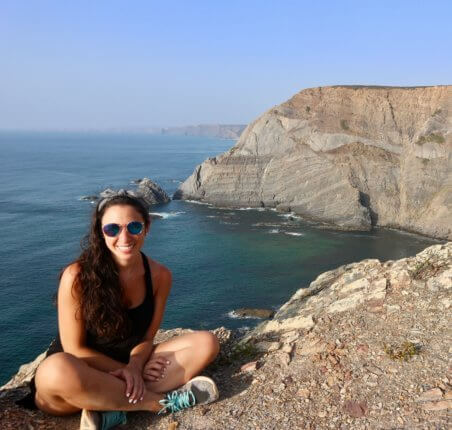 Rachel Shulman is the owner of From East To West and a seasoned traveler having been to 45+ countries and no intention of stopping soon. She is obsessed with planning and specializes in creating detailed, efficient travel itineraries and guides so you don't have to when planning your next destination.