I visited Porto Portugal in September 2018 solo and only had two full days in my nine day itinerary traveling around Portugal. I knew I had to get to the Douro Valley for one of these days and knew I wanted to take one of the best day trips from Porto. As a wine and vineyard lover, this wasn't negotiable. Even though I wish I had more days in the city of Porto, spending a full day in the Douro Valley was amazing and I would do it again. This was an amazing tour to compliment my food tour in Porto I did the day previously. Bottom line: You cannot visit Porto without visiting the Douro Valley.
Disclosure: This Douro Valley Tour from Porto guide may contain affiliate links. I may receive commissions for purchases made through links in this post. As always, all opinions are my own and I would never post about something I have not personally used/verified.
The Douro Valley is the countryside of Porto in North Portugal where you can find wineries and vineyards galore. There are an insane number of wineries, and the countryside is beautiful with the Douro River running through it. I knew I wanted to get as much out of as possible with only one day in the Douro Valley, so after a lot of research on the best Douro Valley tours from Porto, I found The Other Side, a company that runs various Porto and vineyard tours. I booked their Douro & Vineyards Tour and was excited to try all of the famous port wine.  There are a bunch of different Porto tour companies offering day trips from Porto to the Douro Valley but I liked The Other Side's offerings the best! I'll talk about a full travel guide to Porto in another guide, but this one is all Douro Valley Wine Tour related. Keep reading to see all of the details that you will get on a Douro Valley Tour, including how to book the tour, each of the wineries and locations you will visit (including a beautiful boat ride), as well as the pros and cons to this Douro Valley Wine Tour.
The Other Side Douro Valley Wine Tour Tips
Going to the Douro Valley is the absolute best and most popular Porto day trip and I highly recommend going when you are in this region as this UNESCO world heritage area cannot be missed.
The Other Side has a bunch of different tours around the city of Porto, but this guide is referring specifically to their Douro & Vineyards Tour.
The tour is the entire day and includes pick-up and drop-off from your hotel in Porto as well as private guide. The group is less than 15 people so it feels almost private, even though it is not.
Getting from Porto to Douro Valley is no easy feat. There is a LOT of time in a small van and the roads in the Douro Valley are extremely windy on cliffs. If you get car sickness this might not be the trip for you, or make sure you take a lot of Dramamine with you. I don't get car sick but even I was a bit nauseous during one of the trips between vineyards after drinking wine! Wine + curved roads are not a good combination.
I went solo on the trip, and my one negative of the Douro Valley Tour was that it was almost all 50+ year olds. Honestly not a big deal at all, but as a 27 year old, it would have been nice to have someone younger to converse with and be more on the same page with, or know in advance this is the usual age! It was very slow moving.
There is a one-hour boat ride down the Douro River that is not included in the price. It is an extra 10 euros. Don't miss this boat ride. The Douro River boat ride is beautiful and totally worth the extra price to see the views from a different perspective.
The cost of the entire trip (minus the boat ride) is 95 euros and includes a feast of a lunch that is amazing as well as all the tastings. The lunch is located in the famous town of Pinhão in the Douro Valley which also is known for its stunning train station.
For more information on traveling to Portugal head to my Portugal travel guide here and for a food tour in Porto head here. 
FULL DOURO VALLEY TOUR ITINERARY WITH THE OTHER SIDE PORTO
Our Douro Valley tour began with a pick-up at everyones individual hotel. They email you the night before and tell you what time they will be picking you up. It really is a great perk (especially when you are solo) to get picked up at your own hotel! Getting from Porto to Douro Valley is no easy feat as it's about a two hour drive to get there (mostly on highway until you arrive), but mostly everyone slept on the way so it didn't feel that bad.
Douro Valley Tour Stop #1: Boat Dam
We made a quick pit stop to break up the drive on our way to the Douro Valley to watch a boat get lifted above a dam to continue into the Douro Valley. It was actually really cool! I have personally never seen a boat get lifted like that. There are a bunch of boat tours that go all the way from Porto to the Douro Valley vineyards (this takes much longer, naturally) and this is the way they get there, since the Douro River passes through Porto. This was just a quick 10 minute pit stop to stretch our legs and was also our first glimpse into the Douro Valley views.
Our next stop was to Pinhão. Pinhão is one of the biggest towns in the Douro Valley. We had a quick bathroom and coffee pit stop at the famous Pinhão train station which is known for its tiled walls and exterior. Personally I didn't think it was as beautiful and stunning as the Porto São Bento Train Station but it was still cool to see! We also were able to head to a cafe across the street for a bite and coffee as we were pretty hungry after driving for 2 hours! We only stayed here for about a half hour.
Douro Valley Tour Stop #3: Douro River Boat Tour
Next, we drove all the way down to the bottom of Pinhão to the river for our boat tour. While this was optional, everyone on our tour opted to take the boat tour (right move!). This was my favorite part of the tour. We spent an hour on the boat going up and down the Douro River and it is absolutely stunning. I loved seeing the views of all the vineyards surrounding the Douro River from a different perspective than from the top of the hills. It was extremely relaxing and serene during this calm boat ride. They even let me steer the boat for a few minutes (I didn't do much!).
The first winery we visited was D'Origem. This has to be one of the most beautiful places I have ever visited. It was up on a massive hill (which provided lots of curved roads up and around cliffs), but the view at the top was worth it. You look down along the Douro Valley and Douro River and it is absolutely stunning. There are floor to ceiling windows and a patio overlooking the valley and I could stare at the view all day. I love looking at vineyards in different regions and this might be my favorite vineyard area ever. We tried a white, red and rosé here and all of them were great. We also got a quick tour (pre-tasting) on how the winery used to be run back in the days and you can see how old and family-run and bred it is.
Douro Valley Tour Stop #5: Lunch!
After the first winery and lots of tastings, we definitely worked up an appetite. We made our way down the curvy roads again, and back into Pinhão and headed to lunch for a big Northern Portugal feast. There were tons of courses and meal options for everyone and we were definitely full and ready for more wine (there was also free wine at lunch, in typical wine tour fashion).
Related Post: Porto Food Tour Guide
Douro Valley Tour Stop #6: Winery 2: Quinta Do Portal
Our last and final stop was to the second winery which was a bit farther from lunch and was a LOT of curvy roads uphill. But, again, at the top it provided stunning views over the Douro Valley. Here we toured the winery and the different rooms for the different types of wines (white, red and port all get stored in different temperatures and lights). Afterwards we tried one of each. I liked this winery and getting to walk through some of the vineyards and seeing the grapevines!
This was the end of our long tour and after lots of wine, I was ready for the two hour ride home to sleep it off. The trip and Douro Valley was so beautiful and I can't wait to go back and visit more Douro Valley wine regions and tours in the future.
Find out more about all of these Douro Valley wineries by clicking their names!
Related Post: Portugal Travel Guide
Final notes on The Other Side Porto Douro Valley Tour: Highly recommend! The tour was on time, organized and really gave a taste of the Douro Valley wine region and the wines it is known for! They took us to beautiful wineries and viewpoints  so you can get the true Douro Valley wineries experience. I would recommend The Other Side to anyone visiting Porto Portugal and wanting a Porto day trip to Douro Valley! You can book your tour right here! They also have a ton of other tour options around the Douro Valley and Porto so I highly recommend checking out their tour options.
*Thanks to The Other Side for inviting me on their Douro & Vineyards Tour to learn about all that the Douro Valley has to offer and visit its amazing wineries as well as  and making this blog post possible! While I did receive this tour as a gift, my review and experience with The Other Side is, as always, 100% personal and honest*
Other Porto Portugal Travel Tips
How To Get To Porto
Porto is the second biggest city to Lisbon and there are plenty of international flights (though not as many as Lisbon). You can fly direct from NYC and many other cities around Europe. You can also take a quick 2.5 hour train from Lisbon to get here. I was in Lisbon first so I took the train there. The train was insanely easy, clean and honestly a pleasure to take and travel through the Portugal countryside. You can book your train tickets here: Portugal Train Tickets. I went from Lisbon Santa Apolónia station to Porto Campanhã station, so that it was a direct train with no transfers. Book online ahead of time to get a cheaper price than booking at the station. The train only cost 25 euros. For the airport, the Porto International Airport is only a 15 minute drive from the center of Porto. You can learn more about visiting Portugal and getting around the country in my Portugal country travel guide here.
Where To Stay in Porto Portugal
There are a TON of hostels and hotels in Porto for any budget – take your pick! I LOVED the area I stayed in and I definitely recommend staying right near Livraria Lello, it's the best nightlife area and right in the center of the city so it is walking distance to every single imaginable spot that is on your list of things to do in Porto!
Search Porto hotels on Booking.com by clicking here or searching below. Find more hotel reviews on TripAdvisor here!
AIRBNB Porto: Many people also choose to stay in Airbnb in Porto because it is insanely affordable! I personally chose the hotel route for safety precautions since I was solo, but I would definitely recommend Airbnb if I were with friends! They're definitely cheaper than the hotels around the city. Also, if you use my Airbnb link you get $40 off your first stay!
Porto Travel Tips
PACKING FOR PORTO: Porto's weather is perfect. I went in the beginning of September and it was a nice high 70s. It was very sunny so don't forget sunscreen. For all of my travel/packing essentials I bring on any trip compiled together, head to my influencer page on Amazon for a complete list or my descriptive carry-on packing guide here!
TRAVEL INSURANCE: When visiting Porto, I highly recommend getting travel insurance. You never know what may happen to your flights, a death/personal emergency in your family, or an accident happening while traveling (think: getting mugged, falling while hiking and spraining your ankle, literally any accident than can happen ANYWHERE!). World Nomads makes it super easy and I never leave for a trip without getting their insurance. Most importantly it's extremely affordable: get your World Nomads travel insurance before your trip here!
UBER: Uber is insanely cheap in Portugal around the entire country. I'm still not over it. Sure, I come from NYC with astronomical prices, but I have used Uber in plenty of countries and nothing compares to the prices in Portugal. You could go on a 20 minute drive and it would be 2 euros. It's insane. Take Uber in Portugal!
Related Post: What To Do In London On Your Own Guide
Like this Douro Valley Tours from Porto with The Other Side guide? Pin it for later or share with friends!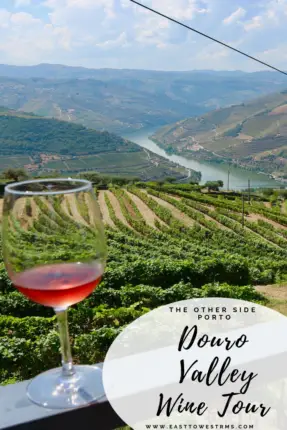 Now you can see how much of a MUST visiting the Douro Valley from Porto is right!? Looking for what to expect before visiting Portugal? Check out my Visit Portugal Travel Blog guide for more tips. Looking for an epic food tour in Porto? Head to my Porto Food Tour with Taste Porto review!
Some emails suck. Mine don't. Sign up to be the first to see my new travel itineraries and secret insider travel tips and hacks only my email subscribers get! I promise I will never spam you!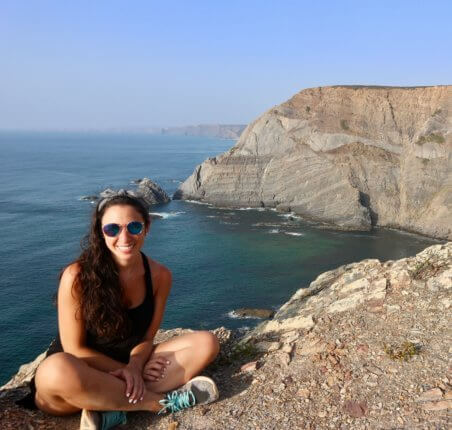 Rachel Shulman is the owner of From East To West and a seasoned traveler having been to 45+ countries and no intention of stopping soon. She is obsessed with planning and specializes in creating detailed, efficient travel itineraries and guides so you don't have to when planning your next destination.