As I mentioned in my Tel Aviv travel guide, Southern Israel guide and my Israel travel blog, I have visited Israel various times and lived there for a while back in 2015 and then moved here permanently as an expat in October 2019. So it's safe to say I know my way around Israel. Northern Israel has so much to offer but many people focus on the Galilee and Golan Heights (which are amazing!) and not just a quick weekend or day trip from Tel Aviv. Haifa and Akko (Acre) are only an HOUR train ride and drive from the city and makes the perfect short trip from Tel Aviv OR as perfect spots to stop at on your way North into the Golan Heights (my Golan Heights guide coming soon!). Keep reading to find out my favorite North Israel day trips from Tel Aviv to Haifa and Akko as well as about Caesarea and Zichron Yaakov! If you're driving, you will also want to stop at Caesarea and Zichron Yaakov which are both amazing areas in Israel to see too and are beyond close to Tel Aviv (more info on each area at the bottom of this guide!).
Disclosure: This "North Day Trips From Tel Aviv" guide may contain affiliate links. I may receive commissions for purchases made through links in this post. As always, all opinions are my own and I would never post about something I have not personally used/verified.
For all of my travel/packing essentials I bring on any trip compiled together, head to my influencer page on Amazon here for a complete list or check out my descriptive carry-on packing guide here!
TRAVEL INSURANCE: When visiting the North of Israel, I highly recommend getting travel insurance. You never know what may happen to your flights, a death/personal emergency in your family, or an accident happening while traveling (think: getting mugged, falling while hiking and spraining your ankle, literally any accident than can happen ANYWHERE!). World Nomads makes it super easy and I never leave for a trip without getting their insurance. Most importantly it's extremely affordable: get your World Nomads travel insurance before your trip here!
NORTH DAY TRIPS FROM TEL AVIV: HOW TO GET TO HAIFA AND AKKO
The easiest way to get to these North Israel cities if you are touring around the whole country would be to drive from Tel Aviv. It is only about an hour drive on a main highway! The best part about driving to Haifa from Tel Aviv is that you can stop at Israel points of interest on the way such as Caesarea and Zichron Yaakov (more on those at the bottom of this article). Alternatively, you can take a direct train from Tel Aviv to Haifa, which also takes an hour. The train is beyond easy and I have taken it various times and this is one of the top reasons why seeing Haifa is a must on my list when visiting Israel! After you make it to Haifa, it's just a quick 30 minute train or drive to the port city of Akko! There are even ferry options available between both Israel port cities now too! So Haifa and Akko are both super accessible from the center of Israel and are some of my favorite weekend and day trips for experiencing another Israeli perspective of the country.
HAIFA
Haifa is one of my favorite cities in Israel. It is a gorgeous Israeli port city (the biggest port in Israel) with the most amazing panoramic views. The city is built on the Carmel Mountains so the views from the top are incredible. Haifa has something for everyone; beaches, hiking, markets, food, UNESCO sites and street art. Don't miss this small, amazing port city in Israel when visiting.
THINGS TO DO IN HAIFA ISRAEL
The Bahai Gardens are the top reason people go to Haifa. It is a UNESCO World Heritage Site. And they are incredible, no words can do it justice. I will let my pictures below speak for them (and all the perspectives I have of the gardens). Make sure to leave plenty of time for stopping here. You are going to spend a lot of time taking pictures of the incredible views looking downwards and outwards while at the top, and then while you actually walk through the gardens, and then when you get to the bottom and look up! They really are incredible. Each time I go back (I have been five times) they are even more amazing!
After you get to the bottom of the Bahai Gardens, you should keep walking straight through the German Colony for a good meal (more on that below) and then on to the Haifa port and beaches if you want some relaxation time! Haifa is the biggest port city in Israel and you'll often see cruise ships docked here (you can spot them from the top of the Bahai Gardens). I would check out the port area and walk to the public beaches to relax in that Mediterranean heat! Two of the top Haifa beaches are Bat Galim and Dado Beach.
Walk around Masada Street for Street Art
Masada Street is one of the most popular streets in Haifa and is well-known for its graffiti-filled street art! If you are into street art I highly recommend taking the time to walk along this street and stare at the walls!
Elijah's Cave is situated in the base of Carmel Mountain and is an interesting historical site where the Prophet Elijah is said to have lived and taught. The cave holds values for all religions and the is set in a beautiful chapel.
Merkaz HaCarmel (Carmel Center)
Popular, bustling area on the slopes of the Carmel Mountain with tons of restaurants and bars at the top of the city. Also the views from here overlooking the city and Mediterranean Sea are the absolute best. This is a must!
Located directly at the base of the Bahai Gardens, the German Colony is the trendiest area of Haifa and consists of a main street, Ben Gurion Avenue, which is lined with trees, restaurants, bars and shopping. Tourists and locals alike come here after visiting the Bahai Gardens or to enjoy their nightlife and food experiences! The German Colony is not to be missed when visiting Haifa.
Click on any of the titles above to learn more information about each spot!
HAIFA RESTAURANTS & BARS
Fattoush: Really solid restaurant with amazing salads and a twist on regular Middle Eastern food in the German Colony. The best part is the garden terrace in the restaurant! Also a great nightlife spot.

Cafe Louise:

 Best spot for breakfast and brunch in Haifa.

Aroma:

 An Israeli staple. You can never go wrong with breakfast, lunch, dinner or just a coffee at Aroma.
Libira: A microbrewery that is a must for beer lovers, located in the Haifa port area.
WHERE TO STAY IN HAIFA
If you are staying over in Haifa, there are many hotels (both chain and boutiques) and hostels in Haifa! Haifa is a big city and you will find any level of hotels you are looking for. Search all Haifa hotels here!
AIRBNB Haifa: There are also so many amazing, modern apartments in Haifa. They are generally cheaper than hotels so if you like the Airbnb route instead of hotels I definitely recommend it in Israel – Israeli hosts are amazing. Also, if you use my Airbnb link you get $40 off your first stay! I stayed in an Airbnb when I visited and I loved the apartment and host.
AKKO (ACRE)
Akko is a lesser-known small port city in North Israel known for its crusader style old walls surrounding its old city. The city is also a UNESCO World Heritage site and is a holy city for the Baha'i faith. Akko is not one of the main stops tourists make when visiting Israel but I disagree with this and think it should be on EVERYONE's Israel itinerary – especially if you are visiting Haifa!
THINGS TO DO IN AKKO ISRAEL
One of my favorite things to do pretty much in any city! The Old City of Akko is surrounded by walls so I suggest getting lost within the walls and wandering through the alleys imagining what ancient crusader life was like. The Old City has not been modernized so you feel like you were taken back in time while in Acre's Old City. You also can walk on top of the walls of the Old City which I highly recommend for the amazing views. Be sure to stop at the many observation points with your camera ready!
Probably the most popular thing to do in Akko is the Kingdom of the Knights. This is right next to the visitor center in the Old City and is a self-guided (with audio device) tour that consists of a bunch of streets and alleys that give a multimedia experience (think: moving visuals and sounds) that display how the streets used to be back in the crusader time period. One of the best rooms to see during the tour is the dining hall with how vast and largely untouched it still is. Another one of the best areas in this part of the underground city is the Medieval market area next to the Crusader's Fortress where you can watch real artisans create medieval crafts and arts that you can buy! It is very cool and unlike anything I have ever experienced. The Kingdom of the Nights tour is a unique experience where you learn the history in a fun way and is a must-do when visiting Akko.
Boat Ride from the Marina
Akko has a big marina and fisherman's harbor within the Old City. I suggest taking a short boat tour (they're super cheap) around the Marina which will give you a different perspective and picturesque views of the stunning Old City walls and the city of Akko. If you just walk to the marina there will be tons of people there asking you to come on their boat for a 30 minute trip – do it!
This tunnel system runs under the Old City and was only discovered in the 1990s! It is fun to walk through as you can hear the sea above you. You enter the tunnels within the Old City and end up by the stunning Mediterranean Sea.
The Old City market reminds me of Shuk HaPishpeshim in Jaffa, Tel Aviv and you can find all the local products you imagine while walking around in the bustling market. Be sure not to go here on Shabbat when everything is closed.
Click on the titles above to learn more about them!
WHERE TO EAT IN AKKO
Hummus Said: Known to be the BEST HUMMUS IN ALL OF ISRAEL. Yeah, I said it. Akko is not only famous for its port city but also for its hummus. Hummus Said is located within the Old City Market. Hummus Said is said to be the best in the entire COUNTRY! I can attest this, I have been to Hummus Said twice and both times blew my mind how amazing it is – even better than Hummus Abu Hassan in Tel Aviv! This is a must-go, and be prepared to wait! Be sure to get there early – they close up after their daily fresh batch is finished (around 3PM).
WHERE TO STAY IN AKKO
While Akko is quite small, there are still some good hotels and locations to stay in. Generally Akko is done as a day trip with no overnight needed, but if you do stay over, you have hotel and hostel options! I suggest staying in or as close to in as possible the Old City Walls that you can. Search Akko hotels and hostels here.
AIRBNB Akko: There are also so many amazing apartments in Akko with super nice hosts if you are staying overnight! They are generally cheaper than hotels so if you like the Airbnb route instead of hotels I definitely recommend it in Israel – Israeli hosts are amazing. Also, if you use my Airbnb link you get $40 off your first stay!
OTHER ISRAEL AREAS TO SEE FROM TEL AVIV ON THE WAY NORTH
Caesarea is a ruins town situated right in the middle of Tel Aviv and Haifa on the coast. It's known for its famous national park which includes tons of ancient ruins, an amphitheater and old port. The ancient Roman ruins here make up an archaeological park with remains of some big statues and monuments as well as mosaics. Caesarea is unlike anywhere else I have ever seen (and I have been to a lot of ruins) and should not be missed while traveling in North Israel along the coast. You only need about 2 hours here to walk around or you can spend an afternoon here on the beach at Caesarea National Park!

Zichron Yaakov is one of the more modern settlements in Israel and is situated on top of Mount Carmel, providing stunning views over the Mediterranean Sea. The town is extremely small with a small pedestrian only shopping street with tons of cafes and restaurants. Zichron Yaakov is the perfect pit stop for lunch to walk around this cute little town and grab a bite either on the way North or on the way back to Tel Aviv. I have been a few times and love how quaint and cute it is. Zichron Yaakov is also famous for its wineries, its original one being the Carmel Winery as well as Tishbi and Binyamina wineries. I definitely suggest checking one of these out, I went to Tishbi and loved the winery and tasting room. The lunch at Tishbi is amazing! Another stop you should make if you go to Zichron Yaakov is to Ramat HaNadiv, a garden/park right outside the town. It is actually a memorial garden for Baron Edmond de Rothschild. The gardens are absolutely gorgeous with amazing views and it is nice to just walk around her for a bit. Do not miss Zichron Yaakov if you are driving in Israel!
Loved this "North Israel Day Trips From Tel Aviv" insider guide? Pin it for later or share with friends!
Did I miss something awesome that you loved in Haifa, Akko, Caesarea or Zichron Yaakov in this North Day Trips From Tel Aviv guide?  Let me know in the comments for my next visit! Head here for my Tel Aviv guide, my Tel Aviv food guide here, my South Israel itinerary guide here or see my general Israel travel blog here!
Some emails suck. Mine don't. Sign up to be the first to see my new travel itineraries and secret insider travel tips and hacks only my email subscribers get! I promise I will never spam you!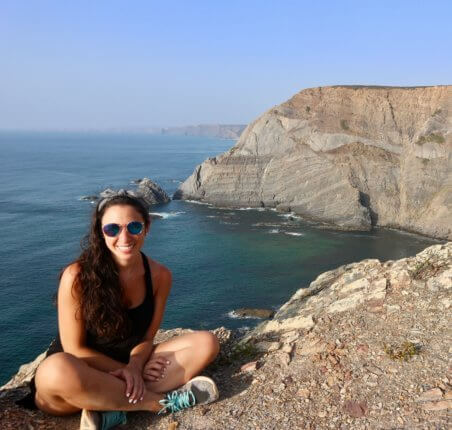 Rachel Shulman is the owner of From East To West and a seasoned traveler having been to 45+ countries and no intention of stopping soon. She is obsessed with planning and specializes in creating detailed, efficient travel itineraries and guides so you don't have to when planning your next destination.