My sister was transferred to London for work for three months so I obviously took advantage of her living there and decided I was going to be traveling to London alone to see her since she was working everyday. I visited London solo for five total days – I did 4 days of touring London solo (which was still not close to enough) and a half-day trip outside the city. London is a great solo touring city! All of the London tourist attractions are amazing things to do in London by yourself! Keep reading to find out how to conquer solo travel in London and London day trips!
Disclosure: This traveling to London alone guide may contain affiliate links. I may receive commissions for purchases made through links in this post. As always, all opinions are my own and I would never post about something I have not personally used/verified.
Traveling To London Alone Tips
All the museums in London are free!
Bring your Student ID if it applies – lots of good student discounts on the tourist spots!
While traveling to London alone, I recommend using Big Bus Tours London (or any of the Hop on Hop Off companies – but I liked this well-known company) to see all the sights. This makes it easy to get to all the must-sees under a pre-paid 24- or 48-hour ticket. Of course you'll hit some serious London traffic but you'll still be overground looking at the amazing city. The Hop on Hop Off is one of the top things to do in London on your own.
Insurance: When visiting London, I highly recommend getting travel insurance. You never know what may happen to your flights, a death/personal emergency in your family, or an accident happening while traveling (think: getting mugged, falling while hiking and spraining your ankle, literally any accident than can happen ANYWHERE!). World Nomads makes it super easy and I never leave for a trip without getting their insurance. Most importantly it's extremely affordable: get your World Nomads travel insurance before your trip here!
Traveling to London with a dog? Check out these dog-friendly London tips here.
LONDON PACKING: For all of my travel/packing essentials I bring on any trip compiled together, head to my influencer page on Amazon here for a complete list or my descriptive carry-on packing guide here!
How To Get To London
Flying from America is beyond easy and is a quick 5/6 hour flight from New York. I suggest Virgin Atlantic personally, I have flown them many times, including all the way to South Africa, and love the airline, however all major carriers fly direct to London. Head to this detailed guide on how to get from Heathrow Airport to London.
---
BEST THINGS TO DO ALONE IN LONDON
There is way too much to do in London to squeeze in five days. Solo travel in London is one of the best ways to TRY to see everything as you can visit at your own pace! Below is a list of all of the AMAZING things to see in London by yourself that I couldn't even get through.
London Bridge
Most famous name (and songs), least famous bridge. London Bridge is cool to see just to say you went there, but Tower Bridge is the famous, gorgeous one.
---
Tower Bridge
Definitely walk over Tower Bridge, maybe even multiple times. It is a gorgeous, historical, massive bridge with amazing views of the city. I also suggest coming here to watch the sunset if you can work that into your itinerary.
---
Top of the Shard
One of the newest buildings in London, the Shard provides the best views of London from the highest point – it is twice the highest of any viewing point in London. The building is modern and is a must-go. You also must buy your tickets in advance on their website (you will save 6 euros!) so plan this in advance! You can buy them on their website or through a London tour here: Top of the Shard information. The journey up is also awesome – they made a whole experience on the elevator ride. The picture below shows what the Shard building looks like (can't miss it!) and the picture at the top of the article is the view from the top!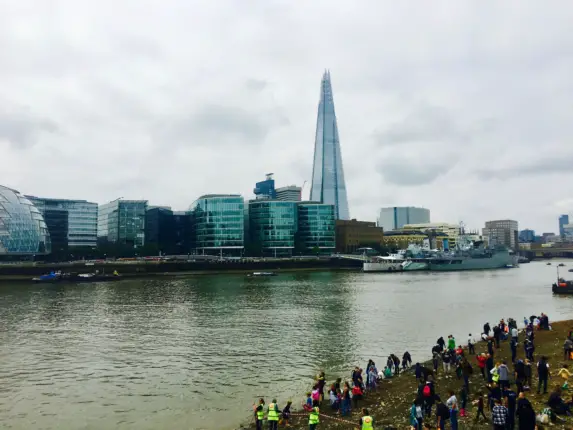 Related Post: United Kingdom Travel Guide
---
Borough Market
Most famous food market that is an absolute must when visiting London – preferably more than once. Borough Market is an indoor food market with all the food/drink/snack possibilities you could possibly imagine – it is heaven – and everything tastes amazing. Going to Borough Market is one of the best things to do alone in London because you can spend as much time as you want sampling all the foods!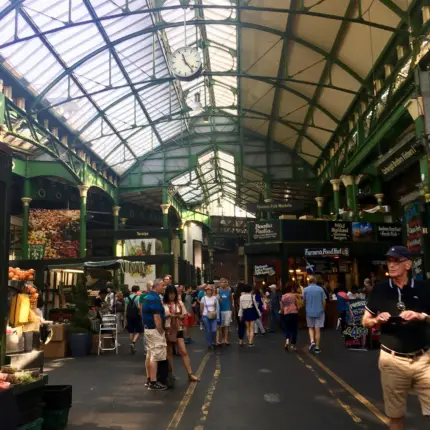 ---
Tower of London/Crown Jewels
One of the most popular attractions and the lines wind around the city. This is an essential visit, most notably the Crown Jewels. The Crown Jewels exhibit is inside the Tower of London and showcases all of the crowns and jewels (duh) of the previous kings and queens dating back far beyond our years.
---
London Eye
Duh! The most famous attraction probably in Europe. Everyone waits on lines forever to ride the fun ferris wheel to get the best views in London. This is also such an easy and fun thing to do for solo travel in London since you are in a pod with other people! Can't go to London and not ride the London Eye – but definitely get a fast pass online beforehand so you can skip to the front!
---
Westminster Abbey/House of Parliament
The famous church in London, and one of the most famous in the world, and an essential to visit if you love gothic churches – it is also gorgeous to marvel at from the outside.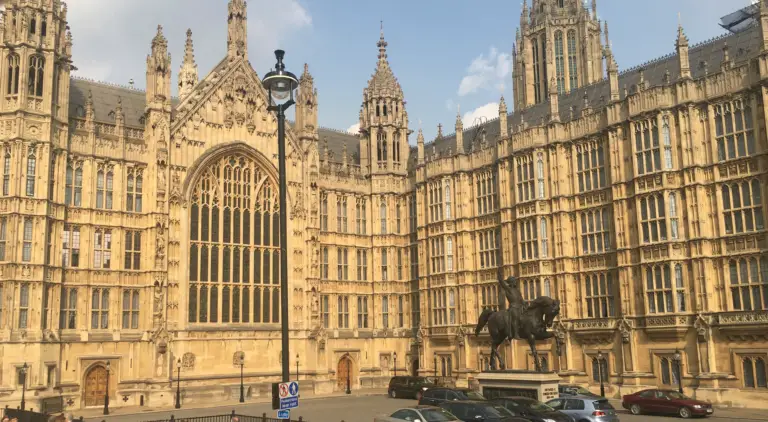 ---
Big Ben
Can't miss a famous picture of the Big Ben clocktower outside Westminster Abbey in the heart of London.
---
Buckingham Palace
Where the Royal Family lives! Usually people go just for the changing of the guards (which I suggest) (you can find the timings each day online here), but some seasons they have tours inside the palace. I happened to go during this time (while the family was at their summer house) and I was able to tour the castle and see a special Queen's fashion exhibit there. Definitely try to get inside Buckingham Palace if a tour is available – it is stunning.
---
Harrods
The famous department store people travel from all over the world to come to! Everything is very high-end and it is easy to get lost in the massive store and try to buy something! Harrod's is a definite experience when traveling to London alone – who doesn't like to shop without the pressure of others?? 🙂 Check out other trendy things to do in London here.
---
Notting Hill/Portobello Market
An area accessible by the metro in central London and probably my favorite part of London. You could spend hours just walking through Notting Hill and through the Portobello Market and the colorful houses. A standard London experience that you cannot miss.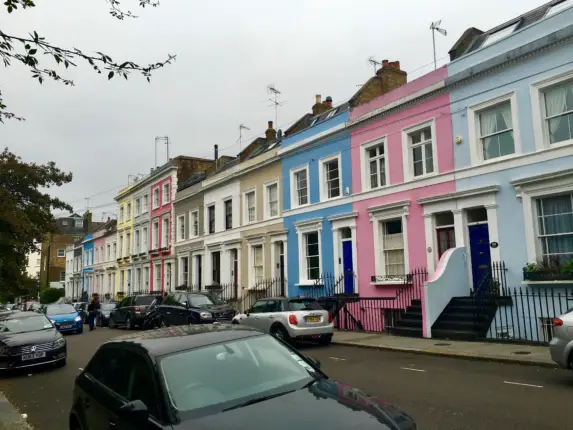 ---
Regent Street
Regent Street is the main, huge boulevard in London near Piccadilly Circle and is famous for its high-end shopping. Take some time to walk around the Regent Street, Covent Garden and SoHo area.
---
See a Broadway Show
Broadway is just as huge in London as it is in New York! I recommend going to their theater district and seeing a show there. I saw "Book of Mormon" there and it was incredible. This is also an amazing activity to do on your own in London!
---
Other Popular Things To Do By Yourself In London
Other places to see in London/attractions that are popular, depending on your tastes, are:
Check out more reasons why London is the best!
Where To Eat In London
Brunch/Lunch in London
Afternoon Tea in London
You must take advantage of the UK's favorite pasttime – afternoon tea! It is one of the best things in London to enjoy! Afternoon tea is just another one of the amazing things to do alone in London. While most restaurants offer specials and afternoon tea options, I would suggest making a reservation in advance at one of the fancier places below for a real, pampered experience.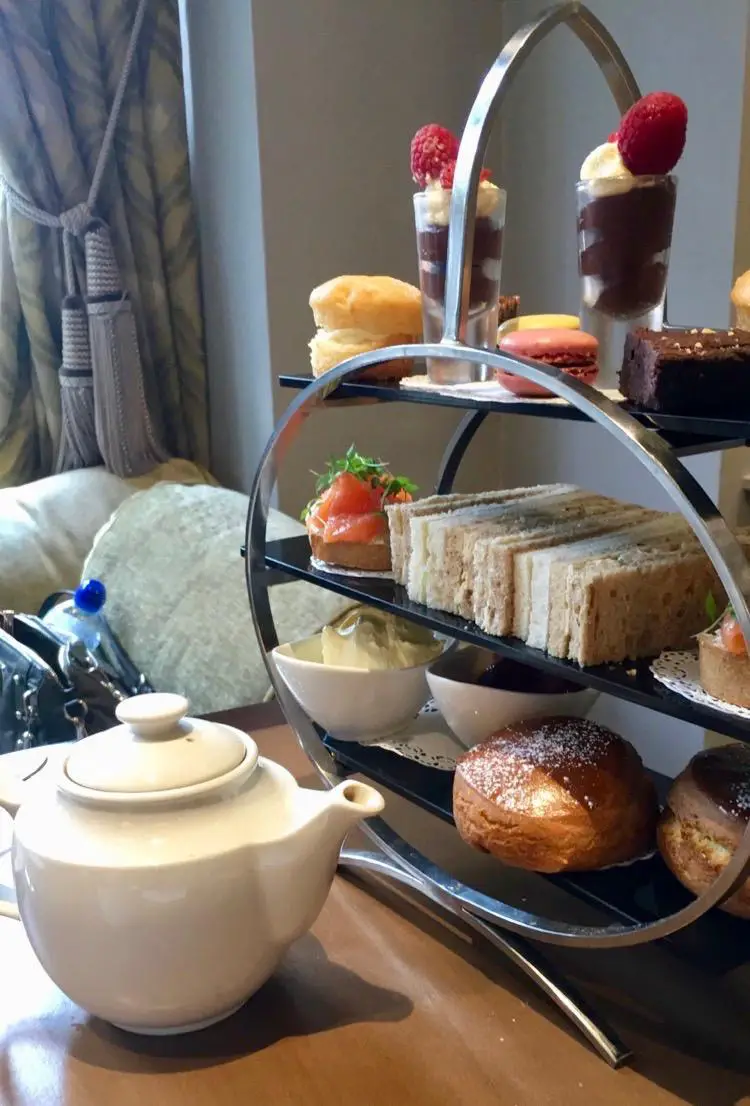 Related Post: Brunch Guide To New York City
Dinner Restaurants in London
London Dessert Spots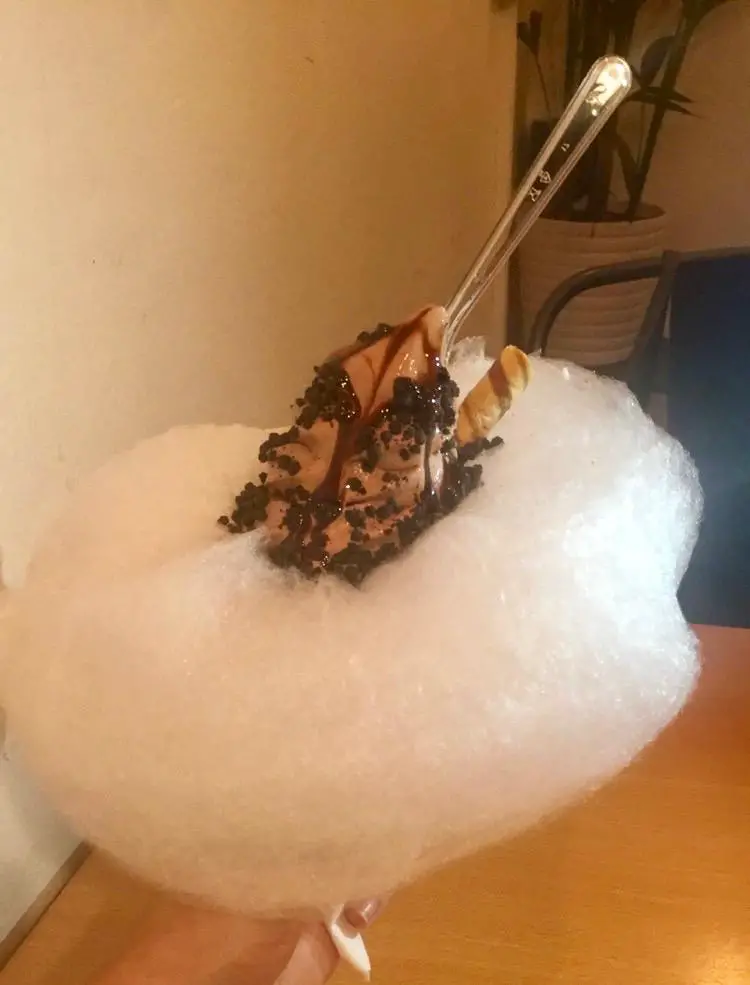 Click any of the London restaurant names above to learn more/make reservations!
Related Post: Porto Food Tour Guide
Best Day Trips From London
There is SO much to see around Great Britain and I highly suggest taking some of the amazing options of day trips from London. I only had a half day and chose Windsor Castle and it is definitely a must-visit and a super easy London day trip when traveling to London alone. If I had a full day trip option I would have done this combination Stonehenge, Windsor and Bath trip, which you can book by clicking here. This would be the most efficient way to see the most amount of areas from London! There are a bunch of other options here that cater to anyone's interests, so pick which you would benefit from most!
Also check out this First Timers London guide.
Related Post: Day Trips From Tel Aviv
Where To Stay In London
I stayed with my sister while she was living in London but you can search here for London hotels and I suggest booking quickly as soon as you know your travel dates since it's a popular city! You can also search reviews for London hotels on TripAdvisor here. If you are traveling with kids, I highly suggest check out this list of the best kid-friendly London hotels.
Search and book London hotels and hostels here!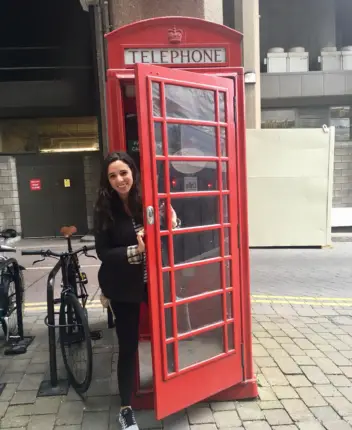 Like my traveling to London alone post? Pin for later or share with friends!
Did I miss something in my things to do on your own in London? Let me know in the comments for my next visit! Don't forget to check out my general United Kingdom travel guide here for more tips!
Some emails suck. Mine don't. Sign up to be the first to see my new travel itineraries and secret insider travel tips and hacks only my email subscribers get! I promise I will never spam you!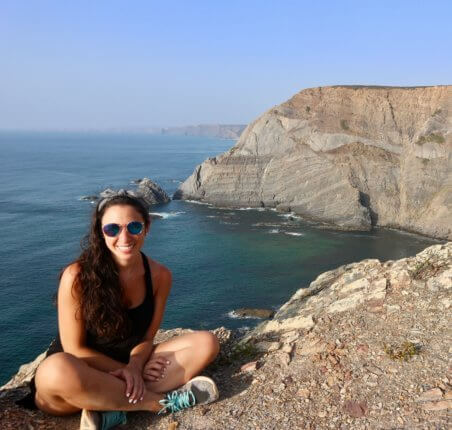 Rachel Shulman is the owner of From East To West and a seasoned traveler having been to 45+ countries and no intention of stopping soon. She is obsessed with planning and specializes in creating detailed, efficient travel itineraries and guides so you don't have to when planning your next destination.