Santorini surpasses Mykonos and any other place I have ever been on its beauty and I have never seen anything like it. The cities are on huge cliffs and the views are absolutely breathtaking. Keep reading to find out what to do in Santorini Greece!
Disclosure: This "Best Things To Do In Santorini Greece" post may contain affiliate links. I may receive commissions for purchases made through links in this post. As always, all opinions are my own and I would never post about something I have not personally used/verified.
Santorini Travel Tips
SANTORINI PACKING: Looking for what to pack for Santorini? For all of my travel/packing essentials I bring on any trip compiled together, head to my influencer page on Amazon here for a complete list or my descriptive carry-on packing guide here!
TRAVEL INSURANCE: When visiting Santorini, I highly recommend getting travel insurance. You never know what may happen to your flights, a death/personal emergency in your family, or an accident happening while traveling (think: getting mugged, falling while hiking and spraining your ankle, literally any accident than can happen ANYWHERE!).

World Nomads

makes it super easy and I never leave for a trip without getting their insurance. Most importantly it's extremely affordable:

get your World Nomads travel insurance before your trip here!
How To Get To Santorini
Like Mykonos, we took a 2 hour ferry to Santorini which was quick, easy and cheap ($55). This ferry had an open deck and not assigned seating and the views were gorgeous! There are also plenty of Athens to Santorini flights and even flights from other select European countries.
BEST THINGS TO DO IN SANTORINI GREECE
The two main towns are Fira (Thira) and Oia (pronounced ee-ah). Fira is more residential with many hotels and where I suggest staying. Oia is the sunset town, and stunning. Of course there are plenty of gorgeous villas here as well, but not as much to do.
Santorini Beaches
There are many gorgeous beaches in Santorini, which make for great day trips. You can take busses to pretty much anywhere on the island from Fira. I suggest Perissa or Kamari beaches which are both black sand beaches.
Santorini Wine Tours
Santorini has great wine and the Santo Wine Tours is supposed to be amazing. Unfortunately, we did not have enough time for this and when we tried to make a last minute reservation they were all booked. You must make a reservation in advance.
Day Trip to Oia
If staying in Fira, take an entire afternoon trip to Oia. You can take a bus here from Fira, which takes about 30 minutes and costs 1.6 Euros. It has the cutest little town, all along the water, with stunning views on top of the cliffs. The little alleys are lined with cute Greek stores for all your tourist souvenirs. There are so many gorgeous churches to look at and stunning white buildings with blue tops. And of course, the sunset. Oia is equivalent to the words Santorini sunsets. THIS IS THE SPOT TO WATCH THE SANTORINI SUNSET.  People line up for the best sunset views at least 2 hours before the sunset. I wish I was kidding. Make your way to the top point of Oia and you will see everyone standing and the beautiful view. Post up there until after the sunset and just watch the stunning beauty.
TIP: Instead of trying to get a dinner with a sunset view (unlikely), have dinner AFTER the sunset. It will be empty as everyone will have left and you will still get to enjoy the amazing food and views at night.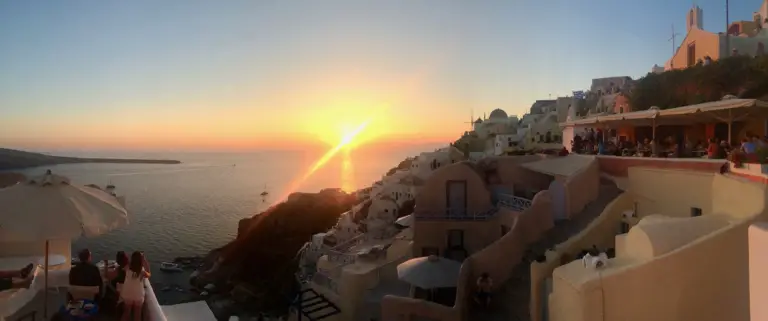 Hike Fira to Oia
There is an amazing hike from Fira to Oia that you can alternatively do to get there. The hike takes about 3-4 hours and provides stunning views. Highly suggested if you have extra days there and love to be active.
Spend A Day In Fira
Fira is a bustling town with lots of shops, views restaurants and activities. You can spend hours in these streets shopping for anything you want, eating the best Greek food and riding donkeys. Fira also has a stunning sunset, so make sure to post up here on your other nights!
Santorini Donkey Ride
Many Greeks get around Santorini on donkeys and you will always find tourists riding them up and down at the edge of Fira to the water. It is 5 Euros to ride them either up or down (one way) and is definitely an experience you must not miss. There is also a cute little dock and boats area when you get to the bottom so definitely plan to walk around a bit at the bottom of Santorini!
TIP: Ride the donkeys DOWN the hill and take the cable car back up. Riding the donkeys up the hill hurts wildly due to the bumps and steps.
Fish Eating In Santorini
While highly ticklish, my feet were definitely smoother and cleaner afterwards! Fish eating is a fun activity when you want to cool down or relax in Santorini! You will see many places around Fira that offer this service – choose the cheapest one for a little real-life spa service.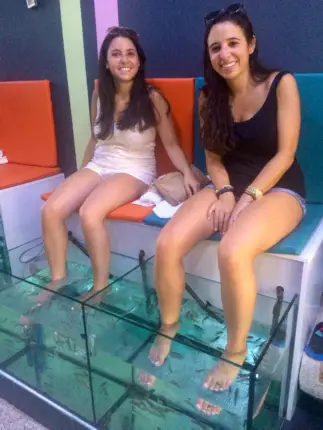 Santorini Restaurants
Typical Greek food, here are some recommendations in Fira I loved!
Idol Santorini: Great breakfast and sunset view
Aris Santorini: Greek food with an amazing view
Our Corner: Amazing crepe place for the morning! On the main street in Fira on the way into town.
Where To Party In Santorini
The Santorini nightlife isn't as magical as it is in Mykonos but there is still plenty to do! Some fun bars in Santorini are:
Where To Stay In Santorini
I highly, highly suggest staying at hotels in Fira over Oia as there is much more to do! We stayed in Fira about a 2 minute walk from town. The hotel was called Golden Star Santorini and it was a perfect location and perfect budget hotel. The rooms were small but great for two people and they had a gorgeous pool in the back with stunning views of the ocean. Highly recommended Golden Star, you can book by clicking here! Read reviews on Golden Star on TripAdvisor here!
AIRBNB Santorini: There are also so many cute apartments in Santorini with extra nice hosts. They are generally cheaper than hotels so if you like the Airbnb route instead of hotels I definitely recommend it. Also, if you use my Airbnb link you get $40 off your first stay!
Like this "What To Do In Santorini" guide? Pin it for later or share with friends!
Did I miss what to do in Santorini that you loved? Let me know in the comments for my next visit! Head here if you are looking for my Mykonos Greece guide or here for my Athens Greece guide! Don't forget to check out my full Greece travel guide here!
Some emails suck. Mine don't. Sign up to be the first to see my new travel itineraries and secret insider travel tips and hacks only my email subscribers get! I promise I will never spam you!