I spent a weekend in Charleston with a friend and loved this little Southern city and had the best time eating our way through it. While it was only a little over 36 hours in Charleston, we felt like we hit all the hot spots and even spent time at a gorgeous plantation that is a Charleston must-visit. You could also hit a lot of spots at a slower pace with three days in Charleston. Read on for the best places to eat at and the top tourist spots to hit during 36 hours in Charleston, South Carolina. 
Disclosure: This 36 hours in Charleston guide may contain affiliate links. I may receive commissions for purchases made through links in this post. As always, all opinions are my own and I would never post about something I have not personally used/verified.
36 Hours in Charleston Travel Tips
HOW TO GET TO CHARLESTON SC: We flew JetBlue to Charleston from NYC and it was super easy. All major airlines fly to Charleston within the US Iso it should be fairly straightforward (and cheap!) to get direct flights to Charleston. The flight is around 2 hours from NYC. You can take a quick Uber from the airport to the downtown area for only around $20 USD!
Travel Insurance: Unfortunately, things can and do go wrong when you travel. World Nomads offers coverage for more than 150 activities as well as emergency medical, lost luggage, trip cancellation and more. Buy at home or while traveling and claim online from anywhere in the world. We receive a fee when you get a quote from World Nomads using this link. We do not represent World Nomads. This is not a recommendation to buy travel insurance.
PACKING FOR CHARLESTON: Charleston is pretty hot especially during the summer! For all of my travel/packing essentials I bring on any trip compiled together, head to my influencer page on Amazon here for a complete list or my descriptive carry-on packing guide here!
CHARLESTON ITINERARY: WHAT TO DO IN CHARLESTON
Shopping on King Street
Charleston's King Street is downtown Charleston's main shopping street. It is a must-visit on your Charleston weekend itinerary and I definitely recommend walking up and down one or two times. There are so many cute, trendy boutiques for shopping as well as your usual big shopping chains. The street is always busy and very touristy. Lots of the main restaurants (below) are also on King Street, but we liked it more for the boutique stores 🙂
City Market Charleston
City Market is Charleston's main, most popular market and is over 200 years old. You can find anything from food, drinks, and little southern gifts here. It is always bustling and fun to walk through at anytime during the day. There are over 100 authentic vendors here, and I suggest getting dried Okra chips (which you can only get in Charleston). City Market is a must-do on any Charleston itinerary.
Carriage Ride
Another one of the best things to do in Charleston is horse carriage rides are very popular in the downtown area. Palmetto Carriage Rides is one of the main companies, but any of them are fine. They take you around downtown and it is a fun experience and a great tourist activity for spending a short time in Charleston.
Related Post: New Orleans Blog Insider's Guide
Charleston Battery/Waterfront Park
Charleston Battery is the tip of the peninsula of the city and is a nice walk around the water with pretty views over-looking the city harbor. Around here you can also see a row of historical cannons they used to use back during the war. If you keep walking along the water you will hit Waterfront Park which is just a gorgeous area to walk around in the city.  I suggest walking through the residential little streets to get here from King Street; the quaint, gorgeous, colorful townhouses are amazing to see.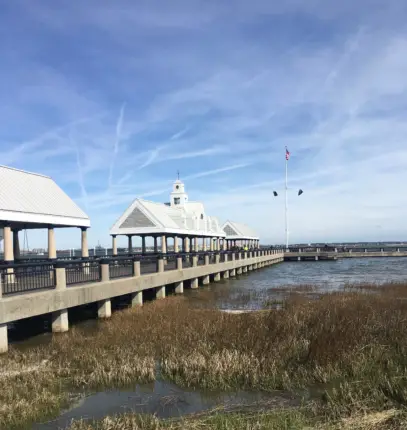 Rainbow Row
Pretty self-explanatory, this is the street that is made up of a stretch of colorful townhouses that you see in all the tourist magazines and websites about Charleston. It is so pretty and colorful and so nice to walk around here. This is a must-visit when spending a weekend in Charleston. There will always be tourists in front of the houses taking pictures.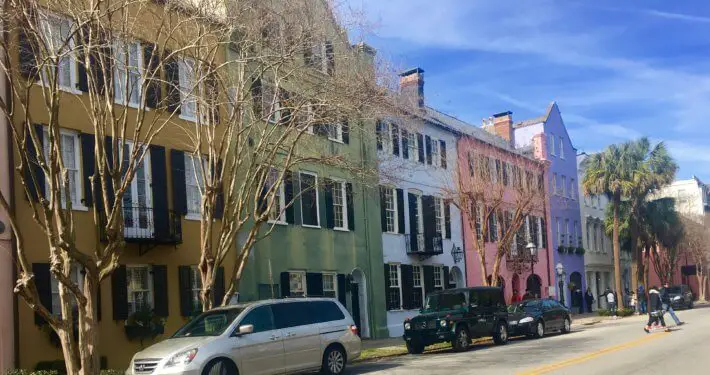 Magnolia Plantation and Gardens
When you think of Charleston you think of Southern plantations. Magnolia Plantation is the most popular and famous in Charleston and it was amazing. It was about a 20 minute Uber ride outside of downtown Charleston and it was so worth it! They even have a little farm in the front (good for kids) where they have gorgeous peacocks roaming around. We spent more than an hour getting lost in the gardens on the plantation, they were so beautiful. I definitely suggest spending half a day of your weekend in Charleston exploring Magnolia Plantation.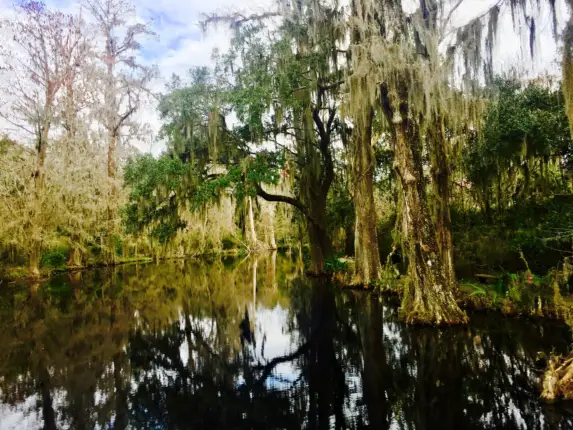 Related Post: USA Travel Guide
Best Restaurants For A Weekend In Charleston
Charleston has a food scene that isn't slowing down anytime soon. Definitely check out some of these best restaurants in Charleston during your weekend in Charleston (we tried to fit in as MUCH as possible.. felt gross after, but totally worth it)!
Brunch In Charleston
Callie's Hot Little Biscuit: a must-visit (see picture at right). This HAS to be on your Charleston itinerary. This tiny tiny shop always has a line out the door (it's on King Street) and for good reason; their biscuits are AMAZING and do not disappoint.
Husk: Most famous restaurant in Charleston and their brunch is no different. Won one of the top brunch spots in America in 2017.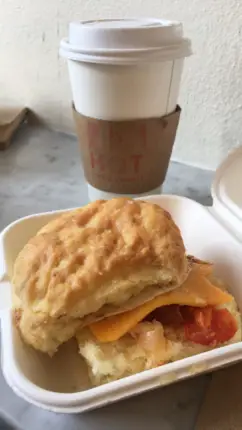 Related Post: Brunch in New York City
Lunch In Charleston
Dinner Restaurants in Charleston
Best Bars In Charleston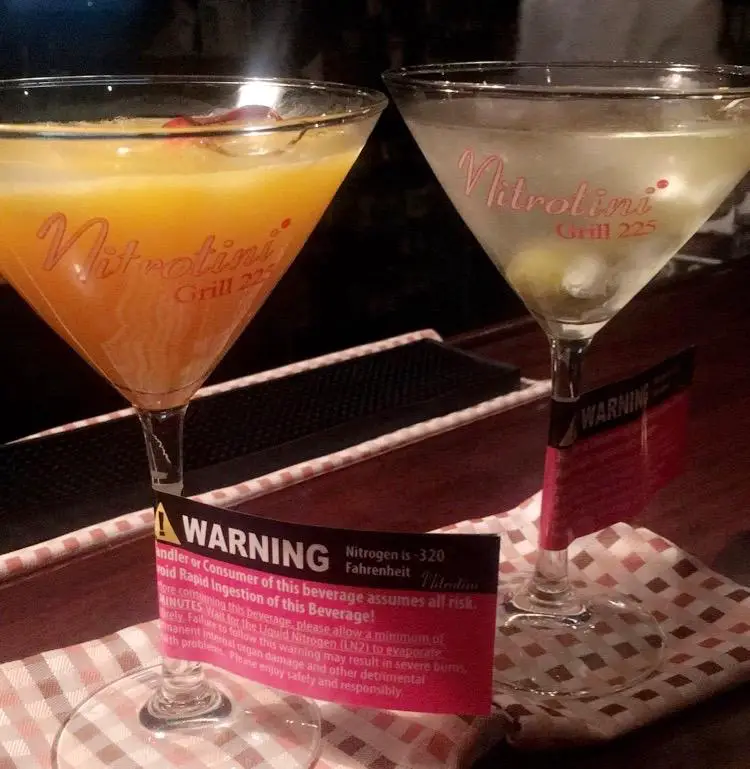 Where To Stay In Charleston
There are so many places to stay in Charleston. We stayed at The Mills House Wyndham Grand Hotel which was gorgeous. We had a great stay here; it was in a perfect location and walking distance to everything right in the middle of downtown Charleston. It is also directly across the street from Husk restaurant. It's been around since 1853 so it definitely has that Southern charm feeling as well. I would absolutely stay here again and it's definitely one of the best hotels in Charleston. Click here to read reviews for Mills House on TripAdvisor.
Book The Mills House or search other Charleston hotels here!
AIRBNB Charleston: There are also so many cute apartments in downtown Charleston with extra nice hosts. They are generally cheaper than hotels so if you like the Airbnb route instead of hotels I definitely recommend it in Charleston. Also, if you use my Airbnb link you get $40 off your first stay!
Like this 36 hours Charleston itinerary? Pin for later or share with friends!
Did I miss something for a 36 hours in Charleston itinerary that you loved? Let me know in the comments for my next visit! Looking for another beautiful US South city? Check out my New Orleans Travel Blog! Head here if you are looking for my USA country guide. 
Some emails suck. Mine don't. Sign up to be the first to see my new travel itineraries and secret insider travel tips and hacks only my email subscribers get! I promise I will never spam you!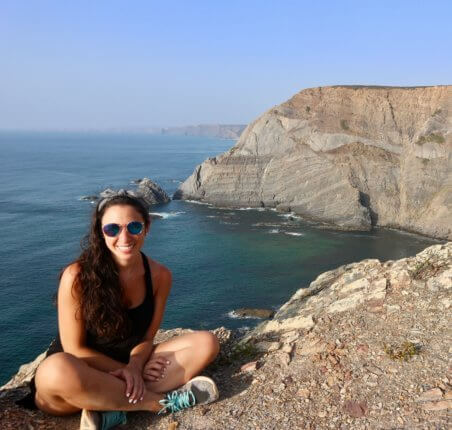 Rachel Shulman is the owner of From East To West and a seasoned traveler having been to 45+ countries and no intention of stopping soon. She is obsessed with planning and specializes in creating detailed, efficient travel itineraries and guides so you don't have to when planning your next destination.