You only really need one day in Athens to hit the famous ruins and museums. The city was built around all of the ruins and it is awesome. Look up while you're strolling the streets of the city and you can see the Acropolis on top of hill! Keep reading to see what to do in Athens, Greece!
Disclosure: This "What To Do In Athens" post may contain affiliate links. I may receive commissions for purchases made through links in this post. As always, all opinions are my own and I would never post about something I have not personally used/verified.
Athens Travel Tips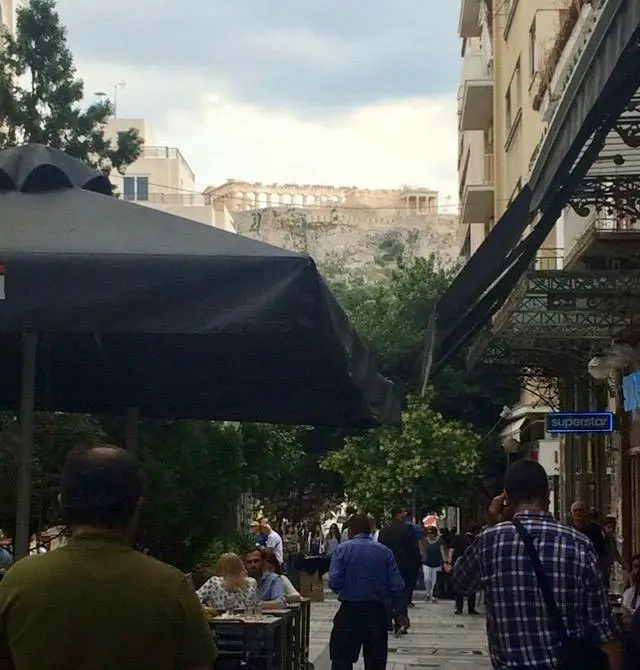 How To Get To Athens Greece
Generally you will fly into Athens airport (ATH) which is a big hub in Europe itself. The main Greek airline is Aegean Airlines. To get to the city center from the airport, there are three options:
Metro: Easiest and most efficient. Line 3 goes directly into the city center. The metro leaves directly from the airport, runs every 30 minutes, 7 days a week, and takes 40 minutes to get to the main city. Cost: 8 Euros.
Bus: There is an express bus route that connects directly to the city center and airport 7 days a week. Little more complex than the metro as there are four different lines, so make sure you have the correct one. The bus takes around 60 minutes to the city center, but is dependent on traffic. Cost: 5 Euros.
Cab: A cab will be the most private way into the city, but will cost you 35 Euros from 5AM-midnight and 50 Euros from midnight-5AM and will take about an hour. It is also dependent on traffic.
WHAT TO DO IN ATHENS GREECE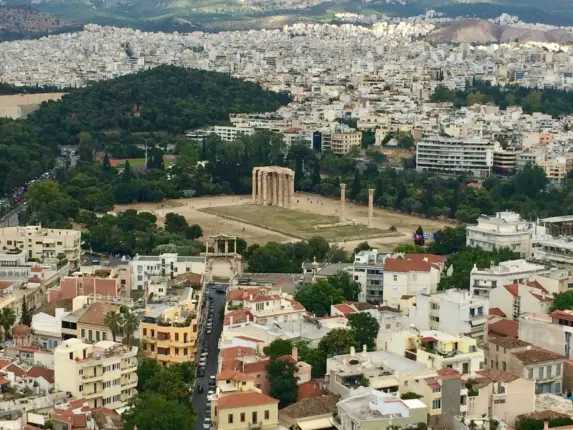 Known for the unbelievable archaeological sites all around the city, Athens is truly a remarkable site. I personally think one day is enough in this city to cover the main sites and you will get a feel for Athens life.
TIP: Watch out for gypsies, especially around the main sites, they are all over the city.
TIP: Buy the 12 Euro pass which gives entrance to ALL of the sites and is good for four days. The only place it does not include is the Acropolis Museum, which was an awesome museum so I do suggest adding a trip there. If you have a student ID, this pass will be even cheaper and it is so worth it for ALL of the sites. You can buy this ticket at any of the site's kiosks. All places are within walking distance of each other.
TIP: All archaeological sites are closed on Sundays and they all close around 3PM on other days besides the Acropolis which is open until 7PM. All sites open at 8 AM.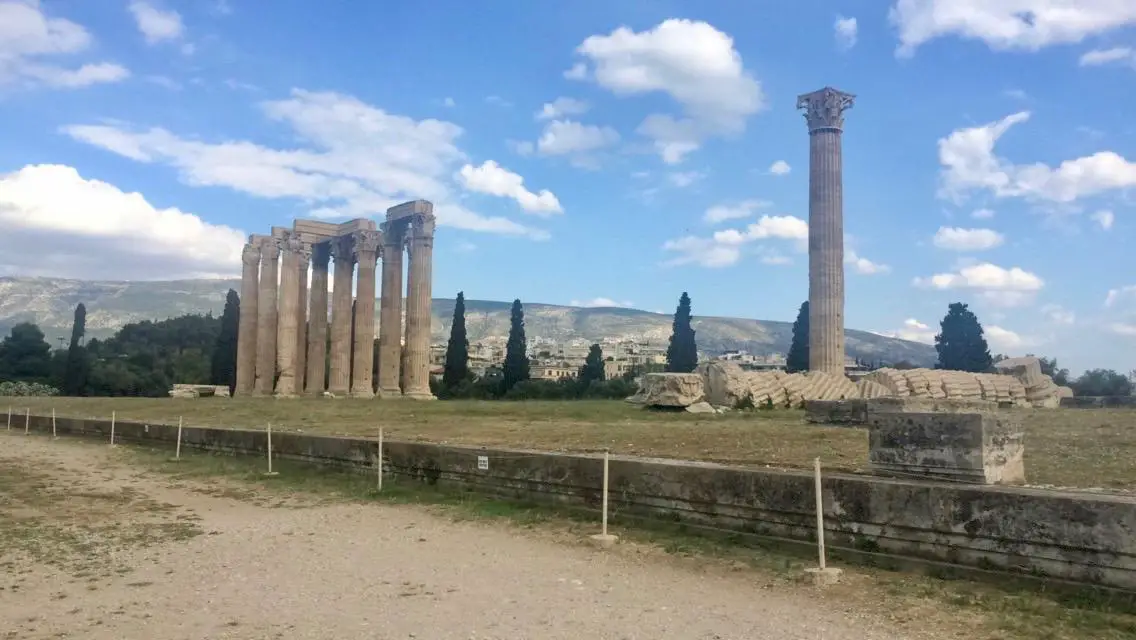 Main Sites To See In Athens:
Acropolis: Most well-known archaeological site in the world; a must-see. On top of the big hill in the middle of the city and visible anywhere in the city. Leave at least 1-2 hours to explore.
Acropolis Museum: Not included in the sites package, but one of my must-sees. Such a well-done museum to help give historic perspective. I suggest going here after visiting the Acropolis. It is located on the bottom of the slope. There is also a cafe here for lunch which has amazing views of the Acropolis from the outdoor tables.
Ancient Agora: A well-preserved temple and should definitely be visited.
Olympia Zeus: One of the largest ancient temples in the world.
Library of Hadrian: Has an awesome museum in it, make sure to leave about an hour to visit here.
Other noteworthy archaeological sites: Kerameikos, Roman Agora, North and South slope of Acropolis, Agora Museum and the Kerameikos Museum.
Non-Archaeological Spots: Evzones Changing of the Guard, Zappeion Gardens, National Gardens, Athens Flee Market, walk around Syntagma Square and Omonia Square is pretty too!
Where To Eat In Athens
Greek salad and gyros are what you think of when you hear Greek food and it did not disappoint. While there are not so many noteworthy restaurants in Athens (as opposed to Santorini and Mykonos) there are some good areas to eat and things to try!
All around Syntagma Square there are tons of street stands and little shops with amazing gyros and little greek salads. Make sure to eat lots of Feta cheese – it's amazing. A good vegetarian option is Avocado, in Syntagma Square. Also Fisherman's Taverna which is near the Acropolis as well as Strofi Tavern Athens which has unreal views of the Acropolis. There are tons of restaurants and they will all have amazing Greek food, so try out your favorites!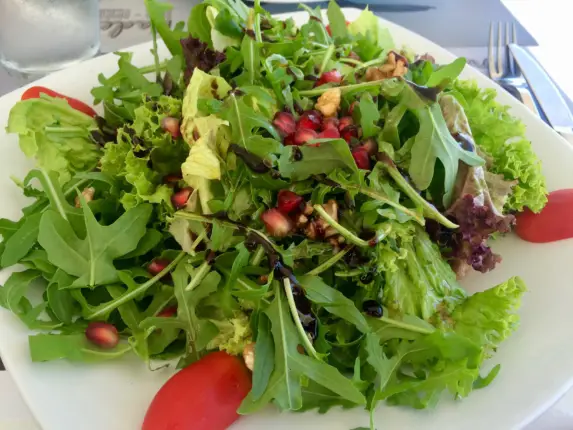 Where To Stay In Athens
I suggest staying in Syntagma Square if you want to be in the most central, crowded area of the city. However, we stayed in Omonia Square, a 5 minute walk from Syntagma Square, and it was perfectly great! We stayed at the cutest little hotel called Hotel Cosmopolit and it was perfect. It was extremely clean, the rooms were a decent size for two people, and the breakfast was included daily and had a large selection. The staff was beyond nice and helped us getting around the city. I would highly recommend Hotel Cosmopolit and the price is great for budget travelers.
AIRBNB Athens: There are also so many apartments with Airbnb options in Athens. They are generally cheaper than hotels so if you like the Airbnb route instead of hotels I definitely recommend it. Also, if you use my Airbnb link you get $40 off your first stay!
Where To Party In Athens
Unfortunately we did not go out in Athens as we had a very early flight the next day and were tired after touring the city all day! However, Athens has a lively nightlife and some well-known DJs often. I suggest going out around the Gazi area which is fun at night!
Other Helpful Tips When Visiting Athens: The Athens Ports
Athens is obviously the main Greece hub and is the gateway to all of the hundreds of Greek islands. There are three main ports to access the islands:
Piraeus: Main, largest port. Only port accessible by metro. Serves most Greek islands.

Metro: The green metro line takes 25 minutes and goes through Omonia Square (costs 1.4 Euros).
Bus: There is no direct bus to Piraeus port.
Cab: A cab will take about 30 minutes from the center and will cost around 20 euros.

Rafina: Second largest port & closest to the airport. Provides access to some Cyclades islands (Tinos, Mykonos and Syros) as well as Evia and Andros.

Bus: From the city center, which takes 70 minutes (costs 2.4 Euros). I recommend this route.
Cab: Takes 85 minutes and costs about 50 Euros.

Lavrio: Smallest Athens port and serves Eastern-Aegean islands and a few Cyclades islands.

Bus: From the city center, which will take about 2 hours (costs 4.9 Euros).
Cab: Takes 85 minutes and costs 65 euros.
If you are visiting Athens for longer than a day check out this longer Athens itinerary.
Love this "What To Do In Athens" guide? Pin it for later or share with friends!
Did I miss what to do in Athens that you loved? Let me know in the comments for my next visit! If you are looking for my full Greece Travel Guide head here or head here for my Mykonos Greece guide or here for my Santorini Greece Guide!