I had been dreaming of visiting Thailand and Asia ever since I first saw a picture of the beaches on the islands and the temple architecture in the cities. When I finally decided to make my way there for the first time in December 2018, I could not WAIT. While I was going on an 8 day trip around the islands, I had a short time to visit Bangkok at the beginning. I efficiently was able to see all of the top spots thanks to my guide. Since I know I'll be back to Thailand very soon (need to see the north of Thailand ASAP), I will inevitably be back to Bangkok since it is the main travel hub. Most people don't love Bangkok, it is BEYOND touristy and crowded, but the temples are so beautiful it makes up for it. This Bangkok itinerary will show you how to spend two days in Bangkok Thailand — one day in Bangkok city seeing as MUCH as possible and the second day on a day trip from Bangkok to a traditional Thailand floating market.
Disclosure: This "2 Days In Bangkok Itinerary" may contain affiliate links. I may receive commissions for purchases made through links in this post. As always, all opinions are my own and I would never post about something I have not personally used/verified.
I used Thai Tour Guide to help plan my Bangkok day tour in order to see everything I wanted in a short time. I spent a half day with them (since they were booked for full day). Chob, the owner, was SO quick and easy to work with and helped me achieve EVERYTHING and more that I wanted. We did a Bangkok Temple Tour, which is what EVERYONE should do during their first time in Bangkok. My day tour guide was Mickey and he was efficient and great. He explained everything and told me stories in all of the temples, showed me ALL methods of transportation, helped fit in MORE than originally planned, and even dropped me off where I wanted at the end. He, and all of Thai Tour Guide, was spectacular. I highly recommend using Thai Tour Guide when traveling to Bangkok for any type of tour (half day, full day, day trip excursion).
MUST-KNOW BANGKOK TRAVEL TIPS
For all of my Thailand travel tips and what to expect when visiting Thailand head to my Thailand Travel Guide (including what to pack for the dress code, what apps you MUST download, cash/credit card tips and the famous tuk tuk and taxi scams!).
You will inevitably be flying into Bangkok from NYC or anywhere in the world that isn't Southeast Asia. Bangkok has two airports and the main one is BKK. No matter where you are traveling to in Thailand, and even Southeast Asia, you will probably fly through Bangkok – which is why Bangkok is the perfect stopover city to break up those long travel days!
Bangkok Airport (BKK): When you arrive at Suvarnabhumi airport either call a GRAB from your app, find your hotel shuttle pick up (many offer it), or get in the public taxi line (so easy) and it should be around 300-400 baht (make sure they use the meter) to the city and takes 30 minutes (pending no traffic).
THAILAND TUK TUKS and TAXIS: Read up on my Tuk Tuk and taxi Thailand scams here – this is a must before visiting Bangkok!
TRAVEL INSURANCE: When visiting Bangkok, I highly recommend getting travel insurance. You never know what may happen to your flights, a death/personal emergency in your family, or an accident happening while traveling (think: getting mugged, falling while hiking and spraining your ankle, literally any accident than can happen ANYWHERE!). World Nomads makes it super easy and I never leave for a trip without getting their insurance. Most importantly it's extremely affordable: get your World Nomads travel insurance before your trip here!
BANGKOK PACKING: For all of my travel/packing essentials I bring on any trip compiled together, head to my influencer page on Amazon here for a complete list or my descriptive carry-on packing guide here!

Bangkok dress code: Don't forget to read up on my Thailand dress code on my Thailand Travel Tips Guide to make sure you are covered correctly for this modest country.
It is HOT in Bangkok. Even after living in New Orleans for 4 years (New Orleans travel guide here), the humidity in Bangkok was no joke. I love this Sunbum sunscreen stick here that is easy to pack in a small purse and re-apply without needing a mirror.

DETAILED 2 DAYS IN BANGKOK ITINERARY
This 2 days in Bangkok itinerary includes one full day of exploring Bangkok CITY and one day on a full day tour outside of Bangkok. I believe this is the BEST way to see Bangkok in a short time, and also the perfect amount of time here. If you are touring with Thai Tour Guide your guide will pick you up at your hotel to start your PRIVATE (and amazing) tour in the ideal Bangkok itinerary below.
DAY ONE: BANGKOK CITY TOUR
Start your day early at 8AM (you'll be jetlagged anyway). For your first stop, hop in a taxi (remember to make sure he turns the meter on) to the Royal Grand Palace and ask to go the longer route through Chinatown. This was the best way to get there because a) it was pre-rush hour and b) we were able to go through different neighborhoods and areas that are Bangkok must-sees that you won't have enough time to see. We drove through Chinatown and by Khao San Road.
After a 20 minute drive you will be at your first stop: The Royal Grand Palace Bangkok! There is an entrance fee to The Grand Palace, the most expensive of all the places to visit in Bangkok, but it is included with a private tour. If you are going alone, The Grand Palace costs 500 Baht per person (~$18). A private guide is definitely the move here because a) it includes the price and b) you will swiftly be skipping the massive (and I mean massive) groups of tour groups and you will start your nice private tour.
The Grand Palace & Royal Temple are the most important things to see in Bangkok and you cannot miss it. The architecture is jaw dropping. You will also learn about Thai culture and history. The Royal Temple (What Phra Kaew, the Temple of the Emerald Buddha) is located within the complex and a must-see – it is Thailand's most sacred temple. You could get lost in the complex for hours, but since I am efficient and like to see it all, I spent around 1.5 hours walking around and listening to my guide's stories and the inner meanings of the decor and architecture.
GRAND PALACE SCAM TIP: Be aware of the famous Bangkok scam! There are people outside (near tuk tuks) the Royal Grand Palace (and all of the tourist destinations honestly) telling you that the site is closed that day due to a holiday, construction, etc. and will offer to take you to other temples and locations. DO NOT LISTEN TO THEM! It's not closed. Simply ignore them and keep walking. This is the most common scam in Bangkok.
GRAND PALACE DRESS: You must be fully covered to visit the Grand Palace, you will NOT be allowed in if your knees and shoulders are not covered. This does not even mean a scarf around your shoulders – my guide made me change before leaving the hotel – it must be a full sleeve covering. This also includes no holes in jeans, quarter length trousers, see-through shirts, sweatshirts and sweatpants. I actually saw a worker INSIDE the Grand Palace yell at a tourist because he had long shorts on!
After exiting the Grand Palace, hail a Tuk Tuk – the famous open "taxis" you have undoubtedly seen in pictures – you MUST read my Tuk Tuk tips in my Thailand Tips guide before getting in one so you don't get scammed. I highly recommend taking a Tuk Tuk at ONE point during your time in Thailand – it's a must! This was the quickest way to get to Wat Pho.
Wat Pho is probably the second most popular spot in Bangkok and is an absolute must-do. The entrance fee is 100 Baht (included if on a private tour). The Reclining Buddha has been on my bucket list forever and I could NOT believe how big it really was in person! Pictures do NOT do it justice. Wat Pho is also said to be the leading School of Massage – so if you have more time here and not touring efficiently, get a massage! You will walk around the grounds and temples within Wat Pho before making it inside to see the biggest reclining buddha in the world. You only really need about 30 minutes at Wat Pho.
The next stop is Wat Arun (the third place on every must-see tour in Bangkok). Wat Arun is located across the river, so you have to take a boat which leaves from right behind Wat Pho (it's only a ~7 minute ride). You will take a long tail boat (the famous boat you imagine when you picture Thailand!). This is the local way of getting to Wat Arun and costs only 3 baht (also included in private tour)! There is another TOURIST boat that goes across the river- it is more expensive, naturally, but still cheap. The local's boat is not as nice but since it's such a short ride – I ALWAYS recommend the local way! The boat ride breeze also felt good in the Bangkok heat! The boat drops you off right in front of Wat Arun.
Wat Arun is also known as the Temple of Dawn. The entrance fee to the temple is 100 Baht (included in your private tour). You only need about 30 minutes to an hour here to walk around the grounds and see more of the beautiful architecture. If you are mixing up your itinerary order, I recommend going to Temple of Dawn at sunset, you won't regret it.
This is technically the end of what would be your half day Bangkok tour with Thai Tour Guide (which I recommend!). They fit in so much and have amazing private guides that help skip lines and see the most popular places in Bangkok in a day. If they have availability I suggest taking a full day tour with them but if not you can DIY exactly as I did below!
Even though my private tour was over, I told my guide where I was going next and he literally took me there – just so I could experience the final means of transportation on him. We took a long tail boat back to the other side and then got on the BTS (overground) metro and went all the way up to Chatuchak Weekend Market. The BTS metro is one of two metro systems in Bangkok and is so simple and clean. The other is the MRT which is underground.
If you are spending a weekend in Bangkok then Chatuchak Weekend Market is a MUST! This market is only open on the weekends (duh) and has to be the biggest open air market I have ever seen. They have everything from street food, souvenirs, clothing, home decor, massages and more. I got lost multiple times (in the best way!) just strolling through different allies and buying different things (not to mention a nice 45 minute massage in an air conditioned room – soooo necessary walking around the Bangkok heat)! You can easily spend hours here.
If you are not heading to Chatuchak Market after the tour, you'll be hungry for lunch. Definitely make your way either to Steve's Cafe (cute cafe by the river) or Thip Samai (the BEST Pad Thai in the entire city of Bangkok!) for a quick break – or of course – street food!
PRO TIP: You should absolutely have street food in Thailand BUT make sure it is from somewhere where there is a line or locals eating – that means it is quality street food. Don't go to a place where there is no one there or it looks like the food has been sitting out for a while.
If you are not in Bangkok over a weekend, there is still so much to do in Bangkok. My recommendations to add on to your half day temple tour are Jim Thompson House, the Flower Market and walking around Chinatown.
The Jim Thompson House is the museum for SILK! Jim Thompson was an American who was famous for saving the silk industry Thailand. The Flower Market is right along the river in Bangkok and is a beautiful (and instagram-frenzy) flower market (duh!). Chinatown is one of the most lively and bustling neighborhoods with so much culture. I suggest walking around Chinatown into the evening to watch it come alive at night. All of these should try to be included in your 2 days in Bangkok itinerary if possible.
Related Post: Thailand Travel Guide Tips
STOP FIVE: DINNER IN BANGKOK
After this full day of touring you are either ready to a) pass out from jet lag or b) have a party night out (it is Bangkok after all). Either way, make sure you have some REAL Thai food beforehand. Thai food is my favorite cuisine literally in the entire world, so you can imagine how excited I was to experience this – and it did not let me down. I had way too many Pad Thai's and Mango Sticky Rice during my trip and I will never have good Thai food in America again. See below for some of the best Thai restaurants in Bangkok.
WHAT TO DO IN BANGKOK AT NIGHT
Ready for the nightlife of Bangkok? The options are endless. Bangkok is known for its insane amount of rooftops with amazing views, the famous Khao San Road, Ping Pong shows and more. Whatever you are in the mood for, check out my Bangkok nightlife recommendations below.
BANGKOK ROOFTOPS
OTHER BANGKOK NIGHTLIFE
Besides rooftops in Bangkok, and after the sun goes down, there is a massive nightlife in Bangkok. There are so many fun things to do in Bangkok at night you will never get bored, whether you want the tourist or locals route. These are some options (besides rooftops) of what you must do to experience Bangkok nightlife!
Khao Sao Road: This is tourist backpacker PARADISE and mostly where everyone chooses to stay on their first trip to Thailand on a budget. You will find all the backpackers here and it is THE nightlife spot. This is an insane, crazy road with every type of bar, show, club, street food that you can picture in Thailand. This is a must-see, and remember to watch your things – tourist spots mean pickpocketers!
Ping Pong Show: The famous Thailand Ping Pong shows I am sure need no introduction. I will not describe it in detail, just google it to see what they are. We went to one in Phuket. This is not for the faint hearted and is DEFINITELY a tourist experience and extremely popular in every city of Thailand, though Bangkok shows are supposed to be the "best".
Cabaret Show: Thailand has a very prevalent transgender community and it thrives here, with Bangkok as the epicenter. They are called ladyboys. There are a ton of Cabaret Shows around the country performed by transvestites that is a good evening activity. It's definitely a tourist attraction but something you should experience when visiting Thailand and its culture!
Click on any of the restaurant, rooftop or nightlife names to learn more!
Related Post: Thailand Travel Guide Tips
DAY TWO: BANGKOK FLOATING MARKETS
On your second day in Bangkok of your 2 days in Bangkok itinerary, you are going to go outside the city of Bangkok to see one of many of Thailand's famous Floating Markets. This is one of the best (if not THE best) Bangkok day trips to take. You have undoubtedly seen tons of pictures of these floating markets and I HIGHLY suggest you get to one! I think this is the BEST way to spend your second day around Bangkok, you already saw the absolute MUST-DO's in Bangkok and it's time to get a taste of Thailand's culture.
There are a ton of different floating markets (and even a railway market) that you can't go wrong. You can find a TON of Floating Market tours and book here. Some of the most popular (some with locals and some with tourists) are Amphawa Evening Floating Market, Damnoen Saduak Floating Market and Maeklong Railway Market.
Floating Market Tours range in cost depending on private or group and half-day or full-day so whatever your budget and time you will be able to find one that fits your needs! You can't go wrong in your choice and seeing a real floating market in Thailand is a must-do! Learn more about each floating market by clicking their name above or book your Floating Market tours here!
Related Post: One Day Dubai Layover Guide
WHERE TO STAY IN BANGKOK
I highly recommend staying in the SUKHUMVIT area of Bangkok. This is the 'fancier' neighborhood but I didn't really notice anything that was upper class about it. It was clean, in a good location and a nice area. I liked staying here and was easy to get to and from places. I stayed at Citadines Sukhumvit 23 which was perfect for a one night solo stay, the restaurant and room service was great and it had an amazing rooftop pool. You can book Citadines Sukhumvit 23 here. Whatever you do, definitely pick a hotel with a pool, the Bangkok heat is no joke. If you are a backpacker, then you definitely have to stay on Khao San Road – no question. You can find and book hostels on Khao San Road here. For more luxurious or budget options check out this list of recommendations and book here or read reviews on Bangkok hotels on TripAdvisor here!
Search & Book Bangkok Hotels here
AIRBNB Bangkok: Airbnb is becoming increasingly popular in Asia, especially in Bangkok! Hotels are cheap as it is in Thailand, but staying at a Airbnb in Bangkok gets you even more for your money. There are a ton of Bangkok Airbnb options so if you like this route I highly suggest getting an Airbnb in one of the areas I mentioned above! Also, if you use my Airbnb link you get $40 off your first stay!
MORE TIME IN BANGKOK
If you have more time than two days in Bangkok, I highly suggest taking another day trip out of Bangkok to Ayutthaya, another floating market if you loved it (there are so many), an elephant (ethical) sanctuary, or so many more options. Check out this list of amazing activities and tours around Bangkok to book in advance here!
SHOPPING IN BANGKOK
Bangkok is a MASSIVE shopping hub not only in Asia but around the world. There are a TON of HUGE malls that put American malls to shame. If you have extra time during your days in Bangkok I highly suggest making your way to one of Bangkok's jaw-dropping malls to get ANYTHING you could think of (for cheap!).
Thanks to Thai Tour Guide for helping set up my private Bangkok tour and customizing it to my desire in order to make this blog post possible! While I did receive this tour as a gift, my review and experience with them is, as always, 100% personal and honest*
Loved this 2 Days in Bangkok Itinerary? Pin for later or share with friends!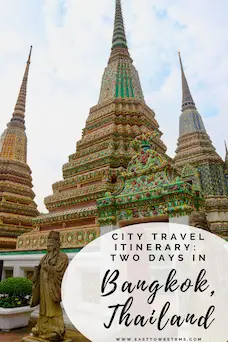 Did I miss one of the things you must do in Bangkok? Let me know in the comments for my next visit! See my general Thailand travel guide to know what to expect when visiting Thailand!
Some emails suck. Mine don't. Sign up to be the first to see my new travel itineraries and secret insider travel tips and hacks only my email subscribers get! I promise I will never spam you!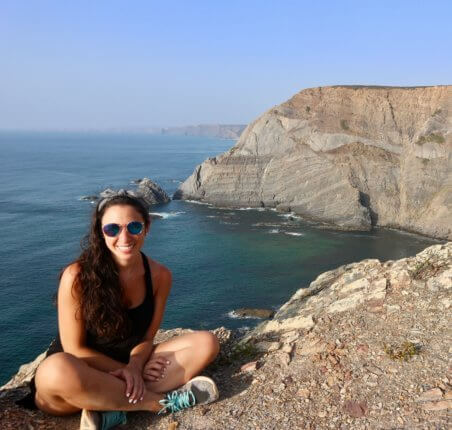 Rachel Shulman is the owner of From East To West and a seasoned traveler having been to 35+ countries and no intention of stopping soon. She is obsessed with planning and specializes in creating detailed, efficient travel itineraries and guides so you don't have to when planning your next destination.